'The View' Cohost Meghan McCain Slams 'Vogue,' Demands Anna Wintour-Led Publication Reconciles 'Their Deep, Intense, Racist Legacy'
Meghan McCain has a problem or two, to say the least, with Vogue and editor-in-chief Anna Wintour, accusing the publication of deep racism and calling on the "accountability culture" to demand a change.
Article continues below advertisement
Article continues below advertisement
The mother-of-one — who welcomed daughter Liberty in September with husband Ben Domenech — told her cohosts that her trouble with Vogue began in 2008 when they featured NBA icon LeBron James and model Gisele Bündchen on the cover, with a photo that depicted a World War I recruitment poster of a gorilla taking a young, white woman hostage.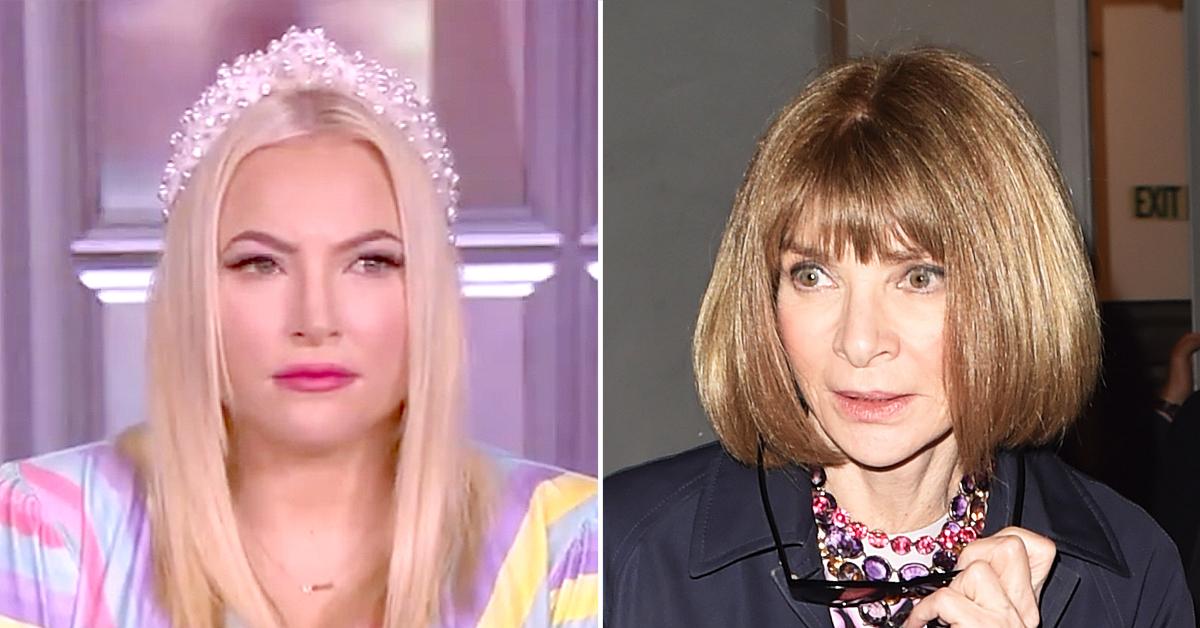 Article continues below advertisement
She insisted that the iconic British-American journalist is responsible for "a lot of the toxicity in the fashion industry." The TV personality claimed: "Anna Wintour has a long history of not putting models on her covers, of not putting people of color, of having a very problematic image for women to look to."
Article continues below advertisement
After making it clear that she has been "done with Vogue for a very, very long time," McCain requested that "some of the 'accountability culture' or 'consequence culture,' as Sunny [Hostin] calls it," finally calls Vogue and Wintour out on their choices.
Article continues below advertisement
McCain then advised viewers to watch The Devil Wears Prada if they feel McCain's thoughts on Wintour and her publication are unjust. In the 2006 film — based on the 2003 novel of the same name — Meryl Streep plays an intimating magazine editor, who is rumored to be based on Wintour. The film seemed to allude that Wintour was a cold, high-maintenance boss who demanded wild tasks to be done and was cruel to her staff.
Referring back to the specific issue on whether Trump was snubbed by Vogue, McCain gave her input on the situation. Vogue has a tradition of putting the first ladies on the cover of their magazine; however, the practice was put on hiatus while Donald Trump was president — Wintour never directly addressed why the magazine neglected the 51-year-old.
Article continues below advertisement
While noting that she is "obviously" not a fan of the Trump family, McCain admitted: "No one can negate the fact that [Melania] was a fashionable first lady." McCain argued that a magazine about fashion should have had the stylish former first lady on the cover.
Article continues below advertisement
And in regards to the publication's August issue with first lady Dr. Jill Biden on the cover, McCain — who called Dr. Biden "beautiful" and "lovely" before sharing her thoughts on the photo — wasn't a fan of that either.
The 70-year-old was photographed in a navy, floral Oscar de la Renta dress, as she stood outside at the White House. Her cover photo was more subdued than those of the first ladies that preceded her. The choice of photo seemed to reflect how Dr. Biden is "a First Lady for all of us," which she was described as by Vogue, alleging that she is more relatable and down-to-earth than the women before her.
Article continues below advertisement
But according to the only conservative host on the morning show, McCain felt Dr. Biden didn't look as "regal" as she should've, given that the President and his family, according to McCain, are the closest thing to royalty that the U.S. has.
To wrap up her thoughts on the issue, McCain shared her hopes for the publication, saying: "And again, I just really hope that Vogue really starts to reconcile their deep, intense, racist legacy."