PHOTOS
Awkward! 10 Cringe-Worthy Moments From The Virtual Emmy Awards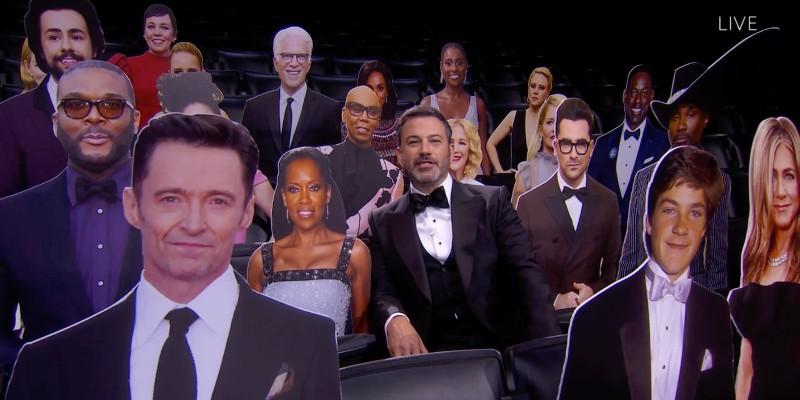 It was an Emmys unlike any ever before!
On Sunday, September 20, the 72nd Primetime Emmy Awards honored the best in primetime television programming as chosen by the Academy of Television Arts & Sciences. The ceremony was originally to be held at the Microsoft Theater in Los Angeles, but due to the COVID-19 pandemic, it was broadcasted by ABC virtually from the actors' homes across the globe.
Dubbed "The Pandemmys" by host Jimmy Kimmel, the show went on without a red carpet, without an audience and with socially distanced presenters including Jennifer Aniston, Anthony Anderson, Laverne Cox, America Ferrera, Morgan Freeman, Ken Jeong, Jason Sudeikis, Randall Park and Oprah Winfrey.
Article continues below advertisement
IT'S THE PANDEMMYS! FULL LIST OF 2020 EMMY AWARD WINNERS
Big winners of the night included the shows Schitt's Creek, Succession and Watchmen as well as actors Zendaya, Billy Crudrup, Catherine O'Hara, Jeremy Strong, Eugene Levy, Uzo Aduba, Annie Murphy, Julia Garner and more.
While the show did the best it could in the era of coronavirus, it wasn't without some major awkward moments. Scroll through the gallery below to check out 10 times proving the 2020 awards show was the strangest ceremony yet.
The Live Audience Fake Out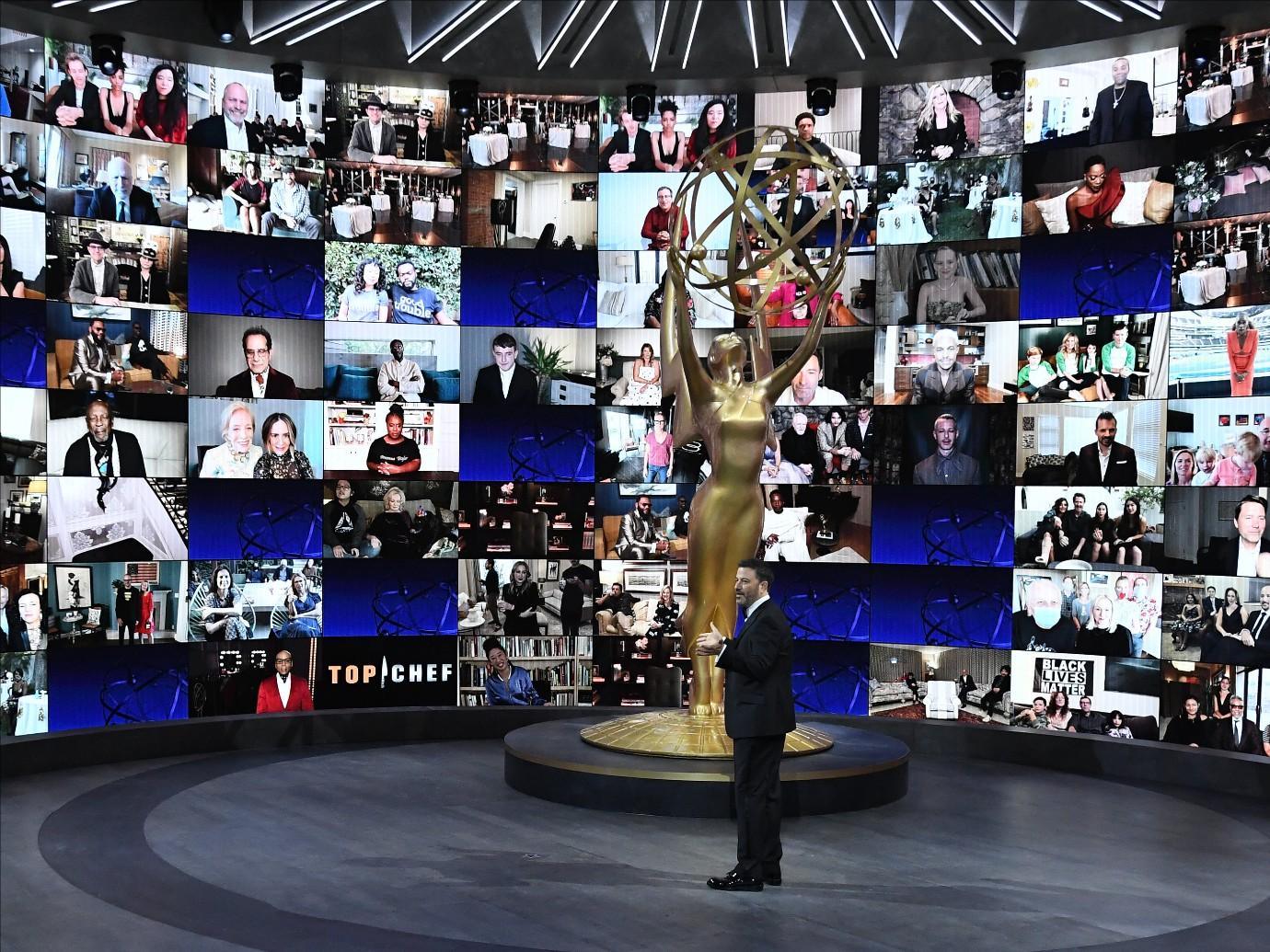 The virtual Emmys kicked off with a totally puzzling opening. As Kimmel recited his monologue, production kept cutting away to a full house of A-List attendees laughing and reacting. Viewers were left scratching their heads if the show actually had a real audience in attendance or if editors were using old footage. After nearly 10 minutes, Kimmel finally revealed it was all a joke and that he was actually speaking to an empty Staples Center. "I feel like I'm in a Best Buy," he exclaimed when the audience was revealed to be entirely virtual. The joke was predictable, but the long gag was totally strange nonetheless.
Article continues below advertisement
No Laughs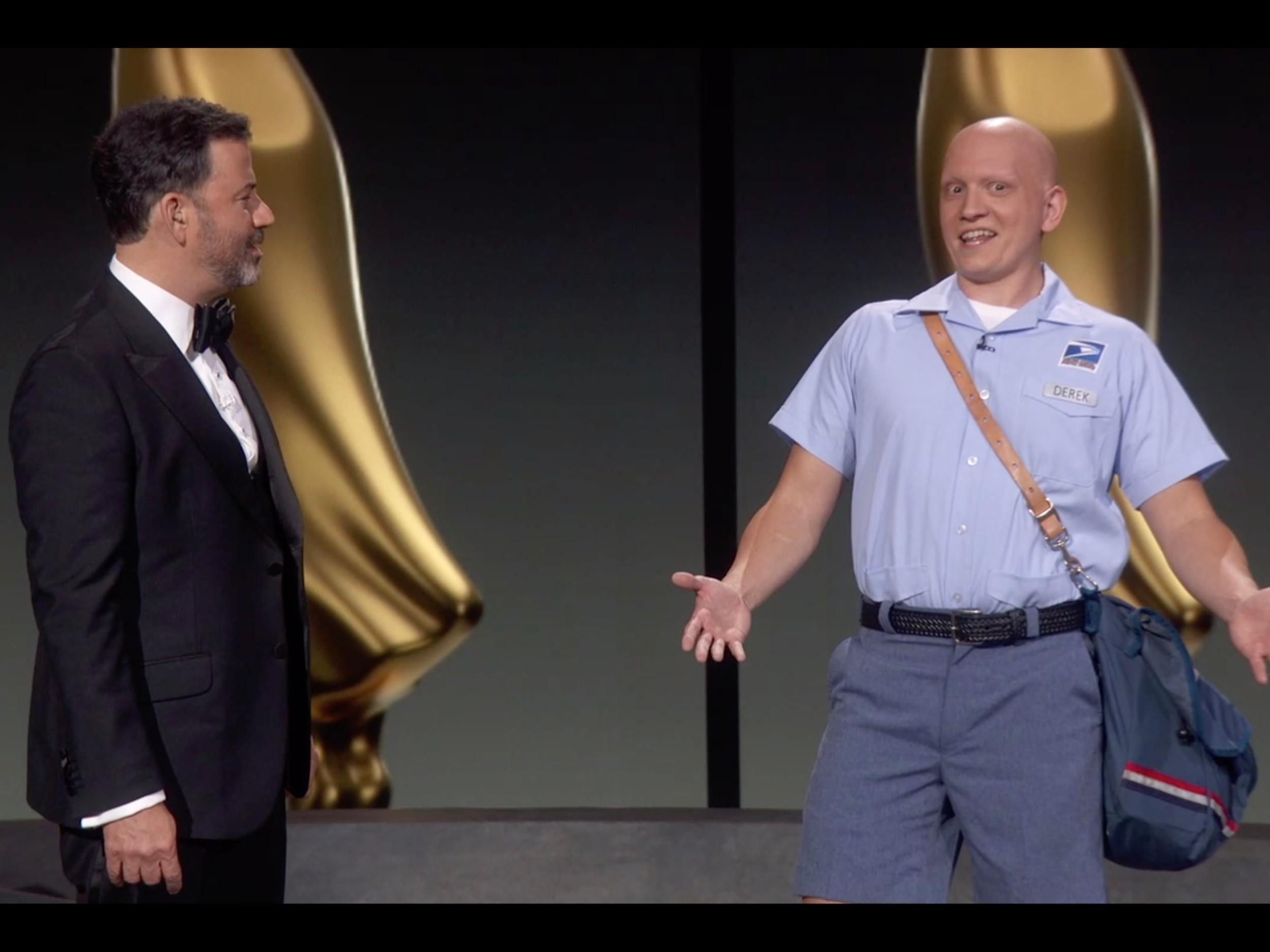 Without the laughter of a live audience, many of Kimmel's jokes and bits with presenters were followed by a deafening silence, making them totally cringe worthy. It was most obvious in a bit Kimmel did with a creepy looking postman from "St. Petersburg," who asks the host: "May I please take your ballot?" Crickets.
Article continues below advertisement
Fire At The Staples Center!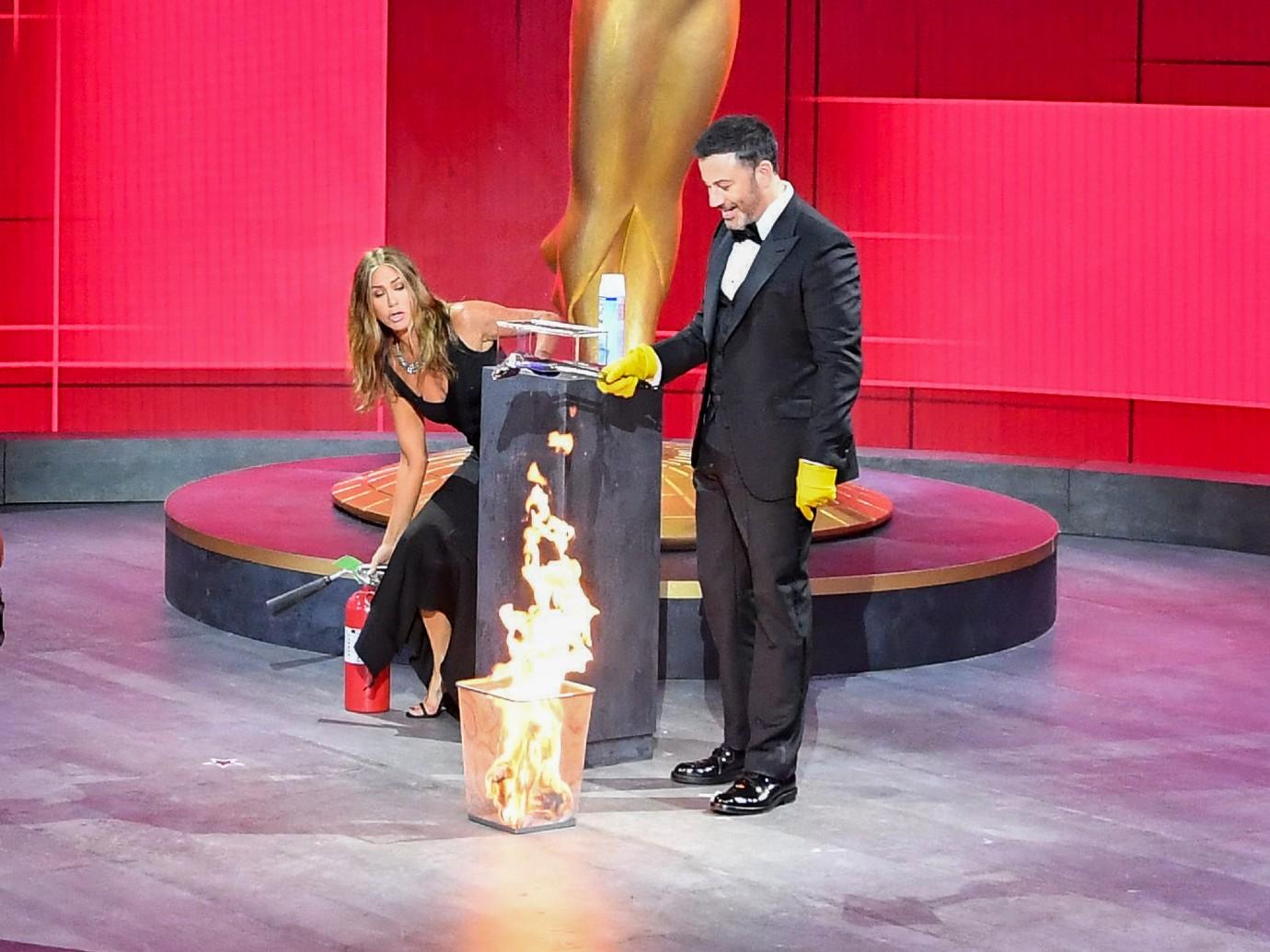 This bit really went up in flames...! Jennifer Aniston presented the award for Outstanding Actress in a Comedy Series, and in a comedic attempt to sanitize the winner's card, she and Kimmel Lysol-ed and then burned it in a trash can. The 'Friends' alum was supposed to quickly extinguish the fire but the flames were clearly larger than expected making viewers fear that the Staples Center may burn down. After a multiple attempts, the panicked duo finally got the fire under control.
Article continues below advertisement
Jason Sudeikis Gets A COVID Test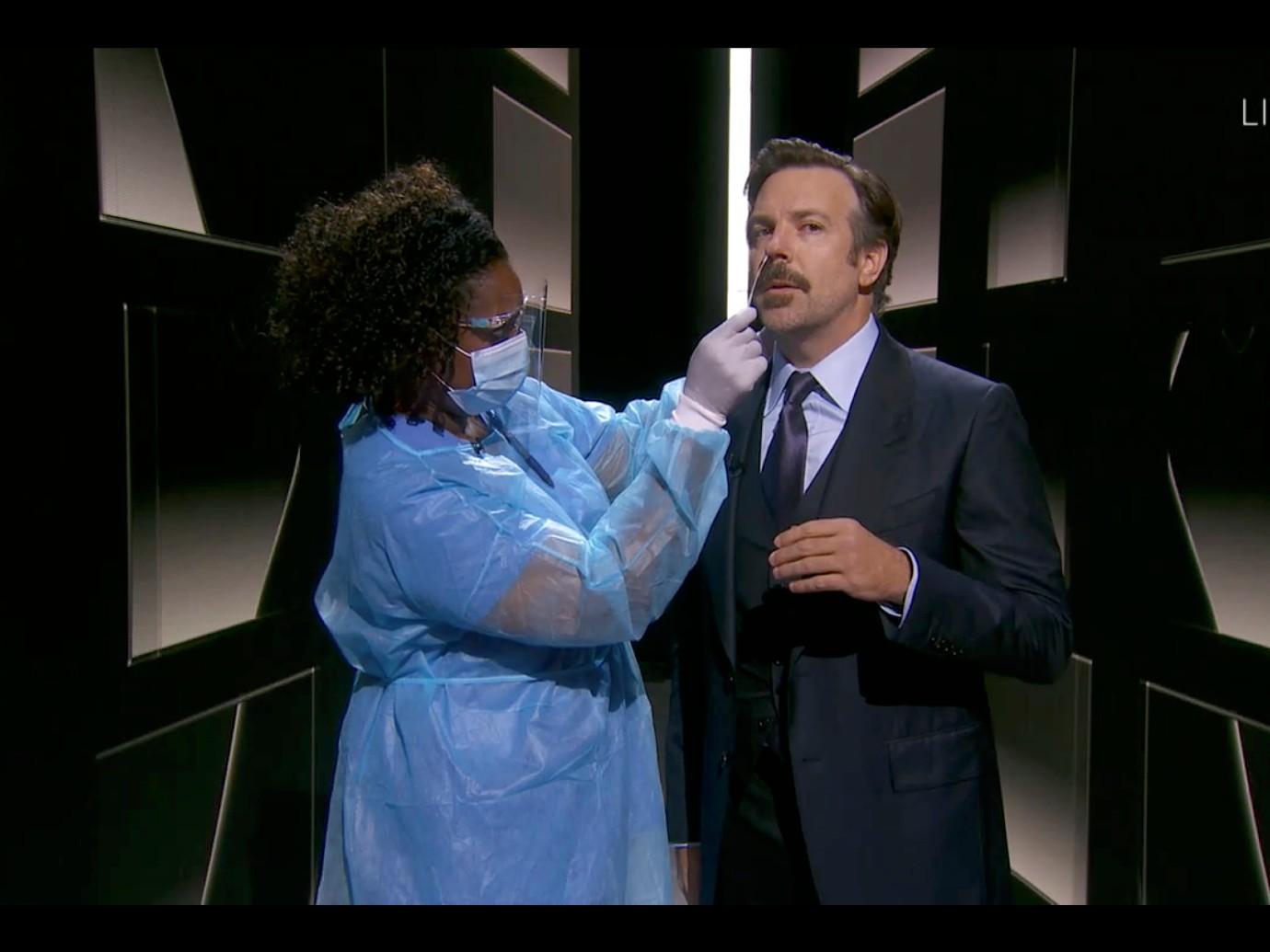 Jason Sudeikis was introducing the nominees for Outstanding Comedy Series – which was ultimately won by 'Schitt's Creek' – when a nurse in full protective clothing came out on stage to conduct a swab of both his nostrils. The actor quipped: "We're just legally obligated to get COVID tests every hour. Academy policy. But don't worry, you won't even notice she's here."
The 'Horrible Bosses' star tried to carry on with reading out the shortlist but was too uncomfortable. He said: "Oh wow, that's deep. I think you dented my brain." We were just as uncomfortable watching the sketch.
Article continues below advertisement
Ramy Youssef's Loss
One of the most awkward, yet hilarious Emmy moments actually happened offscreen. As the winners were delivered their awards by a crew member in a hazmat suit, many viewers were left wondering what happens at the nominees' houses if they lose. After Ramy Youssef's series Ramy lost to 'Schitt's Creek,' he showed exactly how it went down. After the winner was announced, the suited presenter (with Emmy Award in hand!) simply waved to the nominee through the door and left, presumably off to another nominee's house.
Article continues below advertisement
Anthony Anderson Brings Out The Censors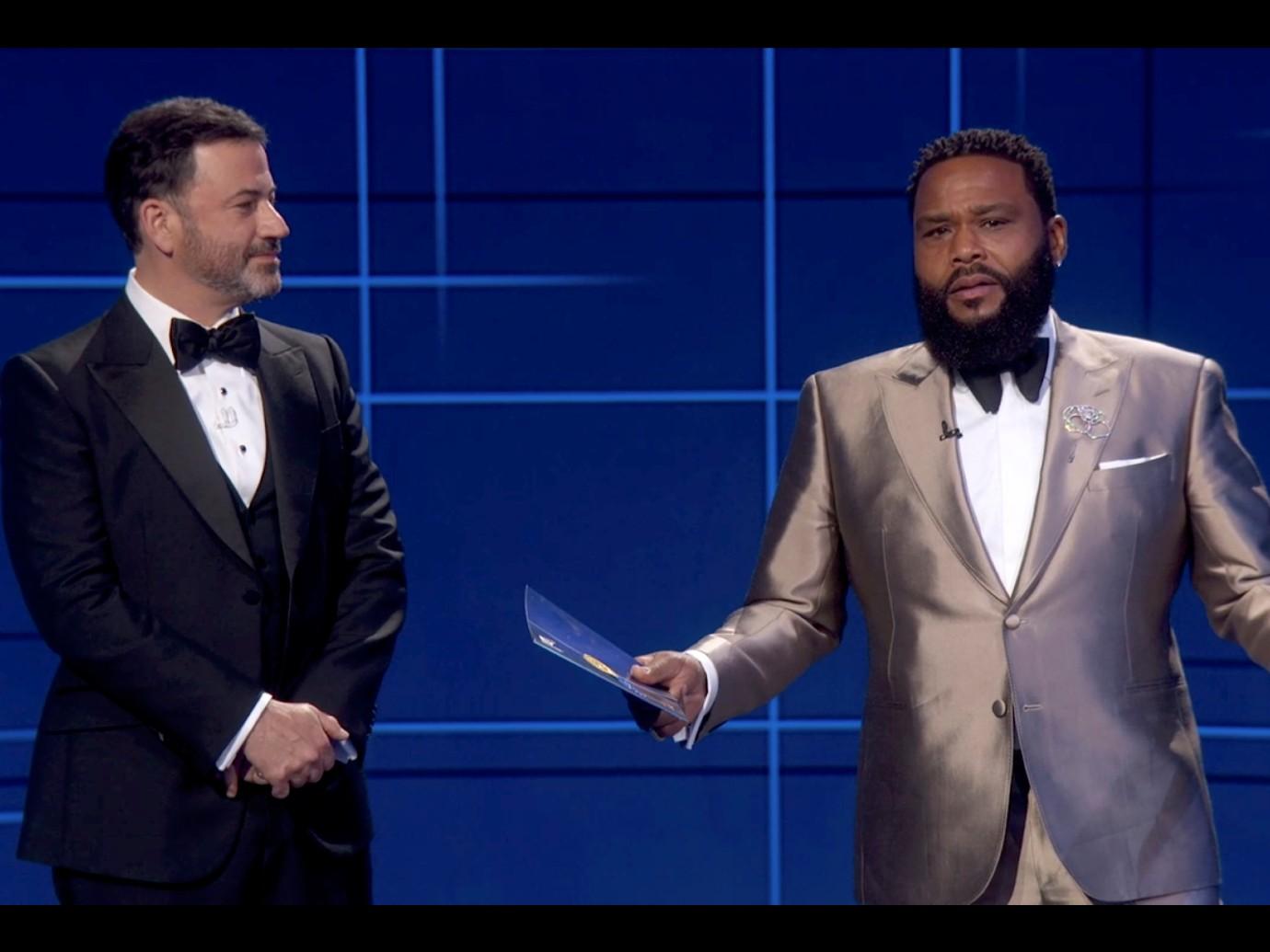 What was clearly done with good intentions took a turn. Presenter Anthony Anderson pointed out the record number of black nominees at this year's Emmys, then noted how none of them could be present because of the COVID-19 pandemic. "We would have had speeches quoting our great poets, like Maya Angelou, Langston Hughes, Cardi B..." he said, before bringing up the singer's hit song 'WAP' with Megan Thee Stallion, cueing the network to bleep him out — twice.
Article continues below advertisement
Reese Witherspoon and Kerry Washington Ending the Year?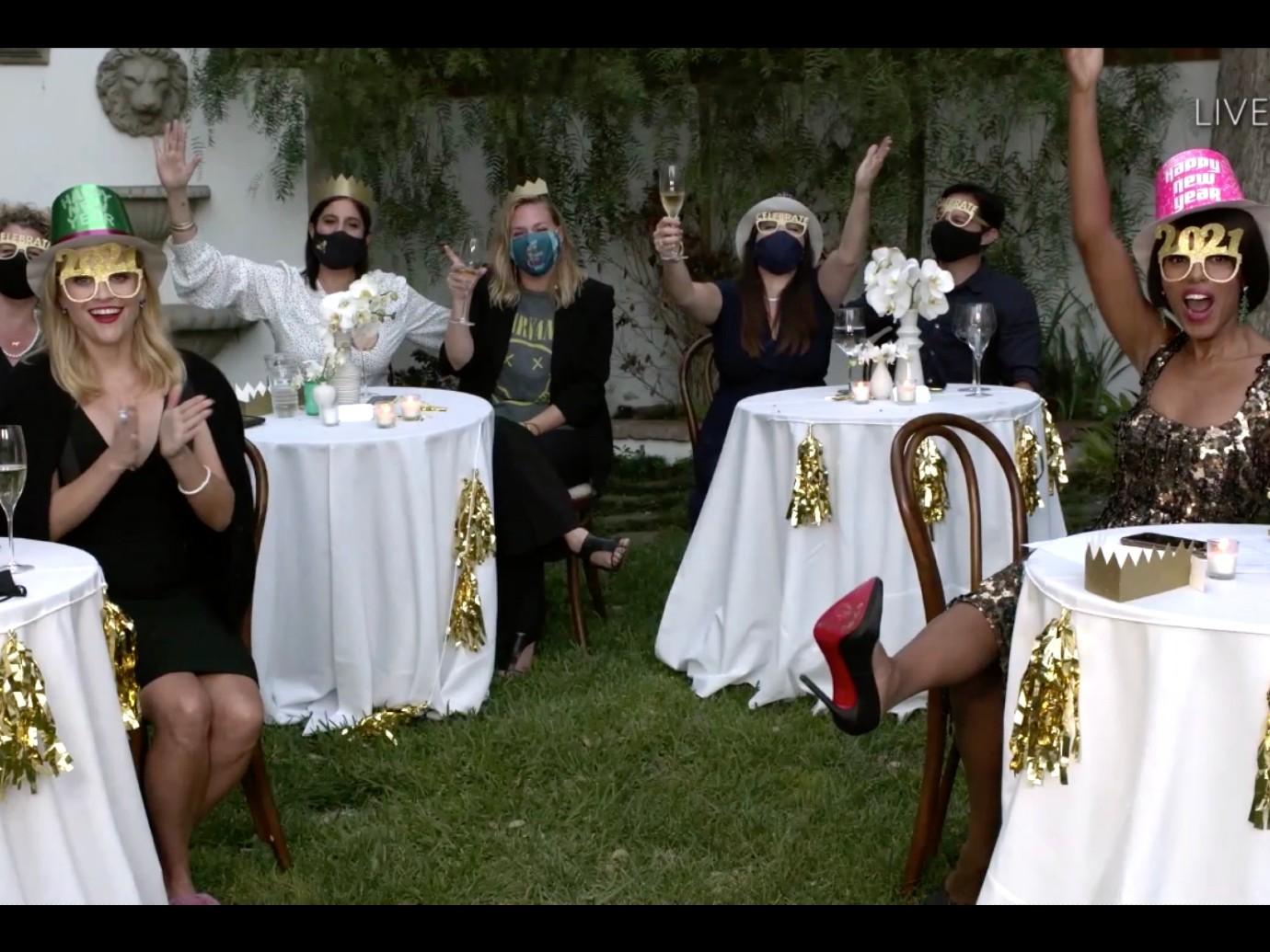 The 'Little Fires Everywhere' costars said they were having a New Year's Party and were dressed in 2021 glasses and sparkly hats at a backyard bash. The reason? "We are ready for this year to be over," said Witherspoon. They then did an enthusiastic countdown to, well... nothing. Sorry ladies, it's still 2020.
Article continues below advertisement
Quarantine Updates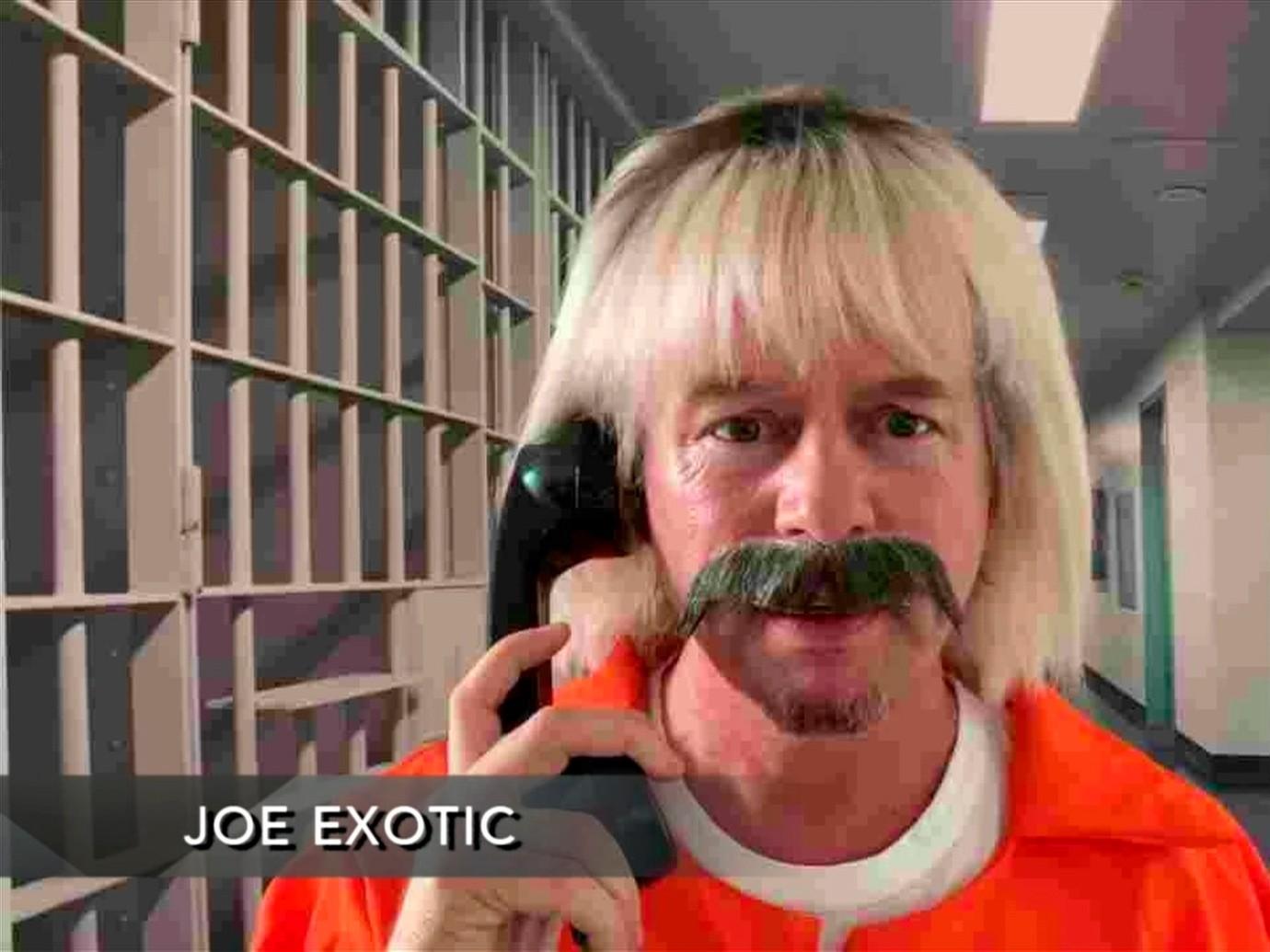 Kimmel introduced a montage where celebs shared "what they've been up to since everything went to hell." To the tune of 'Bad Moon Rising,' the updates included 'Better Call Saul' star Bob Odenkirk saying he was living in his garden shed to avoid his family; 'The Bachelorette' host Chris Harrison pruning roses; 'Orphan Black' star Tatiana Masley saying she's "been making wine in her bathroom toilet; Mindy Kaling crafting; and 91-year-old Bob Newhart admitting he gave up skydiving and quit his class in alligator wrestling. It ended with David Spade doing an impression of 'Tiger King' star Joe Exotic saying, "I've been in prison because of Carole f**king Baskin you b**ch!" Umm, just plain weird.
Article continues below advertisement
An Alpaca In A Tux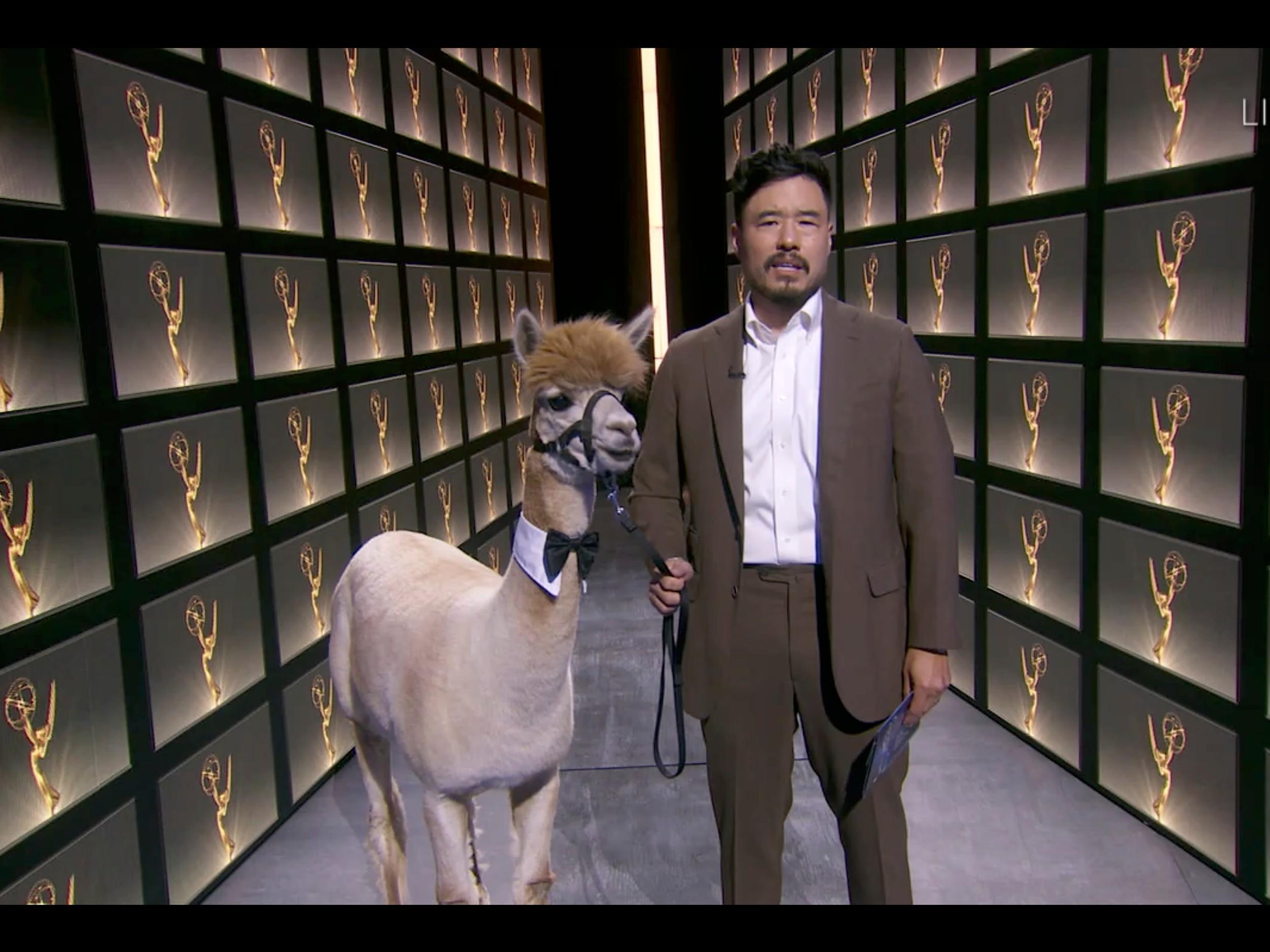 Okay, we will admit the dapper alpaca that accompanied 'Fresh Off The Boat' star Randall Park to present the Emmy for Outstanding Writing for a Limited Series or Movie was totally cute, but why was he there? Most random thing ever.
Article continues below advertisement
A Surprise Phone Call And Un-Thank Yous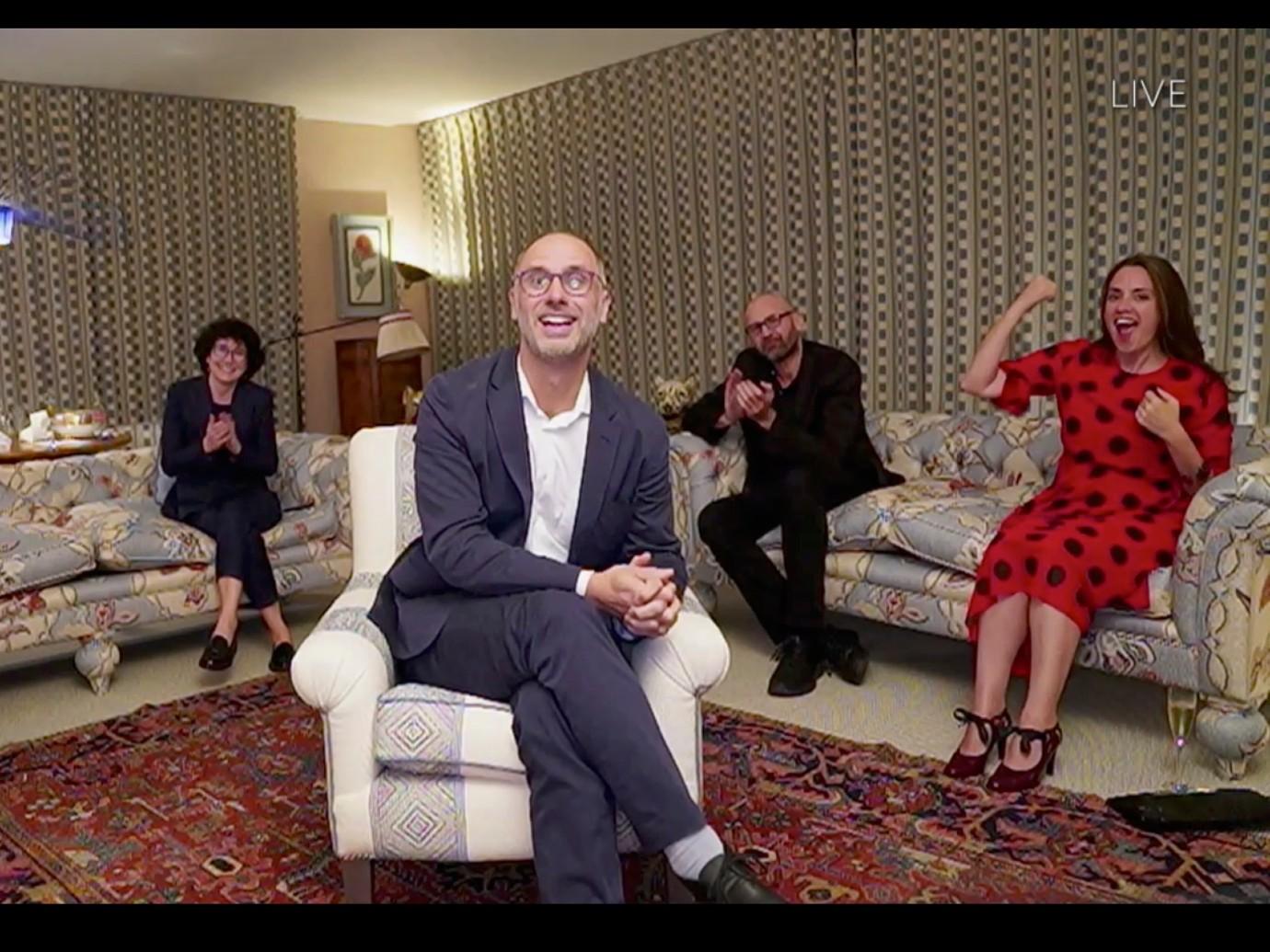 Who forgot to silence their phone? As the producers of 'Succession' were accepting their big win for Outstanding Drama Series, a cell phone rang in the background, forcing one of them to leave in the middle of the speech. The camera then panned to cast member Kieran Culkin, who was laughing hysterically from his home. Following the interruption, series creator Jesse Armstrong then rattled off some un-thank yous.
"Un-thank you to the virus, for keeping us all apart this year, un-thank-you to President Trump for his crummy and uncoordinated response to it," he said. After similar words for the UK's Boris Johnson and "nationalists and quasi-nationalist governments," he added: "And un-thank you to the media moguls who do so much to keep them in power." A fitting ending to a totally weird awards show.