PHOTOS
Watch! Ayesha Curry Shares The Cutest Video Of Son Canon Saying 'I Love You Guys'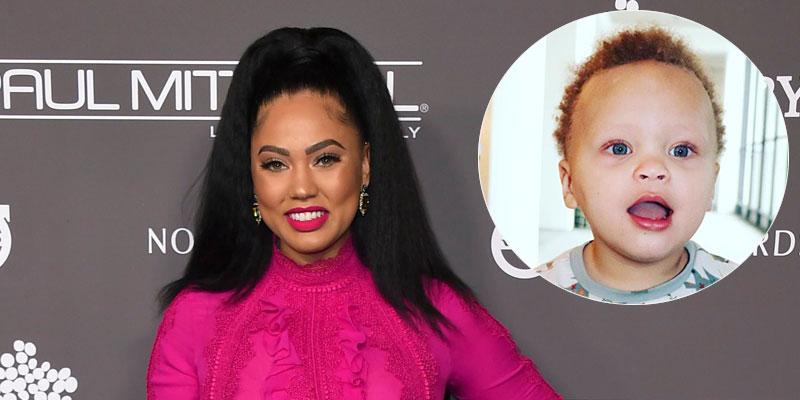 Ayesha Curry took to Instagram on Wednesday, February 12 to share an adorable video of son Canon saying "I love you guys" unprompted. The little boy was eating a banana and watching television in his pajamas when he blurted out the sweet sentiment.
Article continues below advertisement
Ayesha, 30, managed to catch the precious moment on camera. "My heart just grew three times in size!" one fan wrote in the comments section of Ayesha's post. "I can't get over how cute he is," another person added. "His little voice! He's so smart and talking so early," a third person noted.
This isn't the first time Canon, 19 months, has melted hearts. Ayesha shared a cute clip of him with his hair braided on January 29. "Aunty Nini braided his hair while he was watching Paw Patrol," she wrote. The cookbook author also posted a video of him stealing candy from the pantry in their home on February 5.
Article continues below advertisement
Steph Curry's wife joked about how big Canon already is during an appearance on The Ellen DeGeneres Show in December. "He's a viking. We birthed a viking. He was one of our smallest, he was 6 pounds 7 ounces, so I don't know what happened," she told the talk show host. She also shares daughters Riley, 7, and Ryan, 4, with her NBA player husband.
Ayesha and Steph got matching tattoos in honor of their kids in December. The couple inked themselves with a unicorn, a wolf and a butterfly, and Ayesha explained the meaning behind their body art on Instagram. "Each has a deeper meaning and representation to us. Canon will always be our young wolf. Ryan our butterfly (this one makes me cry with joy just thinking about it) and Riley our horse (free spirited, which we turned into a unicorn because she's our magical first born)," she wrote.
Article continues below advertisement
"I'm overjoyed to have the opportunity to share my lifestyle philosophy about the subjects I deeply care about — family, friendship, food, community and home — with a new audience and in a new format. To now have a magazine of my own feels like a dream come true. As a woman of color, it's important to me that media reflects real, relatable women, and I'm excited to create an outlet for young men and women that celebrates diversity and inclusivity," she said in a press release.
Article continues below advertisement
What do you think of the adorable video of Canon? Sound off in the comments below!