PHOTOS
Kyle Richards Wants Denise Richards To 'Stick Around' On 'Real Housewives Of Beverly Hills' Amid Drama With Brandi Glanville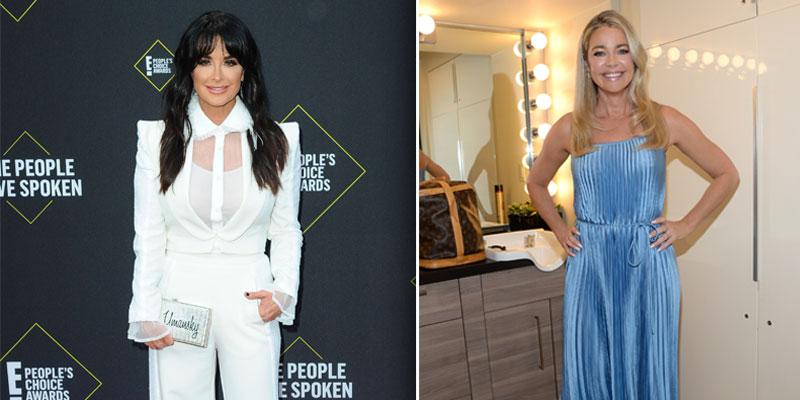 Kyle Richards is hoping Real Housewives of Beverly Hills costar Denise Richards will stick around on the show long enough to deal with the affair drama surrounding herself and Brandi Glanville. Rumors that the Bold and the Beautiful star and the Drinking and Tweeting author hooked up first swirled in January.
Article continues below advertisement
On February 12, Kyle, 51, hinted to Us Weekly that season 10 of the Bravo reality series is full of drama. The upcoming season has yet to release a trailer and a premiere date, however, the Halloween Kills actress promised it will be wild.
"It's been a really wild ride this season and it's just, I don't even know what to say," Kyle divulged to the outlet. "After ten years you think I could come up with something, but I'm always kind of speechless what ends up coming up on the show and the things that come out and the things that happen between everybody it's been crazy. Ten years down and I'm still shocked."
Article continues below advertisement
Kyle also told the publication that she hasn't had much contact with Denise since the rumors surfaced. The mother of two skipped the wrap party last month and may not make it to the reunion taping. "Up until this season we hadn't had any issues or anything and I'd like to see her stick around and be at the reunion," Kyle continued. "I think that it's just better to deal with things head-on anyway even though it's difficult sometimes."
Article continues below advertisement
The mother of four added that "time will tell" if Denise comes back for season 11. "We're going to be airing pretty soon. And then that's when we all get really stressed again," she said. "It's a great cast. All the women are great. Obviously we don't always get along all the time but I have a tremendous amount of respect for all of them. They are all powerhouses and I really like that."
She explained that viewers will have to "wait and watch" to find out the details of Brandi and Denise's feud.
Article continues below advertisement
The Madea's Witness Protection star shut down reports of her RHOBH departure with just one tweet on January 29. "Any good tag lines for me for #rhobh ?!? And no... I did not quit," she wrote alongside a diamond emoji.
What are your thoughts on what Kyle had to say? Sound off in the comments below!