PHOTOS
Nikki Bella Confesses She Got Pregnant While Staying At Twin Sister Brie Bella's House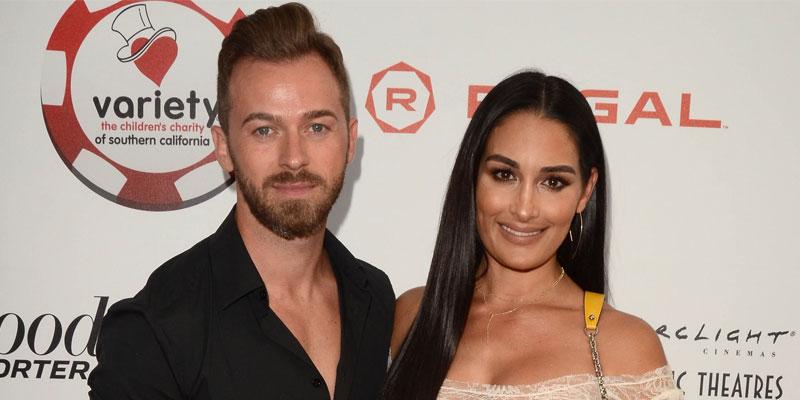 Article continues below advertisement
"By the way, I love it because it happened at Brie and Daniel's house. It was while we were staying with you guys," Nikki said on The Bellas podcast. "Should we have our babies at my house too?" Brie jokingly asked. "So gross. No. Sick," Nikki responded.
Nikki went on to explain that she visited her doctor while they were staying with Brie around Halloween, and was told it would be difficult to get pregnant due to the fact she had been diagnosed with polycystic ovary syndrome.
Article continues below advertisement
"This is how I got pregnant. I go to the doctor, I find out that I have very high testosterone and very low estrogen and I have PCOS. The doctor told me that the day I would want to have babies, I probably would actually need help. I was in the discussion of freezing my eggs. Artem and I had unprotected sex two nights straight in the moment because I'm like, 'I can't get pregnant. I need help,'" she detailed.
It has been a big few months for Nikki. Artem secretly popped the question during a trip to France to meet his parents in November 2019, and they shared the news with their fans on January 3. Nikki posted a photo of herself kissing Artem after he proposed in a church covered with rose petals and candles. "Excited for 2020 and the next decade with you @theartemc I said yes in France in November! We have been trying to keep it a secret but really wanted to share our excitement for the New Year!" she captioned the sweet snapshot. They started dating in 2018 after she called off her engagement to John Cena.
Article continues below advertisement
"I'm super excited — even though everything was really fast. I'm definitely going to take my time getting married. That was the one thing I told Artem is, I was like, 'I do not want to plan a wedding anytime soon. I really want to take our time being engaged and just soak it in.' But I'm extremely, extremely happy," she gushed on the podcast at the beginning of January.
Article continues below advertisement
What do you think of Nikki conceiving in her sister's home? Sound off in the comments below!