PHOTOS
Riley Curry Shares Hilarious Commentary As Ayesha Curry & Steph Curry Enjoy A Romantic Slow Dance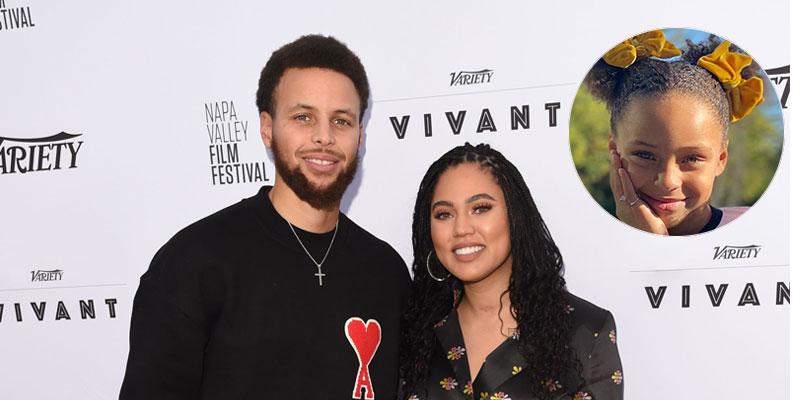 Ayesha Curry's daughter Riley added some hilarious commentary to a video of the cookbook author dancing with husband Steph Curry. Ayesha shared the clip to Instagram on Friday, February 28, and joked that Riley was "7 going on 17 with her wit."
Article continues below advertisement
Ayesha, 30, revealed that Riley, 7, took her phone and decided on her own to shoot the sappy footage. "Riley's commentary ?. Going to have to change my phone passwords. 7 going on 17 with her wit. I hope we dance like this forever @stephencurry30 unless it's a bubble ting then we will do that," the Family Food Fight host captioned the clip.
Ayesha and Steph were enjoying a romantic slow dance in the living room of their home when Riley chimed in. "So cute. In love, so crazy in love! So crazy in love!" Riley can be heard singing in a dramatic voice in the background. "And this is what makes happy children!! Love this!!!" one fan wrote in the comments section of Ayesha's post. "Riley is so funny I'm glad she gets to see this love u guys r the best," another person added.
Article continues below advertisement
Unfortunately, Ayesha has also had to deal with some negativity from trolls in recent weeks. The restauranteur clapped back after someone wrote that "Steph is married to an actual real life farm animal" on a pic of them sunbathing. "Yes, a GOAT I know," Ayesha responded, using the acronym that stands for "greatest of all time."
Article continues below advertisement
Another hater called Ayesha out for posing in a bikini on her vacation. "Weren't you bashing other women for posting bikini pics? lol," the person wrote, in reference to past tweets Ayesha had written about women that dress too provocatively. "I was talking about someone walking around casually shopping in nipple pasties. I still find it freaking hilarious. But no one will everrrrr know. All good. You've got to broaden the thought process on 140 character tweets. It's not always that serious but I love all of y'all for gassing it to try and find a weak spot," Ayesha fired back.
Ayesha has no time for criticism, as she's too focused on launching her upcoming quarterly lifestyle magazine in May 2020. "I'm overjoyed to have the opportunity to share my lifestyle philosophy about the subjects I deeply care about — family, friendship, food, community and home — with a new audience and in a new format. To now have a magazine of my own feels like a dream come true. As a woman of color, it's important to me that media reflects real, relatable women, and I'm excited to create an outlet for young men and women that celebrates diversity and inclusivity," she said in a press release.
Article continues below advertisement
What do you think of Riley's funny commentary about Ayesha & Steph slow dancing? Sound off in the comments below!