REALITY TV
Watch: Is That A Threat? Gina Says Vicki Should Be Scared Of Her After Epic Dinner Fight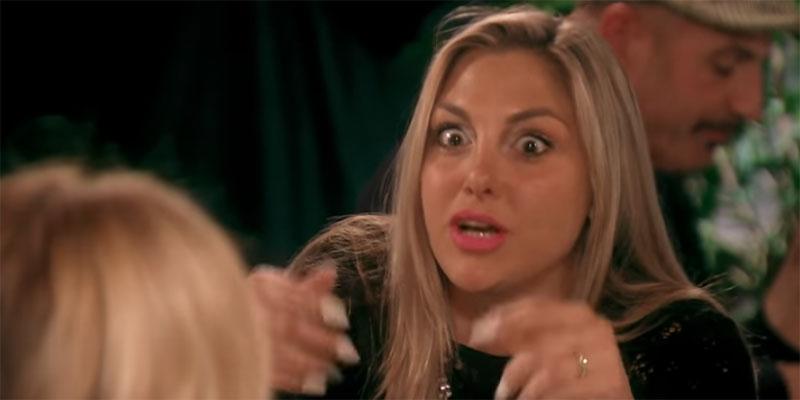 A new battle is brewing on The Real Housewives of Orange County, and as usual... it involves Vicki Gunvalson.
Vicki, who has gotten into it with several cast members over the past 13 seasons, has her sparring sights set on new OC housewife Gina Kirschenheiter. But has she met her match in the former Long Islander?
On Monday night's episode, the two of them got into it during a group dinner over Vicki setting up Kelly Dodd's ex with another woman. "I'm not a lawyer, but that s**t's girl code," Gina exclaimed about the awkward situation. Her opinions about the whole ordeal kept going, which made Vicki visibly uncomfortable. "Gina, you need to shut the flip up," she said in the confessional.
Article continues below advertisement
The discussion continued when Gina visited an injured Tamra (she broke her foot while on vacation in Mexico) at her home.
"Well I'm not going to lie, Vicki sent me a message this morning," Tamra admitted. "That she hates me?" Gina responded.
"She hates you," Tamra said, which made Gina laugh out loud. "I don't think it said hate, she said 'I don't like your friend Gina.'"
Gina then mentioned how she saw Vicki's "dagger eyes" when she spoke up about the Kelly situation, but followed that up by saying "that's her issue... not mine." Tamra said that Vicki wants everyone to agree with her. "I'm definitely not that person," Gina admitted.
MORE ON:
gina kirschenheiter
Gina then boldly said, "I personally think she should be more scared of me than I should be of her." Whoa! So will the arguments between these two continue to escalate as the season continues?
Watch the clip above! Whose side are you on, Vicki or Gina's? Sound off in the comments!