REALITY TV
Brandi Glanville Says Affair With Denise Richards Began With Steamy Night in 2018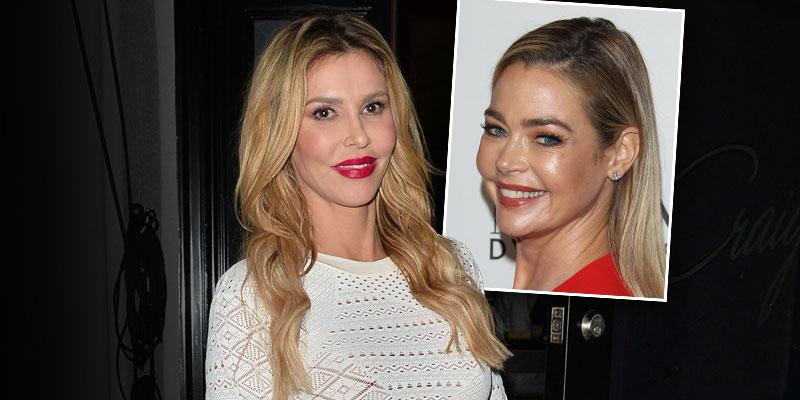 She said ... she said?! Brandi Glanville — who claimed to have sex with Denise Richards in April 2019 (an incident that Richards denies) — recently revealed that their sexual tension dates back to 2018.
Glanville told DailyMailTV that she didn't think the incident "was going to be as huge as it is." However, she said, "It's literally everywhere. I think the denial with Denise has made it a huge deal, especially since it's all over Housewives." So now the 47-year-old is interested in "getting the truth out there" once and for all.
Article continues below advertisement
The dinner began with their agent, but the lines blurred once he left. "Denise said to me, 'Oh, my God, does it seem like I've been looking at your boobs all night?'" Glanville recalled. "I'm like, 'Yeah, pretty much.'"
HEARTBREAKING! BRANDI GLANVILLE ADMITS WHAT SHE HATES ABOUT HERSELF
Glanville detailed Richards' desire to see her breasts because she wanted to get hers redone. "We went into the bathroom and I showed her my boobs and right when I took my shirt down, she just kind of threw me against the wall and started making out with me," Glanville claimed. "And I was down for it, I honestly didn't mind. I was like, 'OK, what are we doing, but this is fun.'"
Article continues below advertisement
Glanville added that they were both drunk, but that she was "flattered" by Richards' advances and thought she was "beautiful."
DENISE RICHARDS CALLS HUSBAND AARON PHYPERS A 'WONDERFUL STEPDAD'
Things got even more intense after a few more drinks. Glanville said the two went back to the bathroom to take things to the next level: "She said to me, 'Oh, my God, I always wanted to f**k the s**t out of you.' And I was like, 'What?' But I was going with it. I was having a good time. We were just making out, I had jeans on. There was nothing other than like a little bit of t**ty sucking, but it was sexy."
After they left the restaurant, Glanville said that she got an Uber and went home. Richards freaked out for a moment, thinking that there was paparazzi.
"There was a little paranoia there and before we left she was like, 'Oh, my God, I hope that you would never tell anyone about this, my personal life is my personal life. I trust you," the Unfiltered podcast host claimed. "To me, it was not a big deal, two girls getting drunk and making out, but, of course, I didn't know she was married at this point, she never mentioned her husband Aaron Phypers once."
Article continues below advertisement
'THE REAL HOUSEWIVES OF BEVERLY HILLS' LADIES TAKE OVER NEW YORK CITY
However, a source told Us Weekly that the sexual encounter "never happened," adding: "This is just a complete fabrication and pure desperation by Brandi. It sounds like a tacky porno."
The source added that if the night had happened, Richards "would have owned this," as she "has nothing to hide." The insider also revealed that "Brandi is obsessed with Denise and keeping her name in the press."
Glanville, however, asserts that there was "nonstop texting" after their first meeting, adding: "Denise wanted to finish what she started."