REALITY TV
Is Leah McSweeney Returning To 'RHONY'? Star Says Her 'Work Isn't Done'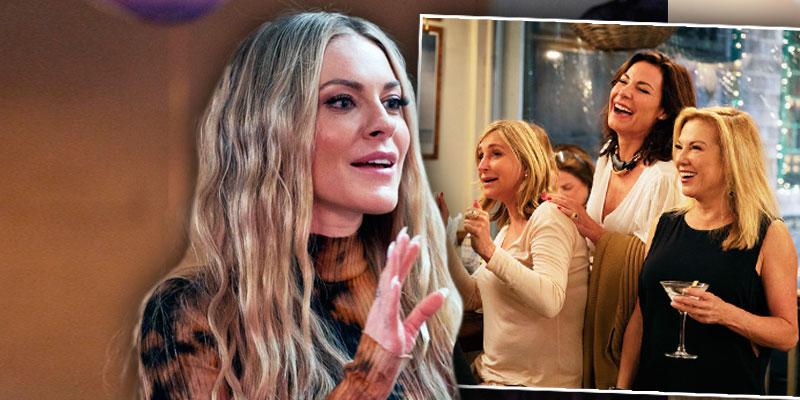 She's not going anywhere! Leah McSweeney confirmed that she is "coming back" to The Real Housewives of New York City amid her contract negotiation drama.
The 38-year-old announced on Instagram on Monday, September 21, that she had recently signed with powerhouse agency WME. Fans and friends immediately congratulated the star but also wanted to know whether or not she was returning to RHONY as a cast member.
Article continues below advertisement
Sources told TMZ that the reality starlet was only being offered a "minuscule" pay raise for the upcoming 13th season of RHONY. The source also said that she felt "disrespected" by the low offer.
The insider added that the newcomer made $3,000 per episode last season, which would net her around $60K for the season, and she feels that Bravo is underpaying her with a similar offer for the upcoming season.
Article continues below advertisement
LEAH MCSWEENEY CALLS FOR 'MORE DIVERSITY' ON RHONY AND BRAVO
OK! previously reported that McSweeney was "trying to strong arm" the network into "paying her double, putting her on the same money level as old timers LuAnn de Lesseps and Sonja Morgan." However, Bravo was "not budging," and they started "to film without Leah and think she will back down after a few weeks of them not needing her."
"Bravo is super tight when it comes to money. None of the ladies earn millions on the show," the source shared. "The reason the franchise is so successful and won't be canceled like the Kardashians is because Bravo watches the bottom line like a hawk. The only person making a ton of money off this franchise is Bravo."
Meanwhile, the Married to the Mob founder has been keeping busy as of late since the she recently got a nose job.
WILL DORINDA MEDLEY RETURN TO 'RHONY'? ANDY COHEN GIVES A HINT!
Fans started to notice a change in the blonde beauty's face, and she copped to having a little work done on Instagram. "People are DMing me like crazy inquiring why I have black eyes and asking if I got a nose job, asking if I got beat up … I am not trying to hide anything from anybody. I got a rhinoplasty and a septoplasty. I could not be happier," she revealed on her Instagram Stories. "I've been wanting one for so freaking long and now I can also breathe, which is great."
"And I'm just never going to be one of those b--ches that pretends like, 'It's not work, it's contour makeup' because that's f--king weird," she concluded.