REALITY TV
'Selling Sunset' Star Christine Quinn Slays In A Zebra Print Bikini In Croatia — See Photo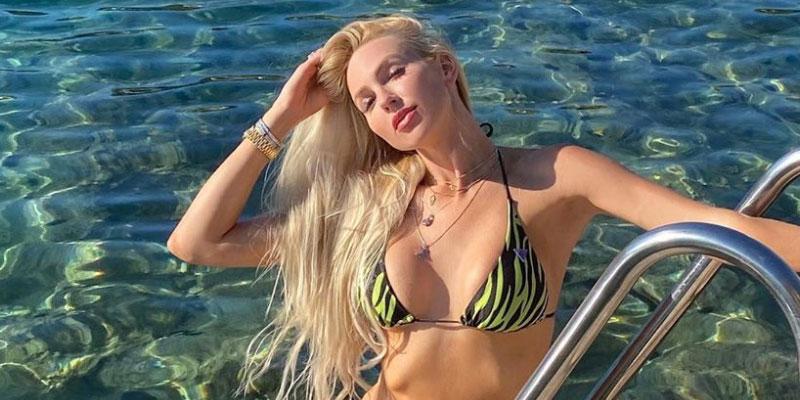 Work it, girl! Selling Sunset star Christine Quinn looked amazing in a zebra print bikini while she was on vacation in Croatia, which she posted via Instagram on Thursday, September 3. The blonde beauty, 31, posed for the camera as she touched her luscious locks with the clear water all around her.
Of course, Quinn's celebrity pals immediately took to the comments section to show her some love. RHONY alum Dorinda Medley wrote, "OMG," while Too Hot to Handle star Francesca Farago added, "Baby." Hannah Ferrier from Below Deck added some fire emojis to the post.
Article continues below advertisement
These days, the reality star seems to be living her best life with her husband, Christian Richard. Not only did Quinn look good in the water, but she also enjoyed a boat ride on her getaway.
AMANZA SMITH IS UNHAPPY WITH THE WAY JUSTIN HARTLEY TREATS EX-WIFE CHRISHELL STAUSE
Even though the real estate agent might get into some tiffs on the show, she revealed that she has always been sure of who she is — which is something she has always owned up to. "Confidence is something I was born with, but it's also something I've grown to embody as life has thrown obstacles my way," she told British Vogue. "Many people over the years told me 'no,' so that gave me inner strength, which grew into this big personality, that, I guess, people fell in love with. I'm grateful that people can relate to me."
Quinn also revealed she is not shy about her previous plastic surgery procedures. "I tell people all the time: I got my boobs done, I get my lips done, tons of Botox, tons of makeup," she shared. "How I look on Selling Sunset is not how I look when I wake up in the morning. When it comes to the show, I don't do my own hair. I do my own makeup because I love doing it."
'SELLING SUNSET' STAR CHRISHELL STAUSE SEEKS REVENGE ON EX JUSTIN HARTLEY
Article continues below advertisement
Quinn might even be turning over a new leaf with some of her costars — a.k.a. Chrishell Stause. After it was revealed that Stause, 39, would be joining season 29 of Dancing With the Stars, Quinn reacted to the news on social media.
"I'm happy for her! Sounds fun," she wrote. One follower asked if she would go on the show, which she responded, "That would be fun! Maybe in a few years!"
After Stause's split from This Is Us star Justin Hartley played out on the show, Quinn didn't seem to side with her. "I think what she was honestly mad about was the fact that, you know, she's trying to have this portrayal of Justin Hartley being such a bad guy and just walking out on her," the Texas native said on the "Not Skinny But Not Fat" podcast on August 18. "But, you know, I don't know. I mean … I've met him and he was nice to me, and that's what the interviewer asked me and that's what I was going off of. … Maybe, she got mad that I was saying he's a nice guy."
CHRISTINE QUINN REACTS TO CHRISHELL STAUSE JOINING 'DWTS': 'SOUNDS FUN,' ACCUSES HER OF 'VICTIM MENTALITY'
In response, Stause seemingly shaded her costar, writing, "I am a victor of many things and thriving," she said. "I can't wait for you to get there so you can stop with this nonsense."
Aside from the drama, Quinn is excited for what the future holds. "Having kids in a year or so would be amazing — imagine little Christines running around? But all in due time," she said. "A spin-off solo show would be a great idea. I'm so tired of sharing screen time with those five other bitches — I'm done. Give me my own show already!"
Hear that, Netflix? Give the lady her own show!