REALITY TV
The Voice Returns With A New Look For Season 19 Amid Pandemic — Watch The Clip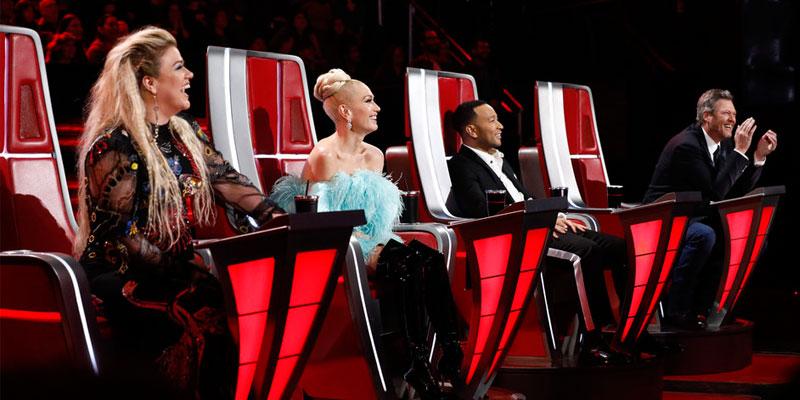 In a preview of the upcoming 19th season of the hit NBC singing show, the coaches are returning to set - in their red chairs - for the first time since the coronavirus pandemic sent the show into lockdown back in March.
Their famous red swiveling chairs are now spaced a socially distant appropriate eight feet apart. The coaches who are used to running up and hugging their new team members, are now having to get creative with how they interact with the contestants.
Article continues below advertisement
'VERY HAPPY' GWEN STEFANI AND BLAKE SHELTON MOVE INTO 'WARM AND INVITING' L.A. 'FAMILY HOME'
In the clip, you can see Stefani, 50, attempting to welcome a contestant to her team by launching a T-shirt at him with a T-shirt cannon and epically failing. "I got a present for you but because we're social distancing. I'm going to launch it at you. You ready?" she says.
When she fails to get the T-shirt to the contestant using the cannon, Stefani decides to take boyfriend Blake Shelton's advice and use a long pole with a glove at the end to give it to her new team member.
Stefani is returning to The Voice after taking a year hiatus from the show to do a Las Vegas residency. In the clip the No Doubt frontwoman says that her and Shelton have been "quarantining" together.
KELLY CLARKSON HITS BACK AT TWITTER TROLL OVER FAILED MARRIAGE
Their time shacked up together in Oklahoma inspired their hit duet 'Happy Anywhere.' The country crooner told PEOPLE that Stefani was the "most understanding, kind-hearted person" he's ever met and that he learns "something from her every day," in reference to their time in quarantine.
Article continues below advertisement
"An Okie boy and a California girl look on paper like an unlikely match, but what matters is she's a great human being," Shelton told the outlet.
JOHN LEGEND AND CHRISSY TEIGEN LIST THEIR BEVERLY HILLS HOME AT $23.95 MILLION!
Clarkson, 38, has kept busy during quarantine filming her daily talk show between her home in Los Angeles and her cabin in Montana. The 'Breakaway' singer recently filled in for Simon Cowell as a judge on NBC's America's Got Talent, after Cowell broke his back in a biking accident.
Legend, 41, has also been busy preparing for the arrival of his new baby with wife Chrissy Teigen.
Season 19 of The Voice premieres October 19, at 8p.m. on NBC.