REALITY TV
Her Own Worst Critic! Tyra Banks Admits She 'Messed Up' While Hosting 'DTWS'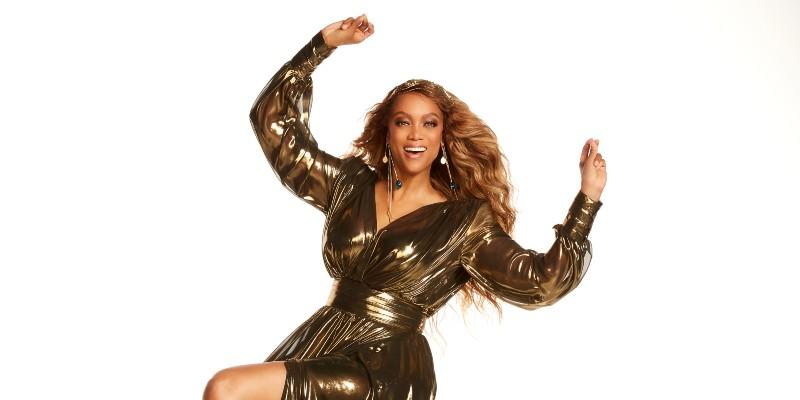 Article continues below advertisement
The former Sports Illustrated Swimsuit covergirl wasn't the only one who flubbed this season. Contestant Skai Jackson nearly fell during her Samba with partner Alan Bersten during the same episode.
"She got back up and she kept going, and because of that she's here for another week," the host said. "So the message is: I messed up this week, Skai messed up this week, but we're gonna keep on going and going. Forgive yourself when you mess up."
In July, ABC announced that Tom Bergeron and Erin Andrews would no longer host the show, and Banks would take their place instead. After the shocking news, the model told Good Morning America she was "excited about hosting and executive producing" the series. "You never know what happens on live TV," she said.
Following the premiere on Monday, September 14, fans couldn't help but point out that they were less than thrilled with Banks' hosting skills. One person wrote, "Can Tyra Banks be the first person voted off, thanks!  #dwts," while another echoed, "Tyra Banks has ruined Dancing With the Stars ... she tries to be funny but keeps falling flat ... #bringtomback #DancingWiththeStars."
Article continues below advertisement
CLAWS OUT! 'DWTS' CONTESTANTS WANT CAROLE BASKIN 'OFF FIRST,' REVEALS INSIDER
Despite the harsh criticism, the new season of DWTS was up a whopping 30 percent over last season's premiere, giving Banks unprecedented power over the show that she now also executive produces, OK! reported.
"There was a lot of nervous people at ABC the day after the premiere waiting for the numbers to come in. The majority of insiders were not impressed by Tyra's opening night performance and were resisting all the other changes she wanted to make to the show. But now, after the huge ratings success, Tyra's power is unstoppable," a source exclusively told OK!.
The show kicked off with a 1.3 rating among adults 18-49 and averaged 8.1 million viewers. The model brought in the highest-rated DWTS premiere since 2017. 
"The people that doubted her were wrong and are now worried about their job, while the people that supported Tyra won and she has their backs. There are two camps at the team — camp Banks and camp Bergeron," the insider added. "It is clear which team won, and now, any resistance to more Tyra changes will disappear. If you thought working for Tyra was bad before, just wait now that she has delivered huge numbers."
BALLROOM BODY BLITZ! DIET AND FITNESS SECRETS OF 5 DANCING WITH THE STARS STUNNERS
The 46 year-old — who is a "very hands-on" boss — "now has the ultimate power" and is making big changes to the reality show. "Expect to see more fashion on the show, more runway type segments and more Tyra," the source explained. "Backstage the show is now referred to as Dancing With Tyra Banks!"
However, there are still some folks within ABC who do not approve of Banks and believe the numbers are only up because people wanted to see Carole Baskin try and strut her stuff on the dance floor. "It is a little too soon for Tyra to be celebrating yet," the insider dished. "Let's see how the show ratings are after the novelty of Carole wears off."