ROYALS
Prince Philip 'Struggled' With Grandson Prince Harry Leaving Royal Family, New Book Claims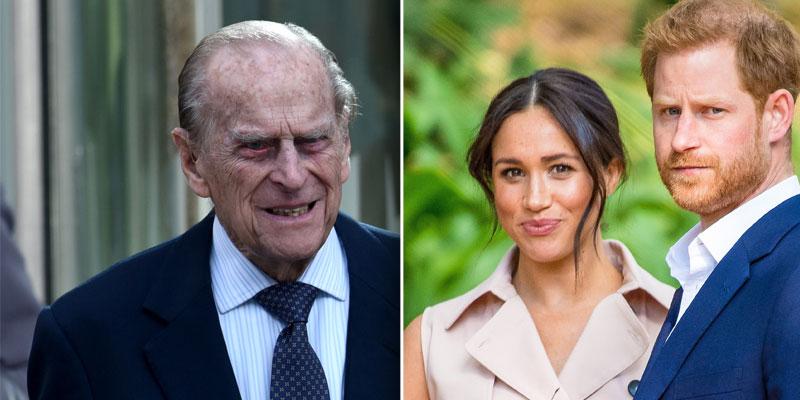 Prince Philip doesn't think highly of his grandson Prince Harry's decision to leave the royal family, a new book called Prince Philip Revealed claims. "He has struggled greatly, for example, with what he sees as his grandson Harry's dereliction of duty, giving up his homeland and everything he cared about for a life of self-centered celebrity in North America," royal biographer Ingrid Seward writes in the biography, which was excerpted in the Daily Mail on Sunday, September 6.
Article continues below advertisement
The Duke of Edinburgh, 96, "has found it hard to understand exactly what it was that made his grandson's life so unbearable" in the United Kingdom before he uprooted his son, Archie, and his wife, Meghan Markle, to California.
JEREMY CLARKSON 'DOESN'T GIVE A S--T' ABOUT PRINCE HARRY AND MEGHAN MARKLE'S NEW NETFLIX DEAL
"As far as Philip was concerned, Harry and Meghan had everything going for them: a beautiful home, a healthy son, and a unique opportunity to make a global impact with their charity work," Seward writes. "For a man whose entire existence has been based on a dedication to doing the right thing, it appeared that his grandson had abdicated his responsibilities for the sake of his marriage to an American divorcée in much the same way as Edward VIII gave up his crown to marry Wallis Simpson in 1937."
In January, Harry, 35, and Markle, 39, announced they were stepping back from their royal duties. Since then, the couple stayed in Los Angeles while they looked for a house. Ultimately, they decided on a nine bedroom home in Santa Barbara, California, where they have a little bit of privacy.
PRINCE HARRY AND MEGHAN MARKLE ARE TRYING TO BUILD BRIDGES WITH THE QUEEN, REVEALS SOURCE
On Monday, September 7, it was announced that the pair has paid back the $3.1 million he and the Suits alum spent on renovations for their U.K. home. "This contribution, as originally offered by Prince Harry, has fully covered the necessary renovation costs of Frogmore Cottage, a property of Her Majesty The Queen and will remain the U.K. residence of The Duke and his family," a spokesman for the couple said.
Article continues below advertisement
Now that the two have settled in California, they have signed a multi-year deal with Netflix, where they will produce different types of content, including documentaries and feature films. However, a source told OK! that Harry's dad, Prince Charles, is still supporting them.
"You would think Harry would give his dad the heads up that the deal was signed and that he wouldn't need family money anymore, but that didn't happen. After the couple made a big fuss about wanting to be financially independent and pay their own bills, neither one of them mentioned the deal, or the huge amount, to anyone in the royal family," sources told OK!
Prince Philip Revealed will be released in the United States on October 20.