VIDEOS
The Kardashian Fam Celebrates Kourtney's B-Day With A Surprise Parade In 'KUWTK' Teaser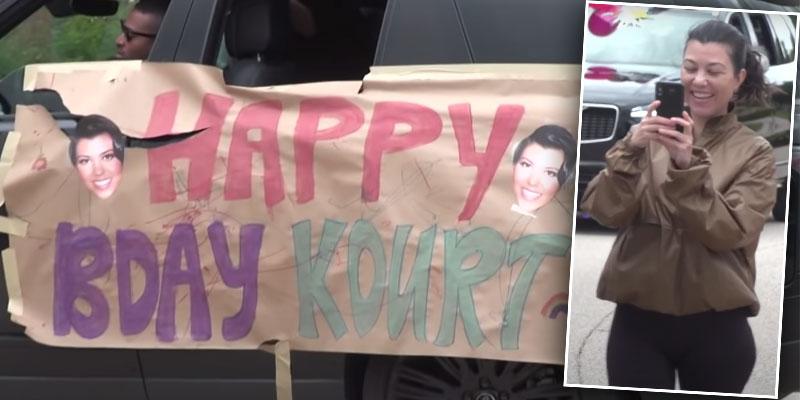 The new trailer for KUWTK — which premieres Thursday, September 17 — showed how the family celebrated Kourtney Kardashian's birthday amid quarantine. Of course, the famous fam went all out by surprising Kourtney with a drive-by parade — and Tristan Thompson even made an appearance.
The trailer begins with Khloe Kardashian — who is dressed in all black — gathering balloons and posters to decorate their cars. "So, it's Kourtney's birthday and we are going to drive by Kourt's house blasting birthday music, honking horns, annoying all the neighbors and everyone did such a great job decorating their cars," the Good American founder explained.
Article continues below advertisement
CELEB EXTREME HAIR MAKEOVERS: JOE JONAS GOES PLATINUM BLONDE AND MORE
Before heading off for the surprise birthday parade, the mom of one prepared her daughter, True, 2, for the loud noises with a megaphone in hand. "It's me talking, I'm preparing you, OK?" Khloe said to the toddler. "'Cause, when we go outside of Auntie Kourtney's house I'm gonna say this really loud, OK?"
Before the Kardashian crew heads to Kourtney's, Khloe chatted with her niece Penelope Disick, 8, to make sure that she is responsible for getting her mama out onto the street. "You're just gonna have to say, 'Mom! Can you come outside? I need to show you something,'" Khloe told the tot. "But don't ruin the surprise, you can take all the credit."
A MUCH FITTER ROB KARDASHIAN IS SET TO RETURN TO KUWTK
Luckily, the day went smoothly. Everyone honked their horns and screamed out their windows as they drove by the Poosh founder's house, and even iconic radio host Big Boy sang "Happy Birthday" into a megaphone. Talk about a party!
Keeping Up with the Kardashians returns on September 17 at 8 p.m. ET on E!