VIDEOS
The Bachelorette Week In Review: Desiree Hartsock Plans to Watch Season 18 of The Bachelor, Chris Harrison Hangs With Kenny Chesney, and More!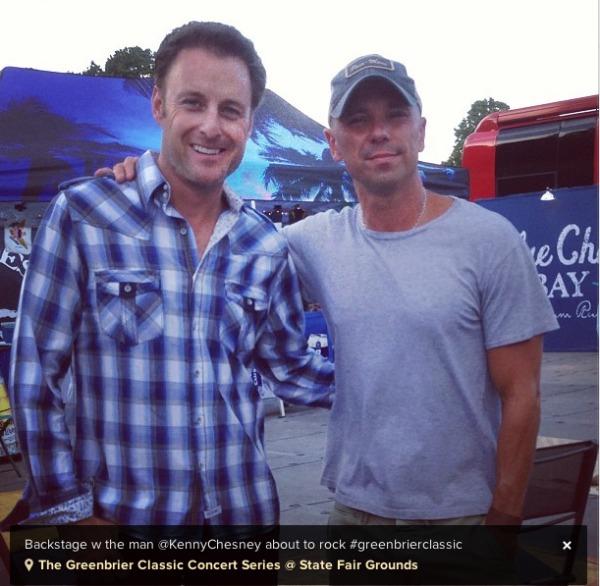 It's the 4th of July edition of The Bachelorette Week In Review, and you already know the former contestants didn't just stay home and have a low-key holiday like everyone else. From hanging out with country super-hottie Kenny Chesney (jealous!!) to hosting E! News, these lucky reality stars celebrated Independence Day in true American, over-the-top style. Keep reading to see what everyone was up to over the holiday weekend!
Article continues below advertisement
Photos: Celebrities That Look Like Other Celebrities
And in other 4th of July weekend news, Ali Fedotowsky celebrated Independence Day by testing her hand in hosting alongside Jason Kennedy on E! News. Ali documented her day with a series of behind-the-scenes Instagram photos taking us into the makeup room, behind the cameras and more. We absolutely love Giuliana Rancic on E! News, but after seeing Ali on-screen, we're thinking she might have some competition.
Watch: Ashley Tisdale Reveals Her Celebrity Crush
Desiree Hartsock is getting close to choosing the man of her dreams on The Bachelorette, but even when her public search for love ends she still plans on watching the show. Des told Ryan Seacrest, "Yes, I will watch the next season of The Bachelor. I think it's fun, especially now after living through it and really seeing how each season is unique and different." While it might be a little awkward for Des to watch one of her former flames search for love, we're sure it'll make for some interesting live tweeting!
Jillian Harris took her love of all things vintage to the next level and launched Charlie Ford, a unique online vintage store where people can purchase items that Jillian has personally curated. Charlie Ford has everything from jewelry to furniture, guaranteeing that all antique lovers will find something for them.
OK! Exclusive: Jillian Harris Talks Future Wedding Plans
In an interview with the Charlotte Observer, Emily Maynard revealed what she really thinks about finding love on a reality show. "I think it's pretty slim chances, but I do think it's possible," she said. "It just wasn't for me." Emily famously got engaged to Jef Holm on The Bachelorette, but ultimately ended the relationship before she could walk down the aisle. We know it's technically possible to find true love on TV (shout out to Ashley Hebert and J.P Rosenbaum!), but can definitely see where Emily is coming from.
Although Ben Scott is known for being one of the most hated contestants of this season, no one wants to see any of his family members get hurt—especially not his 89-year-old grandma. Yep, that's right. Ben Scott's grandmother's house was broken into over the weekend, and he's rightfully not too happy about it. From his tweet it seems that the person responsible is headed to jail, and we really hope that's true!