COUPLES
Matthew Koma Gets *Cheeky* Tattoo In Honor Of His Wife Hilary Duff — See Photo!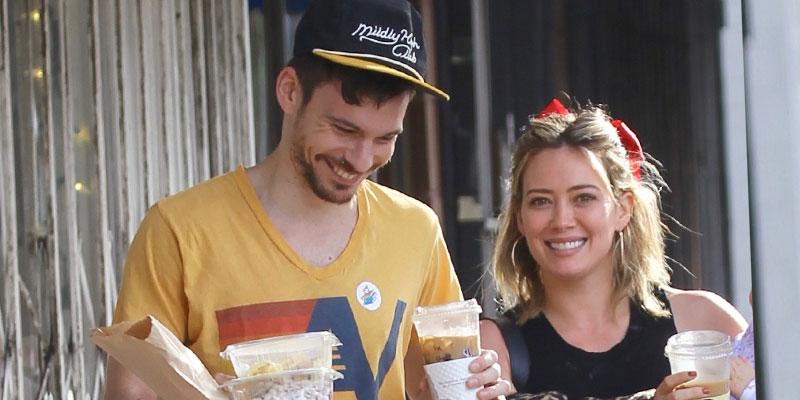 Matthew Koma honored his wife, Hilary Duff, in the cheekiest way possible — by getting a tattoo of her name on his rear end.
"Good luck winning a fight with your wife when her name's tattooed on your butt cheek. #squats #gainz #laseraway," the 33-year-old musician captioned the new ink on Monday, September 21.
So, what did Duff, 32, think about the fanny-tastic gesture? Well, she loved it! "Finest tiniest booty around #youstucknowboy," she quipped in the comments section. Other celebs couldn't help but laugh about the new tattoo — Mandy Moore added, "Dying," while Whitney Cummings quipped, "Wait, I just got this too."
Article continues below advertisement
The pair — who got married in December 2019 — have been quarantining with their daughter, Banks, 1, and Duff's son, Luca, 8, whom she shares with her ex Mike Comrie. Luckily, it seems like the 'Come Clean' songstress and Koma are enjoying spending time time together. "We are doing great, and he's the best," the blonde beauty told E! News in July.
"He is so sweet," she gushed about her hubby. "He has his own studio and he goes to work Monday through Friday. He's been really busy right now, obviously, because he can do everything alone. But I'm home all day. So, we came up with this routine where he lets me sleep in, and he does the first three hours with the kids in the morning because he knows, once they see me, they only want me."
Article continues below advertisement
HERE'S EVERYTHING YOU NEED TO KNOW ABOUT THE 'LIZZIE MCGUIRE' REBOOT
Ultimately, Duff is "really grateful" that Koma is "super involved" with their kiddos.
In the beginning, it was tough for the musical artists to adjust to their new lifestyle, but over time, they've gotten into a great groove. "I obviously want things to go back to normal, but I'm not going to fight it," she shared. "It's actually become the norm — 'here's what we are doing,' you know, 'we're still in this' — and it's not as much of a panic like, 'I can't do it anymore.'
"Like, we're in this for a while, and I think some days are better than others. It's hard to complain because we have a pool, and a backyard ... and we have everything we need," she added. "We have food. But everyone's life has changed, so it's definitely still challenging at times."
NEWLYWEDS HILARY DUFF & HUSBAND MATTHEW KOMA ENJOY A DAY OUT WITH THEIR KIDS
Bottoms up to the coolest parents around!