NEWS
Brad Pitt's 'Number One Priority Is His Kids' Amid New Relationship, Wants To End Custody Battle With Ex Angelina Jolie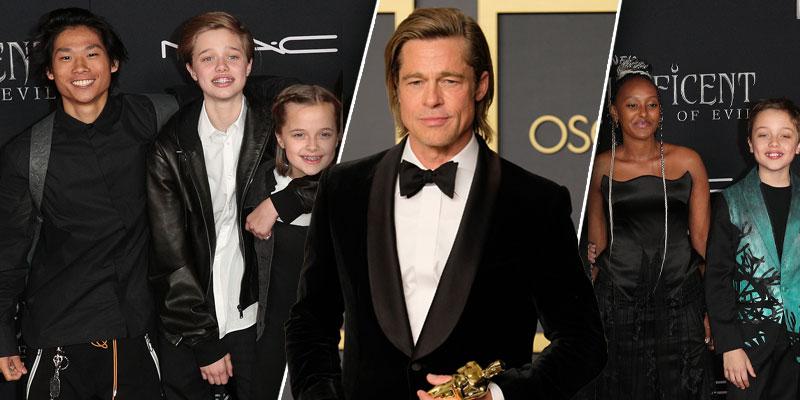 Brad Pitt is enjoying some alone time with his new young girlfriend, German model Nicole Poturalski, however, the "number one priority" in his life right now is ending his ugly custody war with ex Angelina Jolie, not his new love!
"Sure, Brad wants to be in love again and whisk whoever he wants off to his $67 million French Château (even if Angelina Jolie technically still co-owns the love shack with him!) but his number one priority is his kids," sources told OK! "Brad knows Angelina is grasping at straws trying to do whatever she can do to delay and distract. He fully expects her to make a fuss about his new relationship when they both head back to court in October. His new relationship is fun, but if he had to pick, his kids would win every single time."
Article continues below advertisement
BRAD PITT SPOTTED KISSING GERMAN MODEL NICOLE POTURALSKI IN FRANCE: THE PAIR ACTED LIKE 'LOVED UP TEENAGERS'
The couple — who share six children Maddox, 19, Pax, 16, Zahara, 15, Shiloh, 14, and 12-year-old twins Knox and Vivienne — split in 2016, but still, after four years, continue to fight about assets and custody of the kids, leading some of the actor's friends to believe that Jolie doesn't want her divorce from Pitt to end.
"Brad now just wants to move on. Angelina will already be in his life because of the children and it seems like everything was getting better, until she filed a motion to have the judge removed from the case. Brad knows he's taking a risk now that his new girlfriend isn't a secret anymore, he knows Angie can be jealous and spiteful, but for god sake, enough is enough. He deserves to find a little happiness too," added a pal.
Article continues below advertisement
BRAD PITT IS OFF THE MARKET! 5 THINGS TO KNOW ABOUT HIS NEW LADY NICOLE POTURALKSKI
Insiders are waiting to see how Angie, 45, reacts to the news, and they are not expecting it to be good!
On August 26, the Ad Astra star, 56, and his 27-year-old new lady were spotted on the tarmac in France. The couple acted like "loved up teenagers," a source exclusively told OK!. "They were kissing and Brad was being super attentive to her. He was in a semi public place but didn't seem to mind people seeing him. She's a real beauty and obviously a lot younger than him."
The Oklahoma native flew into Charles de Gaulle airport in Paris from LAX and then flew to Le Castellet Airport, which is 30 miles from his French estate. The brunette beauty "was already in Paris, waiting in the Air France lounge for Brad when he flew in from LAX," the insider added of their arrangement.
ANGELINA JOLIE ENJOYS A FAMILY DINNER WITH KIDS AT NOBU AMID BRAD PITT DIVORCE DRAMA
In early August, the mom of six filed a request to have Judge John W. Ouderkirk removed from their custody trial since he has a close relationship with Pitt's legal team. Pitt's team claimed that Jolie's demand was "a thinly-veiled attempt by Jolie to delay the adjudication of long-pending custody issues in this case."
Now, the Maleficent star is upset that her ex-husband is bringing his new love to their home. "This place was meant to be for the kids future, not as Brad's personal love nest. Angie is livid and this makes her want to fight even harder in October when the two of them next see a judge," a pal exclusively told OK!.