NEWS
The Business of 'Twilight' in 2009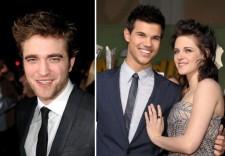 Due to the fanatical demands of Twi-hards everywhere, the second installment in the Twilight Saga, New Moon, was cast, filmed and released all in 2009, with more than a few shake-ups along the way before the highly-anticipated movie hit theaters in November. The cast and crew also tackled the third film, Eclipse in the same 12-month span. OK! takes a look back at the important casting and directing decisions that shaped the franchise in 2009.
Article continues below advertisement
Catherine Hardwicke replaced as director with Chris Weitz: Although this decision was announced in the last month of 2008, it was the first sign that everyone who worked on Twilight would be around for New Moon and foreshadowed other cast and crew shake-ups to come. It was rumored at the time that Catherine had some disagreements over the direction New Moon should go in, and wasn't on a schedule that she felt would allow for the best outcome.
Taylor Lautner's casting fate in the air : Fans set to howling with fury when the press release announcing Chris Weitz as director for New Moon included the confirmation of Robert Pattinson and Kristen Stewart's return but did not announce Taylor's return as Jacob Black. It was thought the slightness of the teen actor might not pass muster as a muscly werewolf. However in early January, it was finally confirmed that Taylor would reprise his role. None other than author Stephenie Meyer made the announcement official on her Web site. Whew!
Article continues below advertisement
Dakota Fanning signs on as a Volturi vampire: The cast of New Moon garnered a bona fide acting veteran when the experienced teenager Dakota was announced as an addition to the cast, playing Volturi bad vamp Jane in January.
Release date for Eclipse set for June 2010: Even before filming began on New Moon, Twi-hards got the good news in February this year that they would only have to wait seven months after the second movie for the third to be released.
More Volturi vampires sign on for New Moon while the wolfpack grows: March and April saw the additions of Jamie Campbell Bower and Michael Sheen cast as Caius and Aro, respectively. Also in March, Alex Meraz and Chaske Spencer joined the Quileute pack.
Cast heads to Vancouver to film New Moon: With all the key players in place, the cast headed up to Vancouver in April to begin filming with director Chris Weitz.
Article continues below advertisement
David Slade announced as director for Eclipse: Months after it got a release date, Eclipse got its director, when David Slade signed on board on April 23.
R-Pattz confirms he'll be there for Breaking Dawn: As if the forces behind the Twilight franchise would ever dare to dream of replacing him, Rob confirmed in May that he'd be there when filming began for the fourth and final movie, Breaking Dawn.
Bryce Dallas Howard replaces Rachelle Lefevre as Victoria in Eclipse: Perhaps one of the most shocking stories to come out of the casting department for the Twilight franchise hit the news in July when Summit announced that Rachelle would no longer play evil vampire Victoria after New Moon, and would instead be replaced by Bryce. The move was attributed to scheduling conflicts, which Rachelle later decried as minimal. However Summit's decision held. even after fans denounced the change and Rachelle issued statements expressing her concern over the shift.
Eclipse begins filming in August: With one movie already under their belts for the year, the cast of Eclipse headed back up to Vancouver to film the third installment of The Twilight Saga under the direction of David Slade.
New Moon hits theaters: As any person not living under a rock this fall knows, New Moon finally hit theaters on Nov. 20, with record-breaking midnight showings and hundreds of millions of sales to follow.
With the official announcement regarding Breaking Dawn yet to happen and the release of Eclipse set for June, 2010 should be just as big a year — if not bigger — as 2009 for the Twlight franchise!