NEWS
Speaking Up: Emily Ratajkowski Accuses Fashion Photographer Of Sexual Assault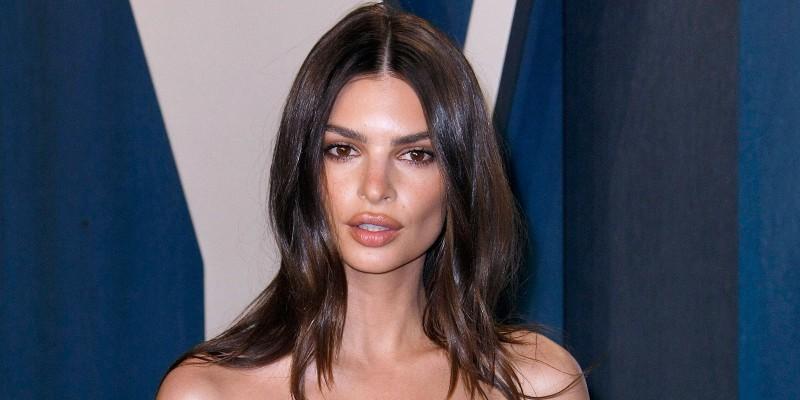 Emily Ratajkowski is bravely coming forward with a traumatic experience she endured during her early modeling days.
In a deeply personal essay for New York magazine's The Cut, the brunette beauty accuses photographer Jonathan Leder of sexually assaulting her during a 2012 photo shoot when she was just 20 years old.
At her agent's direction, the 29-year-old agreed to the unpaid, overnight photoshoot that was intended to be printed in a small artsy magazine for "exposure."
Article continues below advertisement
MODEL KAIA GERBER'S 19 BEST RUNWAY FASHION MOMENTS
"My agent was in full control of my career," the model recalled. "I did what she told me to do, and in return, she was supposed to expand my portfolio so I could book more paid jobs and establish myself in the industry.
Upon arriving at Leder's upstate New York home, the San Diego native admitted she was full of nerves, which only intensified when she discovered that she'd be in lingerie for the photoshoot.
"He offered me a glass of red wine, which, in my nervousness and desire to seem older and wiser than I was, I accepted and drank quickly," she wrote. "When he laid out old-fashioned lingerie on a kitchen chair, I began to grasp what type of girl he wanted me to be. My agent hadn't mentioned that the shoot would be lingerie."
Preparing to start the shoot, Ratajkowski said the photographer talked about his "crazy" ex-wife and his affair with a very young actress, even showing her naked pictures he'd taken of his beautiful mistress.
Article continues below advertisement
"Something switched inside me then," she continued. "As I looked at the images, I grew competitive. This guy shoots all these women, but I'm going to show him that I'm the sexiest and smartest of them all. That I am special."
PARIS HILTON'S BOARDING SCHOOL ABUSE LED TO SEX TAPE WITH RICK SALOMON
The Gone Girl actress says the photoshoot began with wearing a high-waisted pink lingerie set, posing on a bed and continuing to drink wine throughout. She said that Leder didn't seem satisfied with the initial shots, saying they were "boring" and "stiff."
"He waved his hand at the makeup artist and went to the counter to open another bottle of wine, pouring fresh glasses for himself and me," she wrote. "He was turned away from me when he said, 'Let's try naked now.'
"The second I dropped my clothes, a part of me disassociated. I began to float outside of myself, watching as I climbed back onto the bed. I arched my back and pursed my lips, fixating on the idea of how I might look through his camera lens."
Article continues below advertisement
The viral music video star also recalled Leder smirking with the comment "iCarly," referencing the Nickelodeon show she appeared on while in high school.
Continuing to drink, the swimsuit designer says she stayed up with the photographer going over the photos they just took while Leder made suggestive comments about her nipples.
"The next thing I remember is being in the dark," she admitted.
Ratajkowski then recalled the shocking details of how Leder crossed the line to assault when she drunkenly rubbed her cold feet against one another and against his.
"Most of what came next was a blur except for the feeling. I don't remember kissing, but I do remember his fingers suddenly being inside of me," she revealed. "Harder and harder and pushing and pushing like no one had touched me before or has touched me since. I could feel the shape of myself and my ridges, and it really, really hurt. I brought my hand instinctively to his wrist and pulled his fingers out of me with force. I didn't say a word. He stood up abruptly and scurried silently into the darkness up the stairs."
Article continues below advertisement
EMILY RATAJKOWSKI STUNS AT THE WRAP'S POWER WOMAN BREAKFAST IN NYC
A rep for Leder denied the accusations, telling Page Six: "It is grotesque and sad that she is so vindictive to lie in such a way to the press routinely." Leder went on to publish several books and hold multiple exhibitions featuring the nude photos, despite Ratajkowski saying she only ever consented to having the images run in the small magazine.
Ratajkowski shot to fame in 2013 when she appeared topless in Robin Thicke's 'Blurred Lines' music video and went on to appear in the 2014 and 2015 Sports Illustrated swimsuit issues. She made her professional runway modeling debut for Marc Jacobs at New York Fashion Week in 2015 and has since walked on the Paris Fashion Week runway for Miu Miu and Milan Fashion Week for Bottega Veneta, Dolce & Gabbana and Versace.
In 2018, the spokesperson for brands such as DKNY, The Frye Company, Kerastase, Paco Rabanne, and DL1961, announced on Instagram that she had married actor and producer Sebastian Bear-McClard, her boyfriend of several weeks, in a surprise New York City courthouse wedding.