NEWS
Healthy Snack Tips From Stacy Keibler, Jaime King and More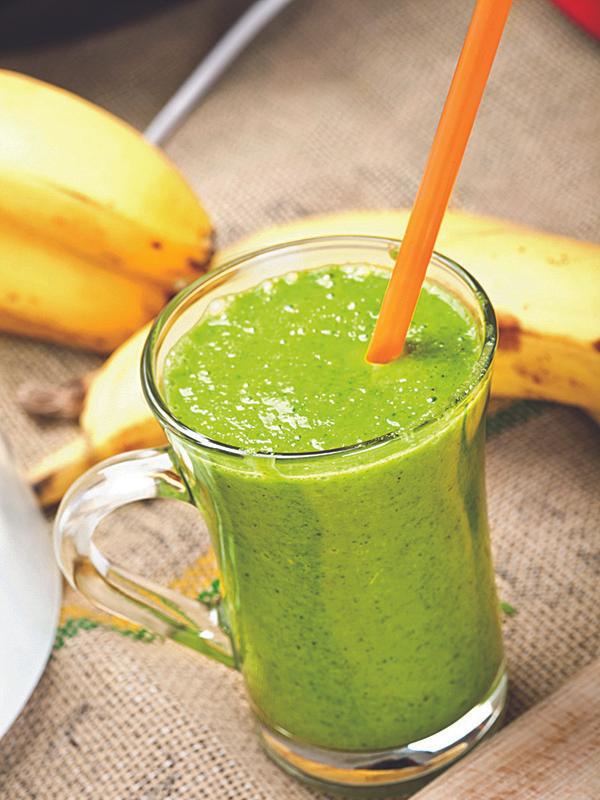 Resolving to eat better doesn''t mean you have to sacrifice all sweets. Scroll down to see how your favorite celebs indulge the healthy way.
GUILT-FREE CHOCOLATE DECADENCE
STACY'S TIP: Try and sweat every single day," says Stacy Keibler, even if you can only do jumping jacks for 10 minutes in your house." The actress and former WWE wrestler loves all forms of exercise, from hiking to Pilates. She satisfies her love of chocolate with this delicious gluten-and dairy-free pudding recipe from her website SKphilosophy.com.
Article continues below advertisement
Chocolate Avocado Pudding (Serves 1-2)
Ingredients:
• 1 avocado
• 1/4 cup cacao powder
• 1/4 cup almond milk
• 1 tsp. vanilla extract
• 1 tsp. coconut oil
• 1 tbsp. coconut butter
• 2 full droppers of liquid chocolate Stevia
• 2 tsp. Xylitol
Directions:
1. Mix all of the ingredients together in a blender for about a minute, which should create a pudding-like consistency.
2. Once blended, taste test the pudding for sweetness. Add a dropper full of chocolate Stevia if more sweetness is necessary.
3. Mix everything together until smooth and then place the batch into the fridge for 30 minutes.
4. Optional: Before serving, top with dried coconut, cinnamon, berries, nuts, granola, cacao nibs, or almond butter!
CRUNCHY WHOLE GRAINS AND FRUIT
JAIME''S TIP: Let someone else cook! To make sure she's eating a balanced diet, Jaime King turns to Paleta, a farm-to-table meal delivery service with a focus on organic ingredients (paleta.com). "It''s truly one of the greatest gifts I have given myself," she says. This fruit dessert is a favorite.
Article continues below advertisement
Paleta Gluten-Free Peach & Blueberry Fruit Crisp (Serves 8)
Ingredients:
• 1 tbsp. olive oil
• 2 (6 oz.) packs blueberries, fresh
• 2 peaches, sliced with skin lef on
• 1 lemon, juice and zest
• 4 tbsp. all-purpose, gluten-free four
• 4 tbsp. palm sugar
• 1 cup rolled, gluten-free oats
• 1/2 tsp. sea salt
• 2 tsp. ground cinnamon
• 1/2 cup chopped walnuts
•Optional garnish: Greek yogurt
Directions:
1. Preheat oven to 350 F.Coat an 8×8-inch baking dish with olive oil.
2. In a bowl, combine fruit, lemon juice and zest, palm sugar and half the four; toss well.
3. In a separate bowl, combine remaining four and sugar, oats, salt, cinnamon and nuts; mix well.
4. Pour fruit mixture into dish and sprinkle with topping. Bake for 30 minutes.
5. Serve topped with a tablespoon of yogurt and cinnamon.
Article continues below advertisement
A SWEET GREEN JUICE PICK-ME-UP
VENUS' TIP: "I eat lots of vegetables and green juices," says Venus Williams, who believes that small changes can add up to a healthier lifestyle. "Set realistic goals, keep re-evaluating, and be consistent."
Jamba Juice's Kale Orange Power Smoothie (Serves 1)
Ingredients:
•1 cup of freshly squeezed orange juice
•1/2 cup of fresh kale (washed well) or frozen kale
• 1/4 cup fresh or frozen banana
• 1/2 cup of ice (optional)
Directions:
1.Add ingredients in above order to blender
2.Blend until smooth and serve immediately
DELICIOUSLY HEALTHY FRUIT-FILLED MUFFINS
KATHY'S TIP: Indulge cookbook author Kathy Wakile, of The Real Housewives of New Jersey, tells OK! she stocks her fridge with produce: "You should always have some kind of green vegetables, or anything colorful, like carrots. I eat them raw, cooked or put them in a dessert," like her healthy take on muffins here:
Article continues below advertisement
OK! Exclusive: Get The Details on RHONJ's Kathy Wakile's Brand New Line of Desserts!
Green Apple Carrot Muffins with Light Cream Cheese Frosting (Serves 18)
Ingredients:
• 1 cup all-purpose four • 1 cup whole-wheat four
• 2 tsp. baking soda
• 2 tsp. cinnamon
• 1 tsp. nutmeg
• 1/4 tsp. salt
• 1/4 lb. shredded carrots (approx. 2 cups)
• 1/2 cup raisins
•1/2 cup shelled, chopped walnuts (toasted)
•1/4 cup shelled sunfower seeds (toasted)
•1/2 cup sweetened faked coconut (toasted)
• 3 large eggs
• 1 cup canola oil • 2 tsp. vanilla
• 1 cup brown sugar
•1 Granny Smith apple, peeled, cored and shredded
Frosting Ingredients:
•8 oz. 1/3 less fat cream cheese, softened at room temperature.
• 1 cup confectioners' sugar
• 1 tsp. pure maple syrup
Directions:
1. Preheat oven to 350 F.
2. In a large bowl, sif together four, baking soda, cinnamon, nutmeg and salt; add carrots, raisins, walnuts, sunfower seeds and coconut. Toss well.
Article continues below advertisement
3. In another bowl, whisk eggs, oil, vanilla and sugar.
4. Stir apple into egg mixture and add to four mixture. Combine well.
5. Divide batter into lined muffin tins, filling 3/4 full.
6. Bake 15-20 min. (until toothpick comes out clean).
7.Whip frosting ingredients together until smooth; spread on cooled mufifns.
More Health & Fitness Stories You'll Love: