NEWS
Awkward! Kim Cattrall Doesn't 'Regret' Dissing 'SATC' Costar Sarah Jessica Parker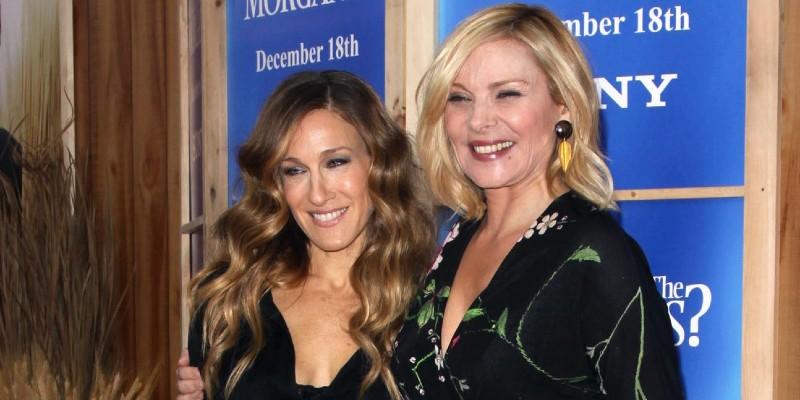 The bad blood remains. Although Kim Catrell and Sarah Jessica Parker played best friends on Sex and the City, its no secret the two feuded for years off-camera. Now, in a new interview to promote her new TV series, Filthy Rich, the actress admitted she isn't sorry for slamming SJP in the past.
"Everything is on Google, so I encourage you to Google it, about anything that I've said," Cattrall told the Los Angeles Times. "I feel that that was then, and when I look at what's going on around me, I just don't have any regrets."
Article continues below advertisement
In February 2018, Cattrell dissed Parker following the death of her brother, Chris. After Parker reached out via Instagram, the U.K. native posted a photo of a message that read: "I don't need your love or support at this tragic time @sarahjessicaparker."
In the caption, the Big Trouble in Little China star recalled a conversation with her mother, who allegedly asked: "When will Parker, that hypocrite, leave you alone?" Cattrall then accused Parker of "exploiting our tragedy to restore her 'nice girl' persona," adding, "Your continuous reaching out is a painful reminder of how cruel you really were then and now."
Article continues below advertisement
Prior to Cattrall's 2018 Instagram post, Parker said she was "heartbroken" by Cattrall's claims that the pair were "never friends."
AGELESS BEAUTY! THE HOTTEST SUPERMODELS OVER 50: CINDY CRAWFORD, NAOMI CAMPBELL AND MORE
The two women starred on the hit HBO series from 1998 to 2004. Parker, who was also an executive producer of the show, won an Emmy Award, a SAG Award and four Golden Globes awards for her role as the show's protagonist, Carrie Bradshaw. Cattrall, who portrayed the older, confident PR mogul Samantha Jones won a Golden Globe Award for Best Supporting Actress in 2003.
MORE ON:
Sarah Jessica Parker
While she certainly doesn't look back at her SATC costar fondly, she holds nothing but respect for the groundbreaking series.
"I don't think anybody really knew what it would become, or how it would be at that moment part of the zeitgeist — to open up doors … for women to express themselves in a very honest, forthright way about how they felt about sexuality, or how they even interacted with their girlfriends in a real way," Cattrall said.
Article continues below advertisement
Although she has no plans to reprise her role in the future, she still has affection for the character. So much so, Cattrall even holds onto Samantha Jones' day book planner.
"It had all of her credit cards and bills that have her apartment on it in the Meatpacking District," she revealed.
Even though Sex and the City 3 hasn't been confirmed yet, Nixon revealed Cattrall's replacement could be Sharon Stone. "I think Sharon would be of course totally amazing," Nixon, 54, told host Andy Cohen during Watch What Happens Live on September 22. "Kim was incredibly great as Samantha, I think Sharon would totally make it her own."
"But I've also heard many people say, including Kim Cattrall herself, that if we were to have a different fourth woman that maybe it would be a woman of color this time," Nixon added. "And I think that would be amazing as well."