NEWS
Keep Up! Kim, Khloé & Scott Seen Filming 'KUWTK' After Final Season Announcement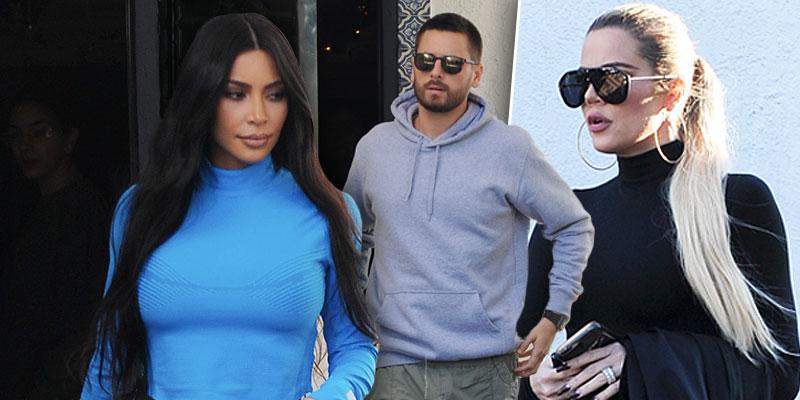 Kim Kardashian, Khloé Kardashian and Scott Disick were seen filming together on Friday, September 11, just days after announcing the end to their 14-year-long run with Keeping Up With The Kardashians.
"Kim and Khloé are happy to be filming for now. They all had some conflicts before they decided to ultimately stop production of KUWTK," an insider told PEOPLE. "But everyone seems okay with the decision now.
Article continues below advertisement
"They will all continue to film the last season, including Rob Kardashian. They want to make the season memorable for their fans."
The trio was seen filming on the Malibu, California, beaches amid the California wildfires — they can only film a few minutes a day due to the smoke from the fires. Kim, 39, was dressed in a cream ensemble, while Khloé, 36, was spotted in a tye-die sweater and jeans, and Disick, 37, wore a black sweatshirt with black shorts.
REALITY REWIND: THE 10 MOST EXPLOSIVE MOMENTS FROM 'KUWTK'
During an interview with On Air with Ryan Seacrest, Kris Jenner shared how she and her family have been handling the end of the era and new change in their lives, explaining that the Good American ambassador "hasn't stopped crying" and is "taking it the hardest."
"We had to tell the crew yesterday, so we were all crying, but I think Khloé..." the 64-year-old disclosed to Seacrest, who co-created and executive produced the infamous Kardashian-Jenner series. "Khloé is the one who is taking it the hardest.
Article continues below advertisement
"She's been so sweet and emotional about it. But there is so much more life yet to live and we're going to have the best time doing what we do."
When explaining why the family ultimately decided to step away from the show, Jenner explained that it "just seemed like the right time."
KYLIE AND KENDALL JENNER BRAVE PUBLIC FOR FIRST TIME SINCE 'KUWTK' KANCELLATION
"We've had such an amazing run and we're so grateful," she added.
However, OK! exclusively learned that it was the network that did not want to pay the Kardashian-Jenner family to keep them around for another 5 years since ratings began to dwindle. "The last deal Kris signed was in 2017 giving her and the family $30 million per season," the source told OK!. That deal has expired, and greedy Kris wanted at least $40 million per season to continue even though ratings have been declining dramatically."
Article continues below advertisement
Kim broke the news on behalf of her family on Tuesday, September 8, with an Instagram post amid her husband's ongoing presidential run.
"To our amazing fans - It is with heavy hearts that we've made the difficult decision as a family to say goodbye to Keeping Up with the Kardashians," she wrote. "After what will be 14 years, 20 seasons, hundreds of episodes and numerous spin-off shows, we are beyond grateful to all of you who've watched us for all of these years – through the good times, the bad times, the happiness, the tears, and the many relationships and children.
"We'll forever cherish the wonderful memories and countless people we've met along the way. This show made us who we are and I will be forever in debt to everyone who played a role in shaping our careers and changing our lives forever."
'KUWTK': KIM KARDASHIAN DENIES SHE BOOED TRISTAN THOMPSON AT NBA GAME
OK! has also learned that, while the family matriarch and momager will not be joining RHOBH (since they will not pay her enough!), Kim is eager and ready to remain in the spotlight of her own reality show.
Article continues below advertisement
Since the final season announcement, the SKIMS founder is already in talks with Netflix and other streaming services to have her own show without the rest of the Kardashian krew. "Kim has always been the star of the ensemble show and could carry her own show without her family, no problem. Kim was just 27 years old when the show first started," the source dished.
"She desperately wanted to be famous and didn't pay attention to the paperwork and contract and deal — her mom, Kris Jenner, did all that. Now, Kim is her own woman and although her deal changed over the 14 years with her family show, it still wasn't as good a deal that she could get if she negotiated for herself."
Season 19 of KUWTK airs September 17 on E! followed by the series finale, which is set to air in 2021.