NEWS
Mariah Carey 'Banned' From 'The Ellen Show' After She Called Out Ellen DeGeneres For Making Her Feel 'Uncomfortable'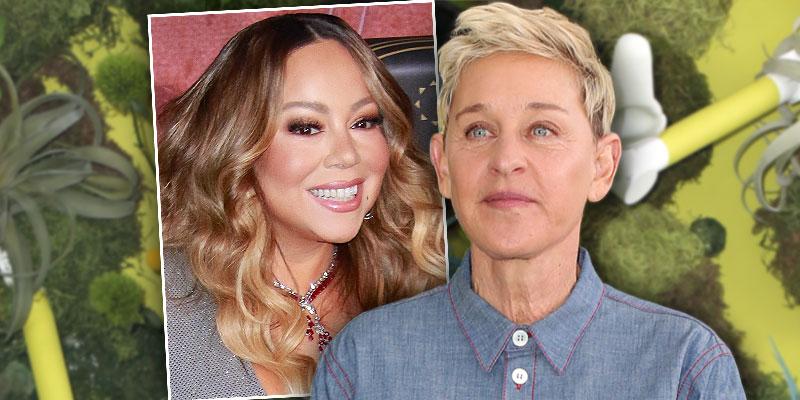 Mariah Carey just revealed that she was "extremely uncomfortable" on The Ellen DeGeneres Show and felt pressured to address the rumors that she and her then-husband, Nick Cannon, were expecting a baby in 2008. However, Mariah doesn't need to worry about it happening again because she is no longer welcome at the show!
"The alleged incident happened 12 years ago — talk about kicking someone when they are down. Mariah has waited over a decade to talk about this, which happens to be the same moment that Ellen DeGeneres and her show are vulnerable. It's not right and Mariah will pay the price by never, ever being asked back on the show. She's banned," sources told OK! "Ellen and her staff have a long memory, and once this ugly chapter is over and the show is back on top, they will remember those that were good to them and those who attacked when they were down."
Article continues below advertisement
FORBES HIGHEST-PAID CELEBS OF 2020! ELLEN & KANYE MAKING BANK AMID CONTROVERSIAL BEHAVIOR
"How would Mariah like it if Ellen revealed what her experience was like with Mariah backstage at the show? How difficult Mariah was? Or how uncomfortable Mariah made the staff with her diva demands? Needless to say, Mariah won't be invited back anytime soon."
Unfortunately, timing couldn't be worse for the singer, 50, since she has a new book and CD to plug in a couple of months, which look like they are going to need all the help they can get. Carey's first single from the album, 'Save the Day,' has been a disaster, selling just 6,100 copies in its first week, with only 130 downloads on Friday and Saturday. Ouch!
Carey was forced to drink after DeGeneres, 62, presented her with a glass of champagne to "toast not being pregnant" in 2008. The mom of two pretended to sip from the glass and suffered a miscarriage weeks after the episode aired.
ELLEN DEGENERES TEASES SHOW'S FUTURE FOLLOWING THE FIRING OF THREE PRODUCERS: 'I WILL BE TALKING TO MY FANS'
"I was extremely uncomfortable with that moment, is all I can say. And I really have had a hard time grappling with the aftermath," Carey told Vulture in an interview, which was published on August 31. "I wasn't ready to tell anyone because I had had a miscarriage. I don't want to throw anyone that's already being thrown under any proverbial bus, but I didn't enjoy that moment."
Article continues below advertisement
The Grammy winner added that there is "an empathy that can be applied to those moments that I would have liked to have been implemented. But what am I supposed to do? It's like, sings 'What are you going to do?'"
ELLEN DEGENERES' PLASTIC SURGERY SECRETS REVEALED: FILLERS, NECK LIFT, AND MORE
In July 2020, former staffers from the Emmy-winning series came forward and claimed there were incidents of racism and sexual misconduct going on behind the scenes. As a result, Ed Galvin, Kevin Leman, and Jonathan Norman — who were all top producers — were ousted after WarnerMedia launched an internal investigation.
Following the accusations, the Finding Dory star apologized to her staff and held a video call, where she got candid with everyone as to what's been going on. "I'm a multi-layered person, and I try to be the best person I can be and I try to learn from my mistakes," the host told staffers, a source told PEOPLE. "I'm hearing that some people felt that I wasn't kind or too short with them or too impatient. I apologize to anybody if I've hurt your feelings in any way."