NEWS
Ellen DeGeneres Teases Show's Future Following The Firing Of Three Producers: 'I Will Be Talking To My Fans'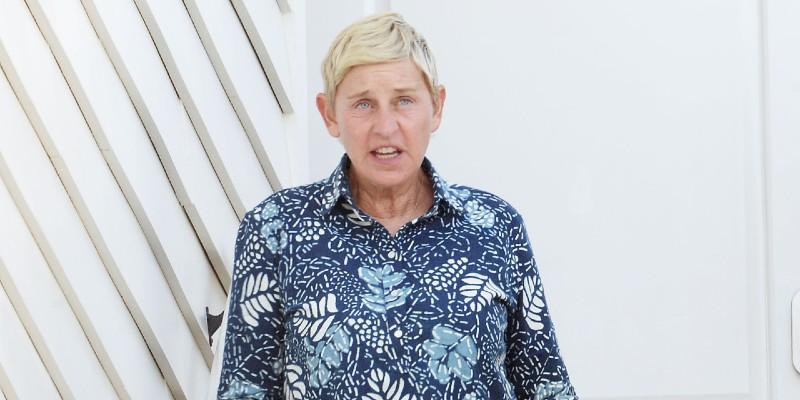 Listen up Ellen fans!
As claims of abuse, racism and creating 'toxic' work environment continue to plague Ellen DeGeneres, the talk show host says she will be addressing her fans.
According to The Daily Mail, the 62-year-old was spotted leaving a restaurant in Souther California and was asked about how her show would look following the firings of three top producers. She responded simply, "'I will be talking to my fans."
Article continues below advertisement
Last week, three senior producers — executive producers Ed Glavin and Kevin Leman and co-executive producer Jonathan Norman were all ousted from The Ellen DeGeneres Show. The news was apparently delivered during a staff meeting in which DeGeneres spoke via a video conference call.
In an email to staff obtained by BuzzFeed News, David McGuire, executive vice president of programming at Warner Bros., said, "We promised you change and a new culture, and we are absolutely committed to that."
VOGUE'S ANNA WINTOUR VS. ELLEN DEGENERES: WHO IS MEANER?
"Many of you have spoken with WarnerMedia's investigators, and we thank you for your honesty. And though the investigation is nearing its conclusion, our willingness to confidentially hear your thoughts is ongoing," he said.
On July 30, Glavin, Leman and Norman were called out in a story published by BuzzFeed News regarding allegations of sexual harassment and intimidation. One ex-employee said Leman asked him if he could give him a hand job or perform oral sex in a bathroom at a company party in 2013. Another said they separately saw Leman grab a production assistant's penis.
Article continues below advertisement
In her own statement to staff, DeGeneres said: "On day one of our show, I told everyone in our first meeting that The Ellen DeGeneres Show would be a place of happiness – no one would ever raise their voice, and everyone would be treated with respect. As someone who was judged and nearly lost everything for just being who I am, I truly understand and have deep compassion for those being looked at differently, or treated unfairly, not equal, or – worse – disregarded. To think that any one of you felt that way is awful to me."
MORE ON:
The Ellen DeGeneres Show
Article continues below advertisement
But as OK! reported, the allegations range from the odd to the obscene.
One insider told OK! DeGeneres can't stand gum and if someone near her has it in their mouth, "she freaks out."
Viewers see the host's cozy home during lockdown broadcasts, but a second source said things are not as warm as they look, particularly for her staff.
"She has no respect for those who literally clean up her mess. She'll fire you on the spot if you upset her," that source said.
Article continues below advertisement
'I was never a victim guys,' she continued. 'I was always in on the joke.'
The Modern Family star isn't the only celeb coming to DeGeneres' defense. Comedian Kevin Hart. stuck up for his friend in a recent interview with Deadline.
"Well, I don't lose sight of the definition of friendship, and in our business, it's one thing that people don't really hold on to," the 41-year-old said while promoting his new Netflix series, Kevin Hart: Don't F** This Up. "There's a lot of relationships that are fake, and there's some that are real. In my case, the ones that are real are the ones that I'm always going to be adamant about speaking on behalf of. I know the people that both of them are, and knowing the people, all I can say is my experiences with those people."