NEWS
Mariah Carey Admits Relationship With Derek Jeter Helped Her Leave Ex Tommy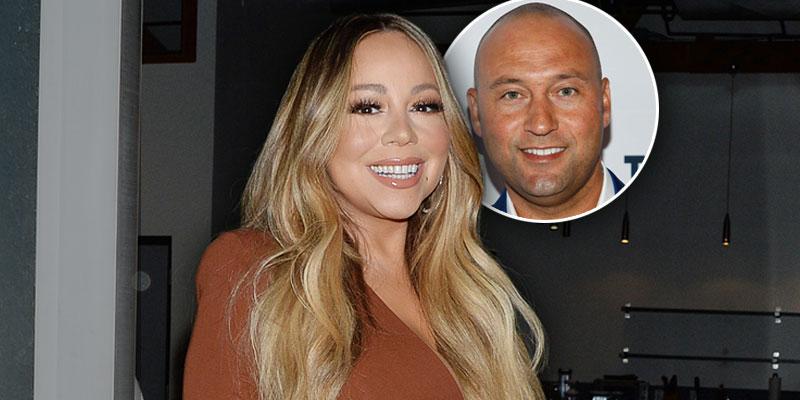 Is Derek Jeter Mariah Carey's 'Hero'? It appears so! The entertainer revealed that the baseball player played an important role in her divorce from her first husband, Tommy Mottola.
"He was a catalyst that helped me get out of that relationship because I believed that there was somebody else," the songstress dished to Opray Winfrey in a sneak peek clip of the Thursday, September 24, episode of The Oprah Conversation.
Article continues below advertisement
The talk show host commented on how the 50-year-old referred to Jeter as serving "a very high purpose in her life" in her upcoming memoir, The Meaning of Mariah Carey, after the two met in 1998.
ELLEN DEGENERES' MOST AWKWARD INTERVIEWS EVER - FROM PRESSURING MARIAH CAREY TO DAKOTA JOHNSON FEUD
The 'Always Be My Baby' singer — who told Vulture in August that she wrote 'My All' and 'The Roof' about the athlete — explained why her connection with Jeter was so strong. "It was the racial situation, his mom is Irish, his dad is Black. But he was also very ambiguous looking to me. I didn't know who he was, we met and I've written songs about it," she dished.
The Grammy winner admitted that she didn't "think" Jeter was "the love of my life," but at the time, she was enamored with him. "I didn't think I would ever meet anybody who wouldn't ... feel superior to me because of the fact that I'm not one way or another in most people's minds and they have preconceived notions, whatever," she explained.
WENDY WILLIAMS CONTROVERSIAL HISTORY: TALK TV'S WILD CARD
The mom of two said that after seeing Jeter's biracial "healthy" and "functional" family, it changed her perspective on her brood, who was "screwed up"and "dysfunctional" because of her parent's relationship.
Article continues below advertisement
The brunette beauty said she admired that the dad of two was "also living his dream job and doing his dream job," adding that she believed they "connected in that way."
In late August, Carey reminisced about the duo's first kiss on a "roof," where she wore a "buttery leather Chanel skirt."
"I can never forget that moment," she admitted. "I mean, it's not like it was some intensely deep, intellectually stimulating — again, it was a great moment, and it happened in a divine way because it helped me get past living there, in Sing Sing, under those rules and regulations."