NEWS
'The Mindy Project' Star Ike Barinholtz Previews the Season Finale and Reveals What Mindy Kaling is Like as a Boss!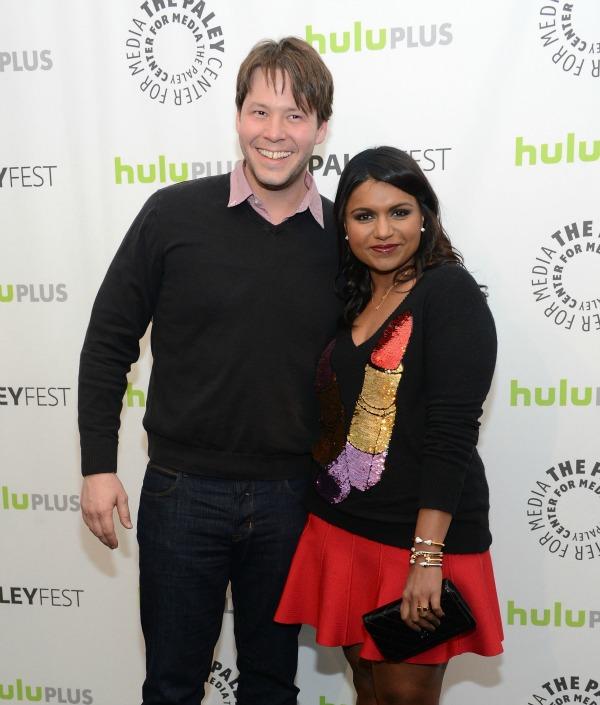 Here at OK! we are BIG fans of The Mindy Project. So we were thrilled to chat with one of the writers and stars Ike Barinholtz who plays nurse Morgan Tookers. As if we didn't already want to be Mindy Kaling, now we're super jealous she gets to work with this dude all day. He filled us in on all the important things on set: cupcakes, guest stars and episodes of The Sopranos. Read on to get a sneak peek at what's in store for the finale!
Article continues below advertisement
Photos: See pictures from the season finales of your favorite TV shows!
OK!: We recently noticed that the normal-looking guys on the show actually end up becoming so hot!
Ike Barinholtz: (laughs) Do you want me to rank them?
OK!: If you want to! I don't know if it's something about the writing, or something about Mindy, but all of these guys! And the one that stands out especially is Mark Duplass. These guys come on the show and then you guys are able to put them in these roles where you're like "Oh my God!"
IB: Yeah I think that's definitely from the mind of Mindy. I remember when I first watched the pilot and her scene with Bill Hader at the hospital and it's like the kind of slow motion camera and it had that romantic theme playing. Bill Hader is a good looking guy but he's not Channing Tatum. None of us are! And I think she did a funny move to show a normal looking guy but like he's Brad Pitt in Legends of the Fall.
Article continues below advertisement
OK!: Hair blowing in the wind, the whole thing.
IB: A lot of hair, yeah.
OK! News: Vote now for your fave TV BFF!
OK!: Are you spoiled by Mindy as a boss?
IB: Yeah in a way! Quite literally spoiled because she gives us a lot of stuff. Like she gives us food, she gives us clothes, she's very generous. I'm very spoiled when it comes to food. She'll come in with donuts or cupcakes, or she'll give me literally half of what she's eating. She'll get a sandwich, just eat half and then give it to me which is mind blowing.
OK!: I'm picturing in my mind that there's always cupcakes around there.
IB: I gotta say it's a bit cliché but it is true. And at first everyone's like "Ugh, cupcakes" and then within an hour there's one and a half left. People pick off them all day.
Photos: Your first look at the 25 hot contestants on 'The Bachelorette'
OK!: Would you want the sexual tension with Morgan and Mindy like she has with Danny (Chris Messina)?
Article continues below advertisement
IB: It's funny, the way we try to play it is that it's one sided where Morgan thinks she has sexual tension for him but she really doesn't. Like I think she looks at Morgan as maybe an older brother with a head injury who will take care of her. So there's times where Morgan will say 'Well yeah I see the way you look at me.' And she's like 'Are you insane I would never in a million years.' I think that's a funny moment for someone to be like 'You're so into me' and them being like, 'Honestly, you barely register in my thoughts. I don't even know who's speaking right now.' That's definitely how it plays out a lot and it makes me laugh.
OK! News: Who is the best TV couple?
OK!: Do you do your own stunts? I'm mostly referring to the pull up moment.
IB: That's a true story by the way, that really happened to me. That really did. I was at an office one time and while people were in a meeting, I reached up to the pull up bar and it could not sustain someone of my mass.
OK!: All the manliness.
IB: All the manliness. Manliness is a nice way of saying fat. I pulled that thing down and it came down and landed right on my legs and I fell on my back. I think I was a little nervous, I had just eaten breakfast and something else happened. It was dramatic. So to answer your question, I do usually. It's not Transformers 4 but it's fun to do a lot of the physical stuff. We do have a great stunt team, and I use a stunt man for the finale. I'm really glad he was there that day. I don't want to spoil what it is, but at first I said 'Oh yeah I'd love to do it' and then they explained to me the risks and they were like 'Yeah we're just gonna have the stunt man do it' and I'm like 'Yeah have him do it'. So when you see the finale you'll be like 'Oh that's what hes talking about'.
Article continues below advertisement
Watch: Whoops! Wendy Williams won't be setting up friends on a date again
OK!: Is there anything else that you can tease in the finale?
IB: Yeah the finale really is decision time for Mindy. She gets faced with this huge choice and she makes it, she makes a very clear choice. And it's kind of all about her dealing with the ramifications of that. As far as Danny's concerned, Chloe Sevigny is on the show as Christina his ex-wife and it kind of shows that they really are starting to possibly kind of get back what they had a long time ago. So there's a lot of big life choices in the finale. Not so much for Morgan though. Morgan's really just like 'I'm hungry I need food now" so that's what he's dealing with.
OK!: And does the return of Christina mean anything for not just Danny but also Mindy and the other characters?
IB: Definitely. I think the other characters are so interested in him and his life that when something really big is happening to him they naturally get sucked in which is kind of his nightmare. I feel like Danny would say to people 'This is personal business, I don't need you helping me with it' but everyone gets so involved and so invested. But yeah definitely her return shakes things up a little bit and gets people really up in Danny's business much to his chagrin.
Article continues below advertisement
OK! News: Barbara Walters' tips for success—and she would know!
OK!: Which boyfriend of Mindy's would you want to see return?
IB: I mean, I love them all. I loved Tommy Dewey as Josh, he was so fun to write for. You know I'm really, really enjoying Anders Holm as Pastor Casey. I'm a big fan of Workaholics and we were really excited to get him on and to see him doing something different than the character he plays on Workaholics is really nice. I think their chemistry together is just really funny. He's a guy that I hope comes back.
OK!: How's the writers room too? Do names get thrown out, does the casting happen in the writing?
IB: A lot of times it does. There are definitely times where Mindy just has an idea where she's like 'Look I know I want...'. I feel like Anders was someone who we loved on Workaholics and we knew we wanted him on the show. So we kind of worked backwards from that, but a lot of times we'll be in the room and as we're pitching stories, the characters start to develop a little bit. Whether it be Mindy or (writers) Matt Warburton or Jack Burditt, or anyone will be like 'Oh you know who would be amazing?' and that's how we end up getting a lot. For the episode 'Mindy's Minute', I wrote that with Dave Stassen and in our mind, the network guy, we always wanted Jordan Peele, we always thought he'd be a funny guy for that part so for that we were able to kind of tailor the script for whoever we're getting. But we also have a casting director who's brought in some really really great people for us.
Article continues below advertisement
OK! News: Sexy spring scents you'll love
OK!: And speaking of the ones you wrote, where did the idea for 'Teenage Patient' come from as I'm assuming you have not been to a gynecologist?
IB: (joking) I go, just to be safe, once a month. Early on, Mindy had the idea to have it be a girl who lives in her building who wants to get birth control. A big part of that story came from Dave (Stassen) and I, the part of wanting Mindy to go to the high school just because Dave and I went to high school together. So any chance that we could throw our high school into anything we write is fun because we can literally use characters and stories we've heard...from when we graduated high school 47 years ago.
OK!: How is the writers room too when it comes to the gynecology stuff? Do you have to ask your wife, is Mindy offering up a lot?
I B: Well yeah, you know, we have a bunch of female writers who have a lot of real life experiences plus also my wife is seven months pregnant. My writing partner's wife is also pregnant. Jack has 3 or 4 kids, Tucker Cawley was one of our writers, he had 3 kids so really almost everyone in the room has some kind of gynecological anecdotes. Also before we started production, all of the writers spent the morning at an OBGYN's office in Los Angeles and the doctor came and met with us and gave us a tour. That's the first time I remember I really noticed the phlebotomy room and really started taking note of what he was saying. It was really helpful. We have a medical tech too who we will consult sometimes just to make sure we're not doing anything too crazy.
Article continues below advertisement
Watch: We're already jealous of baby Kimye
OK!: Who would you want to play a love interest for Morgan?
IB: I'm easy. I could do...Rihanna? You know what I'm saying? She'd be great! I would not mind a older lady. I think it'd be funny if Morgan dated Susan Sarandon. We had her daughter (Eva Amurri Martino) on the show, why not move on to Susan now! I think those are two kind of interesting ideas but I think at some point next season we have to show Morgan a romantic side. Maybe he has a girlfriend. We have this new actress named Xosha Roquemore she's in the last couple episodes she plays another nurse Tamara working at the practice and she's really funny too. I could see her and Morgan having a relationship. So the door's wide open.
OK!: Who breaks the most on set?
IB: Not me. I'm usually pretty good about that. I would have to say Mindy or Messina. There's times too where we'll watch a cut and we're openly laughing in a scene so we have to use a different scene. Mindy consistently breaks. Messina has episodes. Like an isolated episode on set where he gets the giggles and his face gets all contorted and red. I remember when Seth Rogen came on and we were shooting at like two in the morning and we had like 10 minutes to shoot this big scene. I think Chris Messina and Seth Rogen really like each other a lot and just made each other laugh and between the 2 of them we did 5 takes and we only had one we could use where the both of them weren't laughing.
Article continues below advertisement
Watch: Who told 'RHOC's Lydia to pass on the show?
OK!: Is there anything you're surprised made it to the show like a joke or a situation?
IB: That's a really good question. It's always the small things for me, you know small moments that I think are funny to me and then I'm very pleased to see that they've ended up in the episode. It's one of those things where you think 'That's so weird I don't think anyone else is gonna think it's funny besides me' and then you see it end up in there and you're like 'Oh ok great, either Mindy or one of the producers thought it was funny too.' So for me it's the really small moments.
OK!: Are we ever going to see your Eastbound and Down Russian accent show up on the show? (editor's note—if you have not seen Ike on Eastbound and Down, watch it immediately!)
IB: (laughs) Maybe! I think at the end of the season we've started teasing Morgan's ability to impersonate people, and not just Danny. I don't know if it would be the exact same, but a slightly different Russian accent.
Article continues below advertisement
OK!: What are the shows that The Mindy Project crew are obsessed with?
IB: So many! We love Game of Thrones, we love Breaking Bad. Love Key and Peele. Workaholics we'll watch on set sometimes. Homeland, House of Cards because a lot of times the references will end up on the show. We're definitely a show that once in a while will embrace pop culture. So there is a lot of watching and discussing shows Monday morning. We spend a lot of time watching clips from The Sopranos. We're true fans of that show so sometimes during lunch we'll all sit in the writers room and put on a 6 minute scene from The Sopranos and just laugh.
OK!: Either that or romantic comedies for you guys.
IB: Yeah either You've Got Mail or the scene where Tony shoves an icepick in someone's eye.
Photos: Today's hottest celeb pics!
Catch all the big life decisions in the season finale of The Mindy Project Tuesday May 14th at 9:30 p.m. ET on FOX.
What do you want to see happen in the finale of The Mindy Project? Tell us in the comments below or on Twitter @OKMagazine.