NEWS
Amber Heard Takes Aim At Johnny Depp On Instagram By Re-Wearing Black Dress After Actor Loses 'Wife-Beater' Libel Appeal: See Photo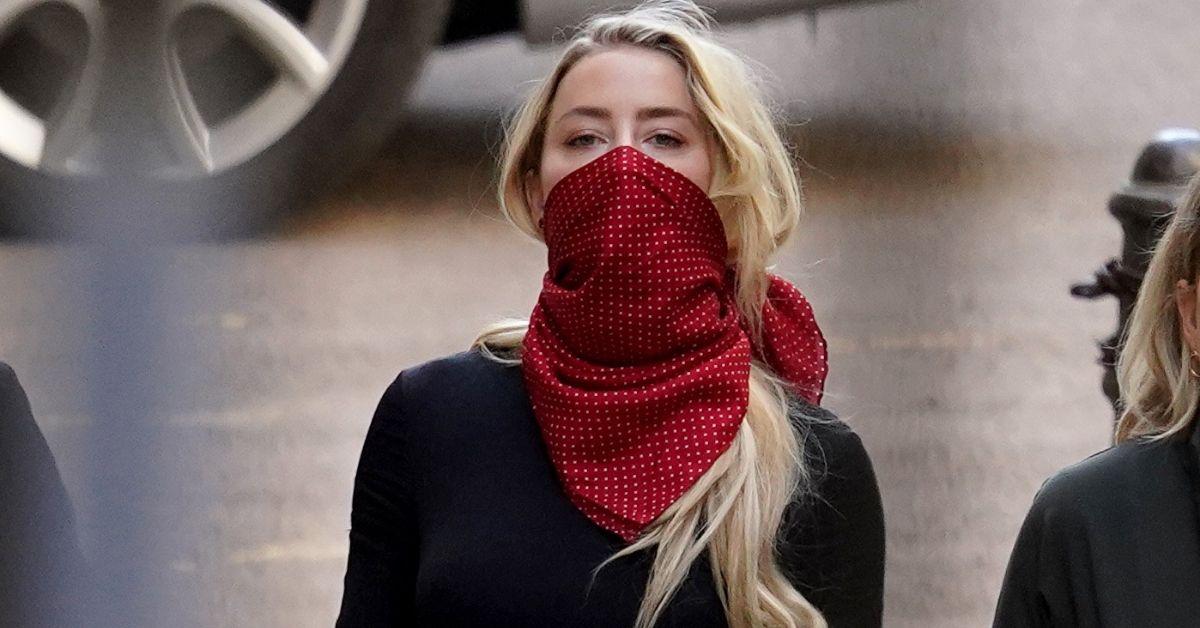 Amber Heard explained the reason why she decided to re-wear an old black dress following ex-husband Johnny Depp's most recent court loss. As OK! previously reported, a British court denied Depp permission to appeal a judge's ruling in a defamation trial — after The Sun newspaper labeled the actor a "wife beater."
Article continues below advertisement
On Monday, March 29, Heard posted one photo from 2016, the year she filed for divorce and obtained a temporary restraining order against Depp — alleging that the actor had been abusive — with what appears to be a bruise on her cheek. The second photo was from Depp's libel trial against The Sun in July 2020.
Article continues below advertisement
"One dress, four years apart. Sometimes it's important to wear the same thing twice," the 34-year-old captioned the poignant post.
Article continues below advertisement
Depp lost his appeal to overturn the initial hearing. Lord Justice Underhill and Lord Justice Dingemans refused the Pirates of the Caribbean star's application for a new trial. Depp's team tried to appeal on the grounds that Heard allegedly lied when she said she had donated their $7 million divorce settlement to charities. Depp's lawyer Andrew Caldecott reportedly said that the 34-year-old had only donated "a fraction" of the money as a "calculated and manipulative lie" to make her look good and to tip "the scales against Mr. Depp from the very beginning."
"Amber has already been responsible for seven figures in donations to charitable causes and intends to continue to contribute and eventually fulfill her pledge," Heard's attorney Elaine Bredehoft previously told E! News. "However, Amber has been delayed in that goal because Mr. Depp filed a lawsuit against her, and consequently, she has been forced to spend millions of dollars defending Mr. Depp's false accusations against her."
Article continues below advertisement
"We are pleased — but by no means surprised — by the Court's denial of Mr. Depp's application for appeal. The evidence presented in the UK case was overwhelming and undeniable. To reiterate, the original verdict was that Mr. Depp beat Amber on no fewer than 12 occasions and was left in fear of her life," a message from Heard's team, posted to Heard's Instagram last week, read.
Article continues below advertisement
"Mr. Depp's confused recollections, caused by years of substance abuse, meant he was not a credible witness to his own actions. The verdict stands and British journalists can write — without fear of legal threats — that Mr. Depp is, categorically, a wife beater."
Article continues below advertisement
Meanwhile, Depp is still going ahead with a $50 million defamation lawsuit against Heard over an op-ed she wrote in the Washington Post about domestic abuse. Heard filed a countersuit in response. The case was delayed until April 2022 after previous delays due to backlogs in the court system amid the coronavirus pandemic.
"The evidence presented at last week's hearing further demonstrates that there are clear and objective reasons to seriously question the decision reached in the U.K. court," Depp's attorney Joelle Rich wrote in a statement. "Mr. Depp looks forward to presenting the complete, irrefutable evidence of the truth in the US libel case against Ms. Heard where she will have to provide full disclosure."