NEWS
Armie Hammer Says It Was 'Invasive' To Be 'Kink Shamed By The Internet' In More Alleged Leaked DMs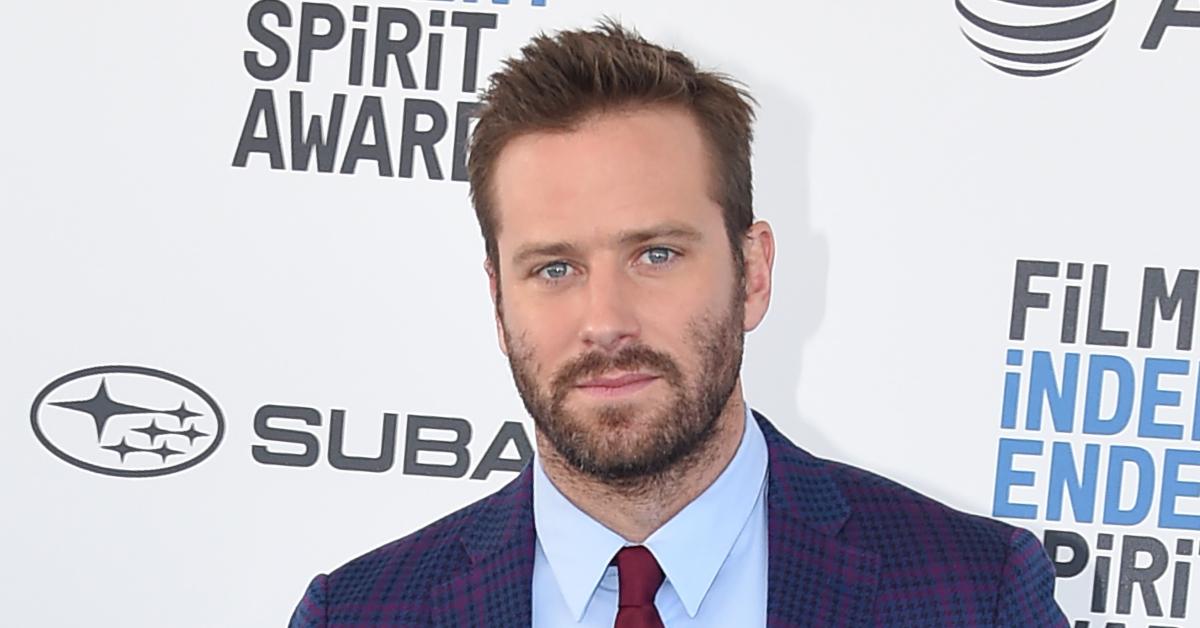 As his DMs scandal rages on, Armie Hammer reportedly complained about being "kink shamed by the internet" when disturbing NSFW screenshots of messages allegedly sent by the actor were shared online earlier this year.
Article continues below advertisement
On January 10, Instagram user House of Effie posted screenshots the 34-year-old allegedly sent to an unidentified women, in which he spoke about sexual fetishes.
The next day, Hammer allegedly complained about the backlash to a friend and said that it was "invasive and sh**ty."
The Call Me by Your Name star reportedly bragged that ever since his secret was spilled, he actually received "a lot of offers from girls who said I can eat pieces of them."
Article continues below advertisement
An anonymous woman shared messages that were allegedly between her and Hammer with the Daily Mail and said they had been sexting for six weeks before the scandal broke. She claimed that she began speaking to Hammer on Instagram from his official verified account in December 2020, and within one day, he discussed his sexual fantasies.
Article continues below advertisement
"I had one girl who we would role play that I had kidnapped her and was explaining to her that I kidnapped her because I knew she wanted it," Hammer allegedly wrote.
"And then would explain how I was going to keep her and use her as long as I wanted. That's called consensual non-consent. And I am very down."
The Hollywood star allegedly wrote that he was into other fetishes like choking. "Pleasure, choking someone just to the point where they are about to pass out but timing with when they are going to c** so they come to while they are c**ing and lose their s**t. Also, great sex in general. It's my favorite drug," one supposed message read.
Article continues below advertisement
Hammer also reportedly asked the woman to record herself masturbating. "Because if we get in to this I will own those orgasms. So be my perfect little w***e and give me 5 big orgasms. Followed by 'thank you sir'. Go. And don't text again till you've c*m 5 times," the unverified message read.
Hammer is said to have also sent the woman explicit recordings of himself.
Article continues below advertisement
"I started messaging him early to mid December. He was very responsive. It was from his official verified Instagram account," the unidentified woman said. "By the end of that day he was really interested in sexting and he was sending voice messages. We had conversations over the few weeks which ranged from sexual… to mundane."
Article continues below advertisement
When the woman asked how Hammer was doing after the scandal broke, he allegedly said, "I am happy. Life is good. This is just a hard moment. I am very happy. And very zen. Learning through every struggle and being grateful for it all."
"He started to ask me things that started to turn really sexual again, and this is in the height of the scandals coming out. I blocked him after that and never talked to him again," she said, adding that they haven't spoken since.
However, Hammer's lawyer told the Daily Mail that the allegations are "patently untrue."
"Any interactions with this person, or any partner of his, were completely consensual in that they were fully discussed, agreed upon, and mutually participatory."
Hammer refused to acknowledge the "bull***t" claims against him but stepped down from his role in Shotgun Wedding.