ROYALS
Aussie TV Host Slammed For Telling Meghan Markle To 'Just Shut Up,' Keep Low Profile During Prince Philip's Funeral
Australian television host Edwina Bartholemew has come under fire after she made some questionable comments about Meghan Markle on 7 News' breakfast show, Sunrise.
Article continues below advertisement
On the Wednesday, April 14, episode, Bartholemew addressed the claim, which was allegedly made by Meghan's friends, that the Duchess of Sussex wasn't attending Prince Philip's funeral — which is set for Saturday, April 17 — to avoid being the "center of attention," per the Daily Mail. 
Buckingham Palace previously stated that Meghan will not be attending Philip's funeral under her doctor's orders because she's pregnant and has been advised not to travel. 
Article continues below advertisement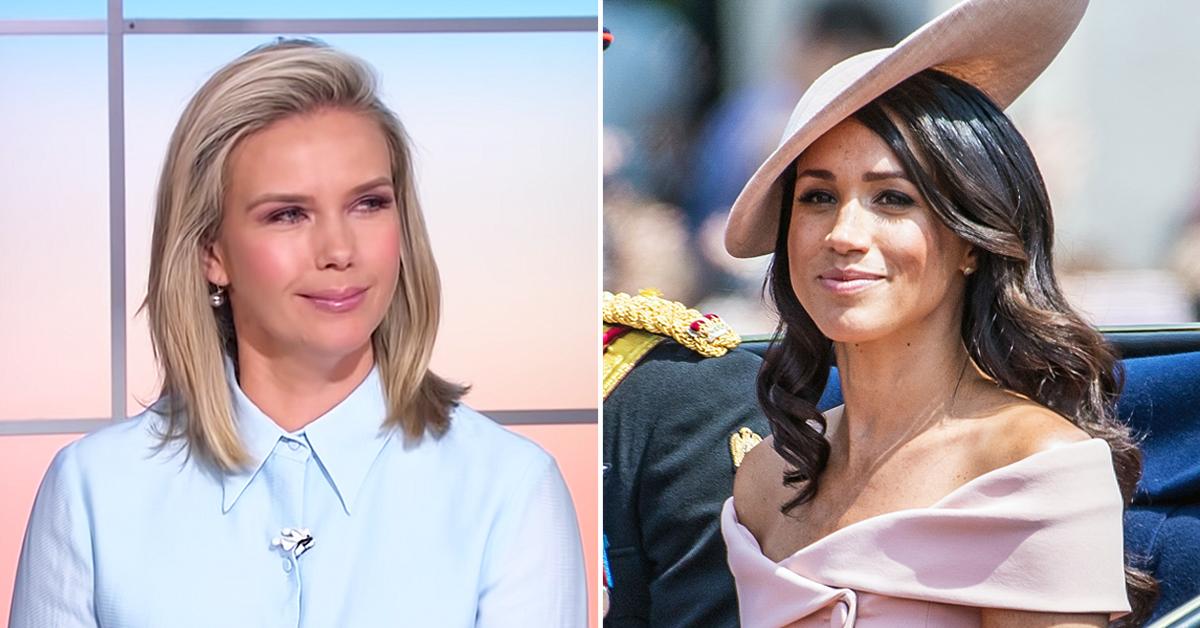 "I've reserved judgment about those two for quite some time, but if that is true, it just makes me so angry," the 37-year-old presenter said of Meghan and Prince Harry, who will be in attendance at his grandfather's ceremony without his wife.
Article continues below advertisement
While agreeing that all eyes would be on Meghan if she was there, Bartholemew said it "really gets my goat" that the Suits alum couldn't just stick with the "doctor's orders" line rather than others alleging that she was avoiding the occasion to keep the focus on the late royal. (It should be noted that Meghan herself never made a statement saying she wasn't attending the funeral to avoid attention.)
Article continues below advertisement
"Just go with the palace line, wouldn't you, for once," the host insisted before pleading for Meghan to: "Just shut up," while the royal family grieves the loss of the Duke of Edinburgh.
Shortly after her tirade, social media users ripped Bartholemew apart online, with many calling her a hypocrite for her need to share her outspoken opinions while trying to silence Meghan, who is pregnant with her and Harry's second child and is due over the summer.
Article continues below advertisement
"If Edwina Bartholomew wants to throw her career and credibility away by simpering to the Palaces and attacking a pregnant woman, we can definitely assist in her in that endeavor," one user tweeted.
Source: The Huntress/ Twitter
Article continues below advertisement
After one commenter said Bartholomew should "shut up," the host fired back: "I agree, Lynda. I sincerely hope they [the Sussexes] reconcile with the [Royal] family this week and we can all shut up about it."
Article continues below advertisement
Another user stated Bartholomew "joined the Trump-Trash!" for her Meghan rant, writing: "Let's face it, if Meghan had attended the funeral she would have been the focus, and then you would have b**ched, 'Why is she here! She's taking attention away from the funeral!'"
Source: David Sanders/ Twitter
Article continues below advertisement
As OK! previously reported, Harry and Meghan revealed they were pregnant with baby No. 2 in February. One month later, they shared that they are expecting a baby girl during their bombshell CBS tell-all with Oprah Winfrey.
And with Meghan residing in the couple's California mansion and Harry mourning his grandfather in the U.K., OK! learned that the prince is eager to return home after Philip's funeral, as he's worried about leaving Meghan when she's "so far along in her pregnancy."