NEWS
'What The F*ck': '90210' Alums Tori Spelling, Jennie Garth React To Vanessa Marcil's 'Cattiness' On Set Claims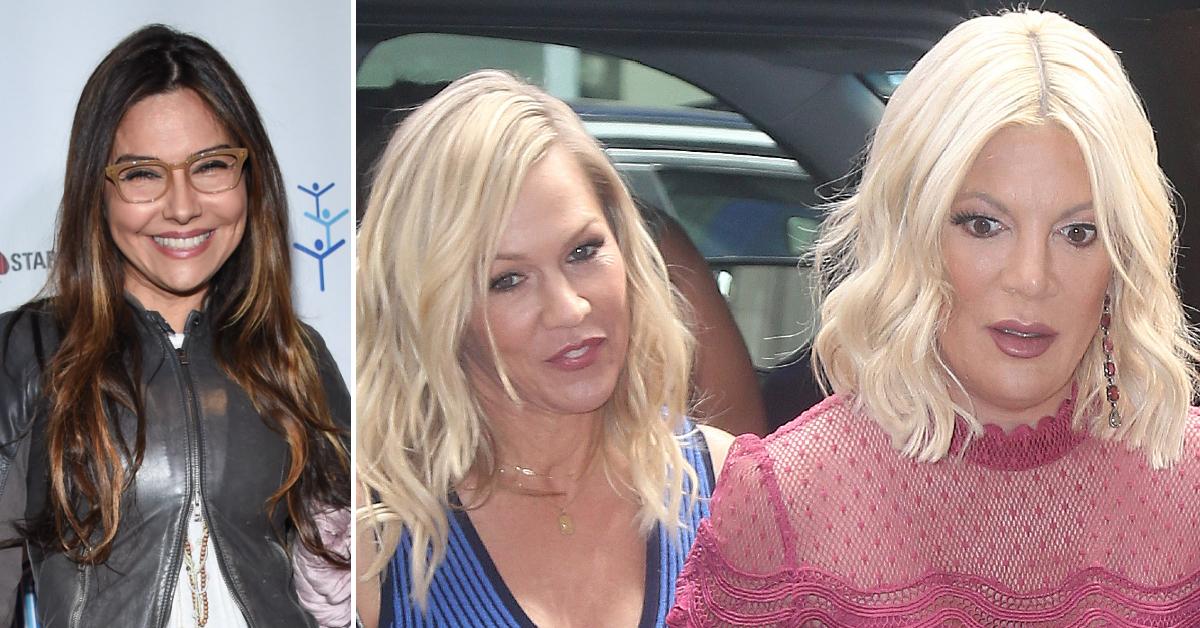 Sounds familiar? Beverly Hills, 90210 alums Tori Spelling and Jennie Garth addressed former costar Vanessa Marcil's claims of "cattiness" on set — months after guest-star Jessica Alba made similar claims about the casts' behavior.
"I was so hurt when I was working there that I felt like I was sideswiped by the cattiness and not being liked. I wasn't expecting it," Marcil, who starred in the final two seasons of the '90s drama, said via Instagram Live last month. "[Jennie Garth] said, 'Maybe it would help if you didn't walk around like somebody who isn't liked?'… So I realized maybe I had taken it so personally … that now I was walking around like someone who isn't liked."
Article continues below advertisement
Spelling and Garth reacted to Marcil's shocking claims after "9021OMG" podcast cohost Sisanie Reategui read her statements on the Monday, March 15, episode. "What the f*ck does that mean?" the True Tori alum, 47, seethed. "No matter how she phrases it, it has a negative connotation to it."
"I'm going to go on record that you didn't say that," Spelling said to Garth, adding that she and "Vanessa weren't that close."
Article continues below advertisement
"I don't remember you guys having that many interactions," Spelling continued of Garth and Marcil's relationship. "I don't believe that you would take it upon yourself to be like, 'Here's why you're acting like someone who's not liked, so that's why you're not liked.'"
As for Garth, she claimed she had no recollection of any tension with Marcil on set. "There's always been this energy of a competitive environment [in the business] amongst, especially, women," the What I Like About You alum, 48, explained. "And that has shifted now in a beautiful way and now the messaging is different."
TORI SPELLING, JENNIE GARTH, AND JASON PRIESTLEY FILM 'BEVERLY HILLS, 90210, REBOOT AHEAD OF AUGUST PREMIERE
"From my perception, Vanessa was a kick-ass girl," Spelling chimed in to add. "She came in confident, beautiful, good actress, a professional, always showed up. I don't remember her having a bad time, but I don't know what was going on inside."
Marcil's recent commentary about the alleged drama on set comes after Alba claimed she "couldn't even make eye contact with any of the cast members," during her time on the series.
In light of Alba's accusations, Spelling said she was "mortified" by the allegations, insisting that "we were so nice," while Garth stated: "I only remember her being super talented. She was very young, and she was really sweet."