COUPLES
Did Bill & Melinda Gates' Interpreter Split Up The Billionaire Couple? 'I Thought The Rumors Would Go Away,' Says Zhe Wang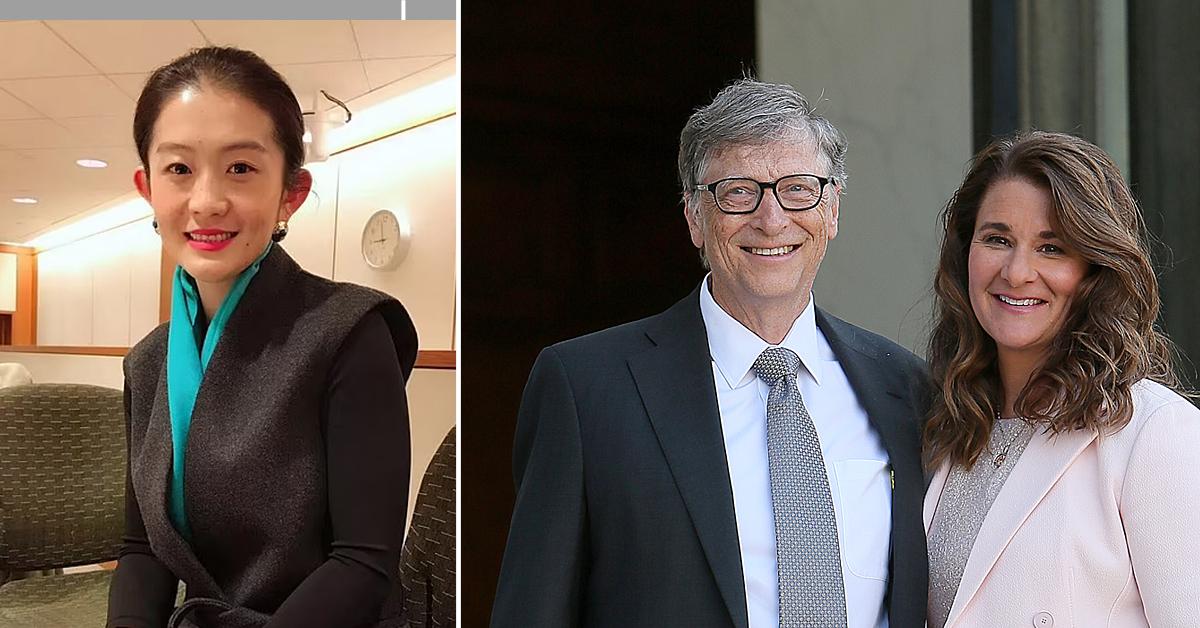 A translator who works for Bill and Melinda Gates shut down wild rumors that she was involved in the billionaire couple's divorce.
Article continues below advertisement
Zhe "Shelly" Wang, who has worked as an interpreter for the couple's nonprofit, the Bill and Melinda Gates Foundation, since March 2015, took to social media to denounce the claims that she had more than a professional relationship with Bill or Melinda — who called it quits after 27 years of marriage.
"I thought that the rumors would go away by themselves, but I did not expect the rumors to become more and more crazily spread," Wang wrote on Chinese social media site Weibo, according to Fox Business. "How many books can I read, so why spend time on the unfounded rumors?"
Article continues below advertisement
Wang then praised those who have condemned the rumors before shaming others for trying to blame her for the couple's divorce.
Article continues below advertisement
"I would like to thank everyone for their concern and help in dispelling the rumors through private messages in the past 24 hours," she continued. Wang ended her message by sharing a link to a story titled: "#Gates divorce, some vicious people rumor to vilify an innocent Chinese girl."
The interpreter began working for the Monterey Institute of International Studies in September 2012 and worked on several TED conferences, according to her LinkedIn profile, which has since been deactivated.
Article continues below advertisement
Wang joined TED conferences in April 2013 as an interpreter and oversaw a team interpreting events into Chinese, French, German, Japanese, Korean, Russian and Spanish. In addition, she also works as an interpreter for the Yale School of Management and Harvard Business School.
Article continues below advertisement
While little is known about Bill and Melinda's divorce, the duo shared a joint statement to Twitter on Monday, May 3, to announce their separation.
"After a great deal of thought and a lot of work on our relationship, we have made the decision to end our marriage," the statement read. "We no longer believe we can grow together as a couple in this next phase of our lives."
Article continues below advertisement
Despite parting ways romantically, the parents of Jennifer, 25, Rory, 21, and Phoebe, 18, insisted they still "share a belief" in their foundation's mission and "will continue [their] work together at the foundation."
Article continues below advertisement
Jennifer said she is still trying to "process her emotions" during this time, adding that she would appreciate the public allowing her time to do so by respecting the family's wish for privacy.
Article continues below advertisement
Melinda reportedly filed her petition for divorce in King County, Wash., on the same day the former flames announced their separation. According to the document, the mother-of-three described their marriage as "irretrievably broken."
The pair does not have a prenuptial agreement; therefore, their assets will reportedly be split, according to a separation agreement. Melinda also noted that "spousal support is not needed," as the philanthropic couple individually have more than enough money to go around.