Bill & Melinda Gates: Everything We Know About The Billion-Dollar Couple's Shocking Divorce
Bill and Melinda Gates are divorcing after 27 years of marriage — and with billions of dollars at stake and their nonprofit, the Bill and Melinda Gates Foundation, in the mix, the world is itching to know what is next for the former flames.
Article continues below advertisement
As OK! previously reported, the high-profile couple announced their divorce in a joint statement posted to Twitter on Monday, May 3. Bill and Melinda said they would continue to work together as part of their foundation, but "no longer believe we can grow together as a couple in this next phase of our lives."
Article continues below advertisement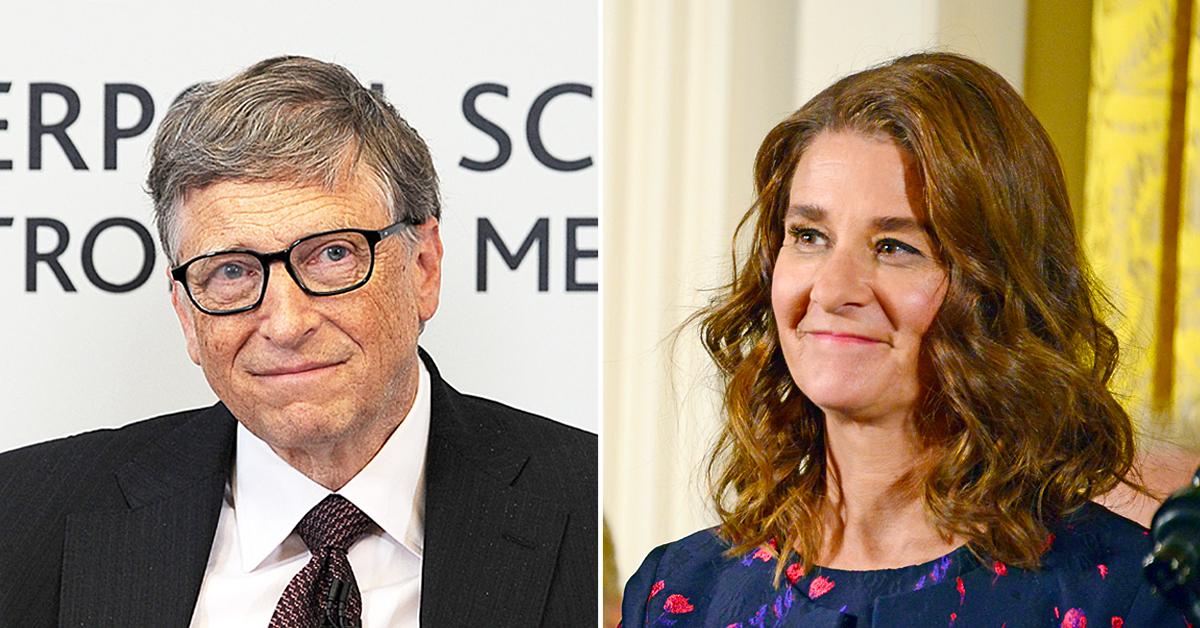 The duo's longtime love began after Bill and childhood friend Paul Allen, who died in 2018, founded Microsoft in 1975 — with Melinda joining the company as a product manager in 1987. Bill and Melinda met at a work dinner and tied the knot in Hawaii in 1994, about one year after they started dating.
Article continues below advertisement
In the 2019 Netflix series Inside Bill's Brain, the duo spoke about Bill's decision to propose to Melinda. "He had to make a decision... his whiteboard had the pros and the cons of getting married," Melinda said, as Bill added: "I took the idea of marriage very seriously."
In 2000, the pair launched the Bill and Melinda Gates Foundation, a nonprofit that focuses on "fighting poverty, disease, and inequality around the world," according to the website. With the couple's new project underway, Bill slowly began stepping back from his involvement in Microsoft to focus on philanthropy.
Article continues below advertisement
And while the former flames — who share children Jennifer, 25, Rory , 21, and Phoebe, 18 — are grateful for their "incredible" children and all the work they have achieved together, they decided it was ultimately time to part ways romantically.
The former couple will reportedly appear in court on April 22, and their Alternative Dispute Resolution date is slated for March 2022. The case will also be reviewed in September.
Article continues below advertisement
In light of the couple's separation, Bill has hired Munger, Tolles & Olson, the legal firm started by Warren Buffet's right-hand man, Charles Munger, Page Six reported. According to the divorce documents, the law firm is one of the three listed to represent the Microsoft co-founder in the couple's billion-dollar divorce.
Here's everything what we know in the shocking split of the philanthropic billionaire couple.
Article continues below advertisement
Why Their Relationship Didn't Work Out
Melinda described the couple's marriage as "irretrievably broken" in her petition for divorce, which she reportedly filed on Monday, May 3, in King County, Wash.
The former couple's eldest daughter has spoken out about her parents' divorce, admitting that it's been a "challenging stretch of time for our whole family," via her Instagram Story.
Article continues below advertisement
The Couple Does Not Have A Prenuptial Agreement
The pair does not have a prenuptial agreement; therefore, their assets will reportedly be split according to a separation agreement. The philanthropic couple asked the Seattle's King County Superior Court to approve their division of joint assets, but the details haven't been disclosed.
Melinda also reportedly filed an automatic temporary order setting financial restraints. This restriction will hinder both of their ability to dispose of property or make changes to insurance policies unless it has been agreed in writing or ordered by the court.
Article continues below advertisement
In addition, OK! learned they will be responsible for their own future incurred debts — unless agreed in writing. Both Melinda and Bill will also be able to access to all tax, financial, legal and household records. The 56-year-old also noted that "spousal support is not needed," the document read.
What's At Stake For Their Nonprofit?
The former couple will continue to work together in their existing roles as co-chairs and trustees of their foundation, as Bill and Melinda "share a belief in that mission," according to their joint statement.
Article continues below advertisement
Between 1994-2008, the parents-of-three gave the foundation more than $36 billion, the nonprofit's website reported. Their nonprofit — which is reportedly the most influential foundation in the world — had net assets of $43.3 billion at the end of 2019, according to the full-year financials shown on its website.
David Callahan, founder of the Insider Philanthropy website, said it's too early to tell how their divorce will impact the foundation, speculating that Melinda may venture into her own philanthropic work.
Article continues below advertisement
"You can imagine two separate tracks where they're both working together at the foundation, and each is pursuing their own independent philanthropy outside the foundation," Callahan said. "Nobody knows what the terms are of their divorce agreement. But if Melinda Gates ends up with just some portion of that wealth and turns to creating her own foundation, it would be among one of the biggest foundations probably in America."
What Are Bill And Melinda Worth?
The 65-year-old has an estimated net worth of $130 billion (he was once the world's richest person but lost that title, according to Australian Broadcasting Corporation News, party due to donating his money to philanthropy). And it looks like Melinda will manage to get by without spousal support from her soon-to-be ex-husband, as she was No. 5 on Forbes' list of the world's most powerful women in 2020.
If the duo agree upon a 50-50 split, the tech billionaire could drop to 17th place on the Forbes rich list.