Carole Baskin Slams Claims Of Being A 'Gold-Digging, Murderous Homewrecker', Says She's 'Never Spoken To' Joe Exotic
Carole Baskin made headlines last year after appearing in the docuseries Tiger King: Murder, Mayhem, and Madness — but not for the reasons she thought.
Article continues below advertisement
While the big-cat rights activist believed she was taking part in a documentary to shed light on the cruelty of cub petting, she wound up being the center of the "freak show" directors created, with rumors of killing her ex-husband, Don Lewis, following close behind.
OK! exclusively sits down with Baskin to discuss her life since the true crime documentary aired on Netflix last March. While talking about her abrupt rise to fame under the alleged false pretense that she fed her husband to tigers and an apparent feud with The Tiger King — a.k.a Joe Exotic — Baskin discusses her simple mission in life that got clouded by false narratives: saving cats.
Article continues below advertisement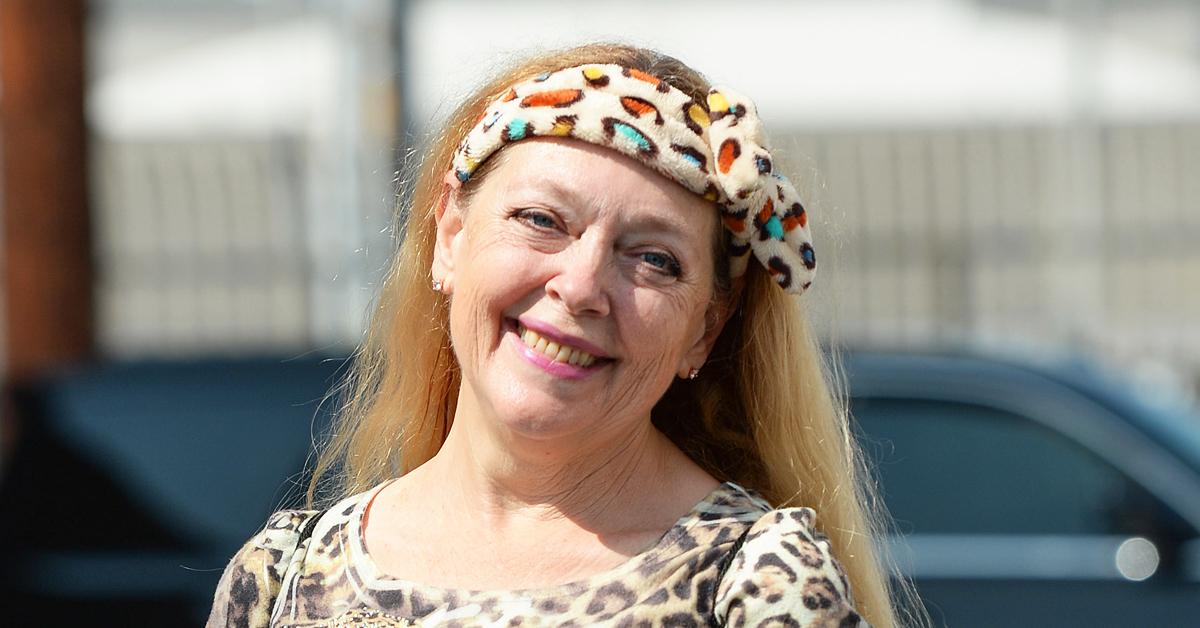 In light of the rumors circulating about Baskin after the series aired, she tells OK!: "The thing that I've heard the most since Tiger King is that I'm some sort of gold-digging, murderer, murderous homewrecker," insisting: "none of those things were true."
Article continues below advertisement
The series centers around Exotic, born Joseph Maldonado-Passage — who was sentenced to 2 years in federal prison for his role in a murder-for-hire against Baskin — and his alleged rivalry with Baskin over their different approaches to big-cat ownership.
Article continues below advertisement
While he exploited the big cats for monetary gain, according to Baskin, she focused on nurturing big cats back to health, offering the animals a sanctuary and ending cub petting at zoos that took advantage of the animals. Unfortunately, Baskin's own life became the focal point of the series rather than her efforts to save big cats.
The 60-year-old became the target of rumors claiming she killed her second husband, who disappeared in August 1997, and fed him to tigers — claims that were perpetuated by Exotic and others. "I clearly did not kill my husband. I absolutely adored him," she insists of the missing Lewis. Baskin also refutes claims of marrying Lewis for his money and breaking up his previous marriage to Gladys Lewis Cross.
Article continues below advertisement
"I was the person who built our real estate business. Don and his wife stayed together for many years after we met and they actually broke up over something entirely different," she exclaims. "It wasn't anything to do with me."
Baskin was married to Lewis from 1991-2002. She and second husband Howard Baskin tied the knot two years later and now run Big Cat Rescue — a Florida-based sanctuary for big cats that sits on 67 acres — together.
Article continues below advertisement
Just like everybody else, Baskin and her husband sat down last year to binge watch the eight-episode series. And while they were shocked by the narrative and "nasty things [the show] had said about [Carole]," she and Howard thought viewers would still take away the fact that "tigers are in so much trouble and that we have to stop these cub petting displays now or we're going to lose the tiger forever."
Article continues below advertisement
Unfortunately, that was not the case. After the popular series aired, "[Carole's] phone started ringing and people were just screaming obscenities at [her] for the next three months straight," she recalls. "Every two minutes [her] phone was ringing with people just being so hateful because they believed the narrative that they have been told."
Meanwhile, Baskin insists she has no relationship with the convicted felon other than trying to shut down his zoo because he was "abusing big cats and taking their cubs from them to pimp them out for pay to play sessions."
Article continues below advertisement
"I've never spoken to him," she tells OK! of Exotic. "The whole thing about it being some kind of feud was just made up for TV just like everything else that was in Tiger King."
Apart from trending on social media for alleged false rumors surrounding Lewis' death, Baskin confesses fame has been challenging. "The biggest pitfall is that I tend to be shy and reclusive and people approach me all the time," she notes.
Article continues below advertisement
"In addition to being hunted by murder-for-hire hit men," Baskin quips, "it really kind of freaks me out to have people coming up to me all the time."
Article continues below advertisement
Baskin didn't asked for fame, sharing she never had "any desire to be a celebrity or to be known by people." And while she felt betrayed by the Tiger King documentary, she will finally be taking the reins on her own upcoming TV series that will "expose the people that are abusing big cats and then bring that to the attention of law enforcement in the efforts to try and rescue the cats."
Apart from using her TV show to shed light on the issue at hand, the DWTS alum opens up about her desire for zoos to change the way they operate to prevent the extinction of big cats. Baskin wants zoos to "completely reinvent themselves to become location based experiences," she explains.
Article continues below advertisement
If it were up to Baskin, zoos would create an exhibit where people go in, "put on a headset, and now you're transported to the Himalayas and they're blowing cold air all over you and you're smelling the curry from the monks' tent next door and then you see real snow leopards from internet streaming, 360 cameras that are placed in the wild where these cats frequent," she tells OK!.
Despite backlash and constant challenges, Baskin refuses to give up on her fight to save big cats. She is currently waiting for her federal bill, The Big Cat Public Safety Act, to pass. The bill will "ban the cub petting, which drives over 95% of the breeding and discarding of these cats," Baskin explains.