COUPLES
Round Two? Clare Crawley & Dale Moss Spotted Out Together Less Than A Month After Spilt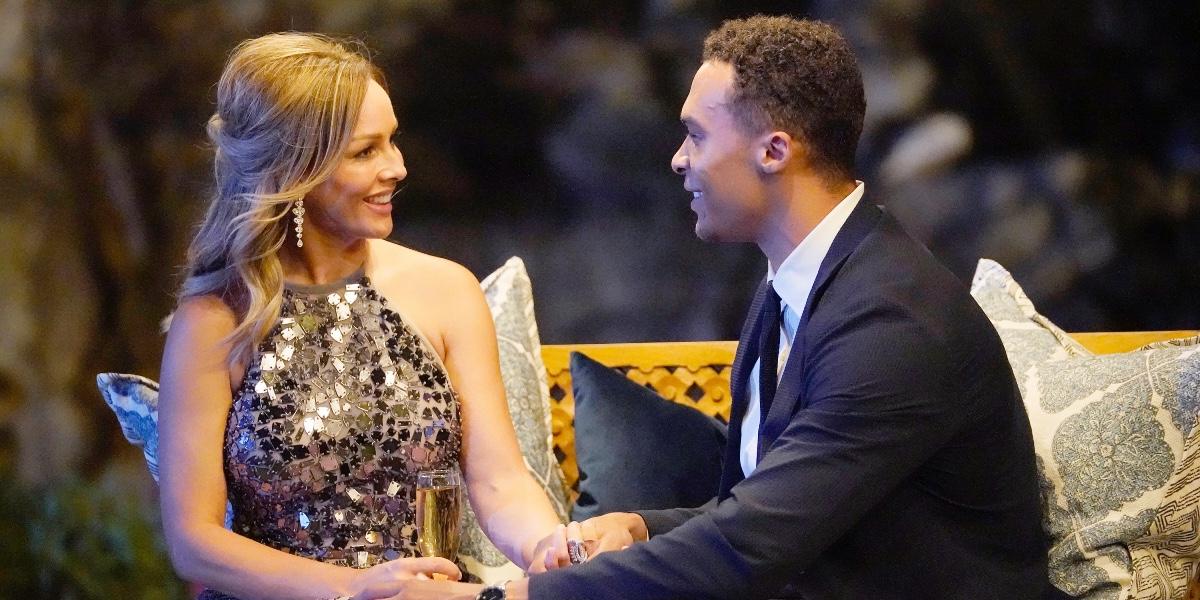 Is Dale Moss still "showing up" for ex Clare Crawley?
Despite their dramatic breakup last month, the former Bachelorette lead and her speedy season pick were spotted hanging out again.
Article continues below advertisement
In new photos, the 39-year-old hairstylist and 32-year-old former football player reunited at Nokomo's Sunset Hut in Nokomis, Fla.
According to eye-witnesses, there was no major PDA with the exception of a couple hugs but it was clear the two were not socially distancing from each other — or wearing masks for that matter. The once engaged couple reportedly drank Moscow mules at the bar for about 45 minutes then they left together and walked down the waterfront.
Article continues below advertisement
Crawley famously left season 16 of The Bachelorette to be with Moss after he proposed just weeks in. However, their fairytale came to an abrupt end in January when Moss announced that they had called it quits.
"I wanted [to] share with you all that Clare and I have decided to go our separate ways," Moss wrote on his Instagram Story. "We appreciate the love and support we've received from so many people, but this is the healthiest decision for both of us at this time."
Days later, Crawley chimed in and said she was made aware of the "mutual" statement along with everyone else. 
"Speaking for myself, my intentions with this relationship have always been very clear, so the truth is that I am crushed," Clare wrote last month. "Our relationship was not perfect, but I can say that I was genuinely invested with all of my heart. I may not have all the answers, but I do know this — I will continue to show up, stand by my word, and be committed to love."
Article continues below advertisement
A source previously told OK! that Crawley regrets cutting her time as the Bachelorette short to be with Moss.
"At the end of the day, they wanted different things, and there was no compromising," the insider said. "He swept her off her feet, and Clare took him at his word that he loved her. But she didn't know Dale well enough. If only she didn't pick him so soon." 
Article continues below advertisement
Cracks in the pair's relationship began to show after filming ended. "They argued over distance. Clare wanted Dale to move to Northern California with her, but he didn't want to leave New York," added the source. "Clare feels like Dale led her on and wasn't honest with her in the beginning." 
Moss was swept up in the magic and romance of the ABC series as well. "He realizes he rushed into the engagement," says the source, noting that the ex-football player asked Crawley to marry him just two weeks after their first meeting. "Yes, he was captivated by Clare's charm, [but] he felt pressured to propose," claimed the source. "That's what everyone wants to see on the show." 
Article continues below advertisement
Cheating rumors also plagued the couple. OK! was the first to report that Moss was seen "in SoHo with three women" on November 14. "He went to an event at Hugo Boss and was seen leaving with three model types," an insider told OK! at the time. "He was later joined by a fourth who seemed to be his friend. Then, he was spotted drinking outside in SoHo, where he was kissing one woman, but like pecks." 
Ultimately, Clare was "always skeptical" about Moss' intentions, the source noted. "She never trusted the friendship and thought it was shady."
TMZ obtained the photos of Moss and Crawley's reunion.