PHOTOS
5 Facts About Tayshia Adams, The Bachelor Nation Fave Who's Taking Over This Season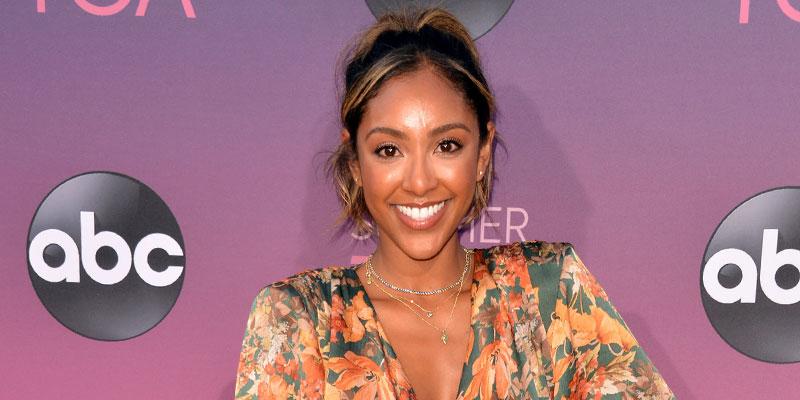 This season of The Bachelorette has been a wild ride, to say the least. Clare Crawley was announced as the Bachelorette earlier this year, but due the ongoing coronavirus pandemic, her season was put on hold.
Luckily, production was able to get back up and running — safely — and the men got to meet the hairstylist, 39, and compete for her heart. However, Crawley was infatuated with Dale Moss from the start and immediately set her eyes on him. "I definitely feel like I just met my husband. I'm shaking!" she said after he stepped out of the limo.
Article continues below advertisement
DALE MOSS WINS OVER CLARE CRAWLEY ON 'THE BACHELORETTE' — 5 FAST FACTS ABOUT HIM
From then on, the two had an immediate connection, which was hard to hide from the other men. In fact, the contestants decided to roast Moss, 32, during their group date, and afterward, Crawley couldn't help but talk about the athlete while chatting with the men.
As a result, the suitors were upset with Crawley's actions. "There's just been a lingering lull, and I think she kind of owes it to us because I think a lot of guys are checking out right now, and I don't think that's a good thing for her," Blake Moynes said in the upcoming episode, which airs on Thursday, November 5.
Later on, Adams quipped about her involvement on Instagram, writing, "You rang … ?!"
Naturally, Bachelor Nation is looking forward to Adams, 30, being the new leading lady. Blake Horstmann wrote, "Hahaha yassssss," while Sydney Lotuaco added, "Oh s**ttttttt."
ABUSE, DIVORCE & NASTY FEUDS: 'THE BACHELOR' CREATOR MIKE FLEISS' SECRETS & SCANDALS EXPOSED
JoJo Fletcher exclaimed, "OHHHHH HIIIIIII," and Ashley Iaconetti added, "Meeeowwww."
So, what does Crawley think of Adams? "I wanted Tayshia as the Bachelorette … like, I support her," she told Entertainment Tonight. "I think she's beautiful, I think she's a very grounded woman, a woman who knows what she wants. I completely support that, I supported her …. I've wanted her to be the Bachelorette forever. I always was for that."
Scroll through the gallery below to learn five facts about Adams.
She Was Previously Married
Adams was married to Joshua Bourelle before she appeared on The Bachelor. However, he filed for divorce in October 2017 after just over one year of marriage and cited irreconcilable differences in the papers.
"When things were getting really bad, we were like, 'OK, we need to go see a counselor,'" she said on her "Click Bait" podcast. "Actually, that was my doing, because I knew I needed to do absolutely everything in order to know that was the end of the road.
"At that point, you kind of walk through some things and you try as hard as you can, but you can't force someone to love you," she said. "So, if you do that for a couple of months, and it's still not working, you're trying to do everything you can and the other person's not ... You have got to go your own separate way."
Article continues below advertisement
She Competed On Colton Underwood's Season Of 'The Bachelor'
Article continues below advertisement
She Worked As A Phlebotomist
Adams was a phlebotomist — someone who draws blood from patients for research — but has switched gears in the past few years.
"I'm not practicing phlebotomy anymore. I don't know if I'll go back into medicine," she told Vulture in 2019. "As much as I love it and went to school for it, my passion has always been in real estate, development, interior design and architecture. I think I'm going to gravitate toward that. I'm currently working at an interior design firm, and I hope this blossoms and opens doors for my career. You'll see me out there. I'm sure you will!"
Now, Adams hosts "Click Bait" podcast with fellow Bachelor Nation alum Joe Amabile and Hannah Ann Sluss.
Article continues below advertisement
Family And Faith Is Important To Tayshia
The California native's Instagram biography includes "Psalm 46:5," which is a Bible verse that reads, "God is within her, she will not fall, God will help her at break of day."
According to her now-deleted ABC biography page, Adams traveled to Africa on a mission trip before she appeared on the reality series.
Adams is also really close with her family. When Underwood tried to get Adams' dad blessing on the show, he ultimately declined. "Straight up, I think you're a good guy, but obviously, I want to protect her and have her best interest," he said. After speaking with his daughter, Adams' dad said he was "content with saying 'yes'" to Underwood.
Article continues below advertisement
She Found Love On 'Bachelor in Paradise'
After Adams' stint on The Bachelor, she appeared on season 6 of Bachelor in Paradise in the summer of 2019. Adams pursued a relationship with John Paul Jones but ended things before the fantasy suite. During the reunion, the two revealed they were trying to make things work, but called it quits a few months later.
Luckily, Jones has no hard feelings toward his ex. "I'm very excited for her," he told PEOPLE about her new endeavor. "I think this seems like a great time in her life to really settle down and choose the one."