NEWS
'Sickening, Pathetic, Unimaginably Cruel': Rep. Marjorie Taylor Greene Slammed For Mocking Transgender Community In Controversial Video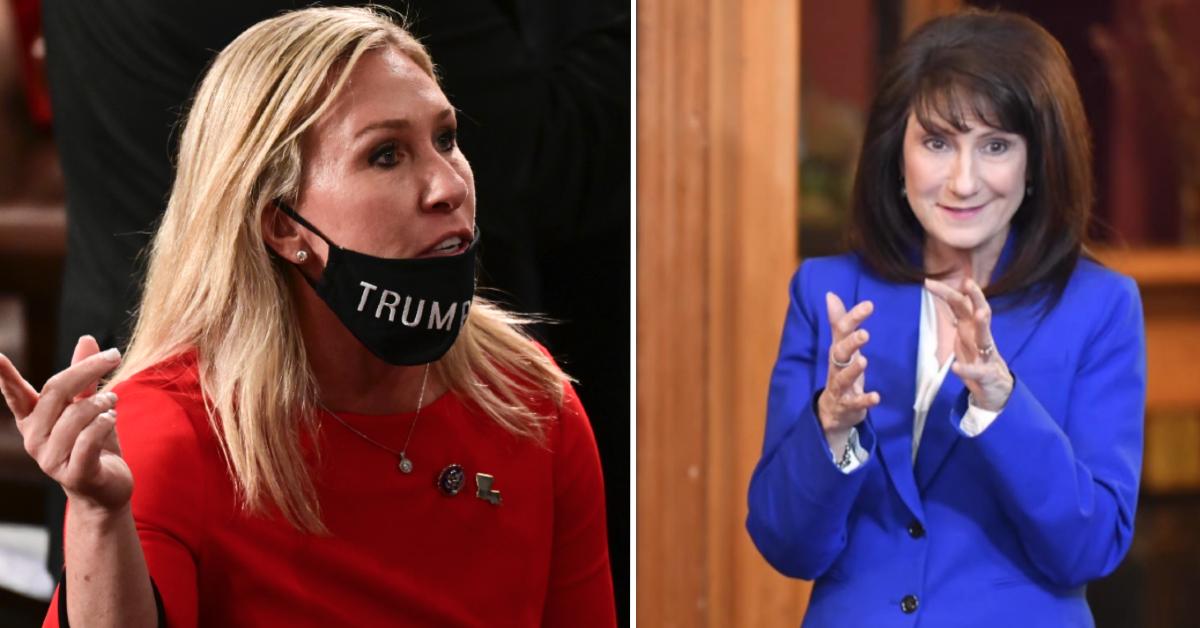 After a fiery debate on the Equality Act — which would extend civil rights protections to the LGBTQ+ community — Congresswoman Marie Newman of Illinois hung a transgender flag outside of her office showing support for the bill.
Newman's office happens to be directly across from one of the staunchest opponents to the bill, Rep. Marjorie Taylor Greene.
Article continues below advertisement
"Our neighbor, [Greene], tried to block the Equality Act because she believes prohibiting discrimination against trans Americans is "disgusting, immoral, and evil," Newman, who has a transgender daughter, wrote on Twitter. "Thought we'd put up our Transgender flag so she can look at it every time she opens her door."
Article continues below advertisement
Many congressional lawmakers were quick to slam Greene's transphobic clip. Fellow Illinois Rep. Sean Casten called Greene's poster "sickening, pathetic, unimaginably cruel" in a tweet. "This hate is exactly why #EqualityAct is necessary and what we must protect [Newman's] daughter and all our LGBTQ+ loved ones against."
Article continues below advertisement
Even fellow Republican leader Adam Kinzinger blasted Greene's video. "This is sad and I'm sorry this happened," he tweeted. "Rep. Newman's daughter is transgender, and this video and tweet represents the hate and fame driven politics of self-promotion at all evil costs. This garbage must end, in order to #RestoreOurGOP."
Congresswoman Newman tweeted early Thursday morning that Facebook had taken down her clip, citing is as "hate speech," adding that the social media platform is "still allowing Marjorie Taylor Greene's transphobic video to be posted," she wrote. "Supporting transgender Americans is NOT hate speech."
Article continues below advertisement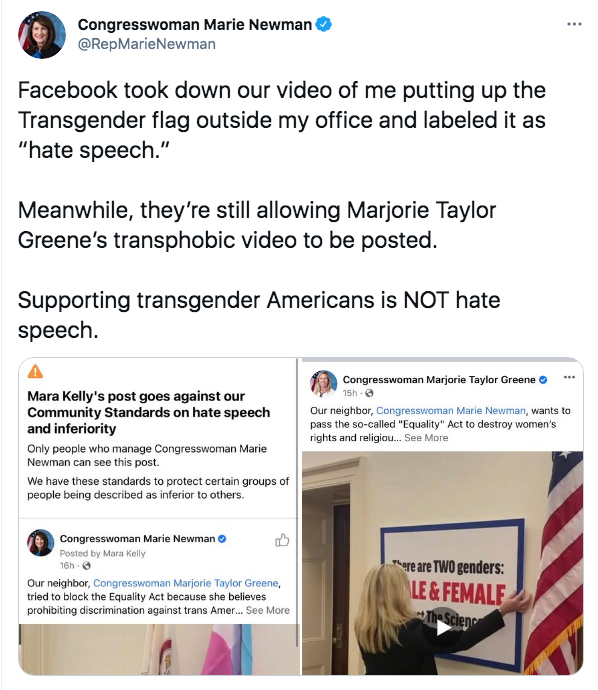 Greene's inflammatory remarks against the LGBTQ+ community come shortly after a recent report that the Congresswoman "openly cheated" on her husband, Perry, with multiple men, including Craig Ivey, a polyamorous tantric sex guru, and Justin Tway, a manager at the gym she worked at.
The alleged extramarital affairs were said to have taken place a decade ago while the boisterous blonde was working in gyms in Alpharetta, Ga., about 35 miles north of Atlanta. Instead of trying to keep her indiscretions a secret, Greene was apparently brazen in her actions. "It wasn't a secret," said one man who worked closely with her. "Everyone who moved in her circles knew about both the affairs."