EXCLUSIVE
Courtney Stodden Reveals Mom Doesn't Understand Them Coming Out As Non-Binary, Still Uses Wrong Pronouns — But They Are Reveling In The Revelation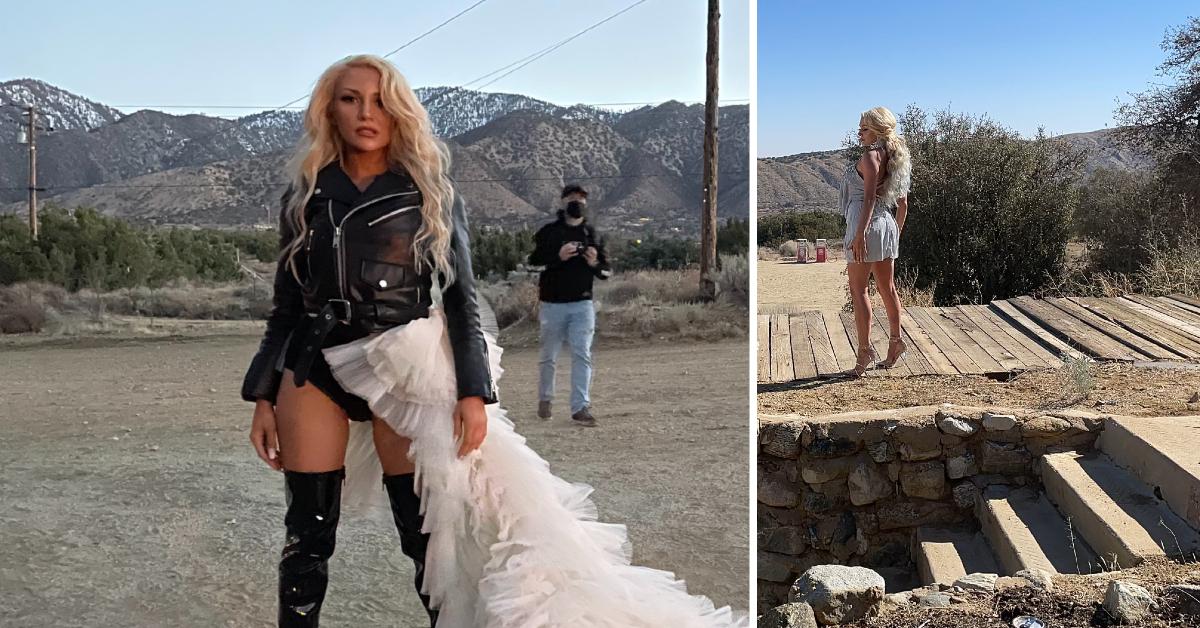 After bravely declaring to the world they are non-binary, Courtney Stodden says their legion of fans have been so supportive, praising the model for speaking their truth and owning who they are — but not everyone close to Stodden has been so accepting of their new pronouns.
Article continues below advertisement
"My mom personally does not understand it, she will not call me they, she still calls me she and her," Stodden exclusively tells OK!. "I mean, that's just her, so I try to just accept that and that's who she is."
Article continues below advertisement
Stodden continues: "I love her and she's supportive in other ways, but really I am taking this time in my life to support myself and I think that's a huge priority," noting they try to "not worry about too many other people and their opinions."
Article continues below advertisement
"They/them/theirs," Stodden previously wrote alongside a selfie on Tuesday, April 13, sharing their new pronouns. "I don't identify as she or her. My spirit is fluid with a kaleidoscope of color." Stodden shared that as a child they "never felt like I ever fit in anywhere" and admitted they were "bullied horribly in school because I was different."
The Instagram influencer has had a troubled relationship with the media and online haters since they made headlines in 2011 after marrying actor Doug Hutchison — when they were only 16 years old and the Green Mile star was 50. Despite Stodden and Hutchison's nearly 35-year age gap, it was their blonde bombshell aesthetic and quest for reality TV fame that people ridiculed them for, with Hutchison seemingly getting a pass in the media.
Article continues below advertisement
The influencer took their toxic relationship with their ex-husband as well as the ridicule they endured and used it as fuel to drive their art. Now at 26, Stodden is looking to ditch their past image and take over the music industry with their new certified bop, "Pleasure," due out May 6.
Article continues below advertisement
OK! exclusively chats with the model ahead of the release of their sexy new song and the inspiration behind the visually stunning video.
Article continues below advertisement
"I wanted the video to tell a story of who I'm becoming and I wanted to shine a light on that," they told OK!. "The song is very seductive and upbeat so it was important for me to create a visual where I represented someone in power," they say. "Cause I feel like for so long I've just been obviously under the thumb of men, really, especially Hollywood men."
Although Stodden doesn't identify with any specific gender, they still own their femininity in their new music and accompanying music video. "I just wanted to definitely still have a sexy video and a sexy fun song, but something where I just felt like very high-fem and still in charge," they tell OK!. "I've always wanted to create music and present myself as who I feel like I am, which is high-fem and definitely take charge and just create. Music is an outlet for me."
Article continues below advertisement
As for the message Stodden wants to convey to other people out there who are struggling with their identity and coming to terms with who they are, the model says to "listen to your heart, don't listen to the person next to you or someone who is telling you or talking at you, listen to yourself, I think that's the most important thing."
They continue: "In a world of noise and social media and opinions we can easily get lost in other people's ideas or image of us and I think it's really important to listen to yourself and believe in yourself and that will take you the furthest."