NEWS
'I'm So Fluid Now': Demi Lovato Reveals She Identifies As Pansexual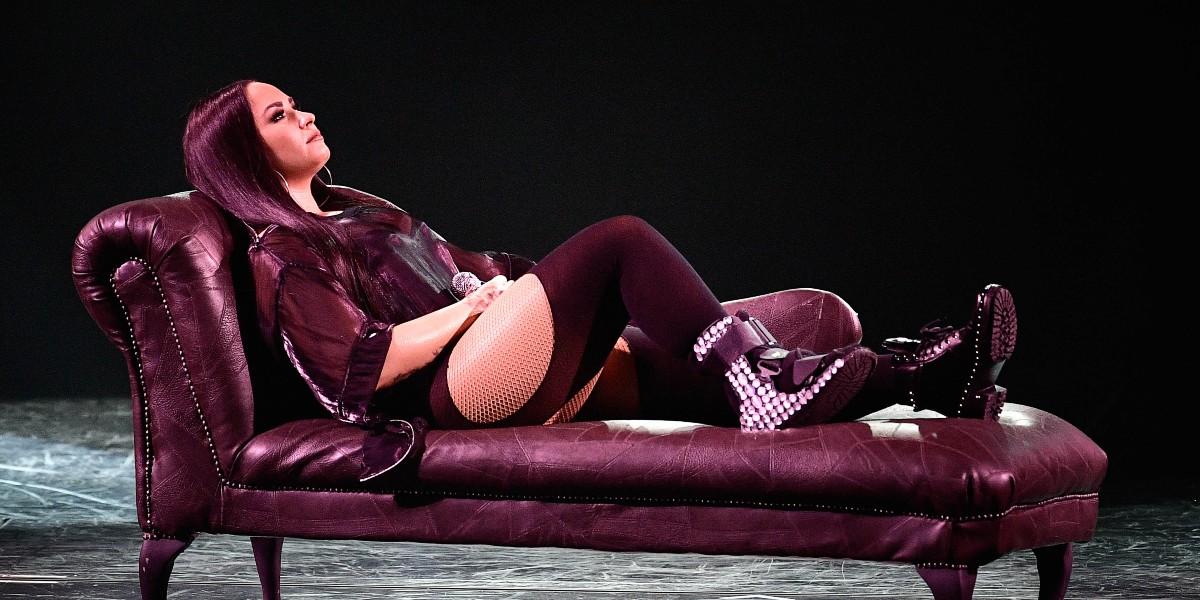 Speaking her truth! Although she had been hesitant to put an official label on her sexual identity in the past, Demi Lovato has revealed that she is "proud" to be a part of the LGBTQIA+ community.
Article continues below advertisement
The songstress opened up about coming to her terms with sexuality on an episode of the "The Joe Rogan Experience" podcast.
"I'm so fluid now, and a part of the reason why I am so fluid is because I was super closeted off," she shared, adding that she's attracted to "anything really."
Article continues below advertisement
Rogan asked if the term pansexuality fit her, to which she responded, "Yeah, pansexual."
Article continues below advertisement
"I heard someone call the LGBTQIA+ community the alphabet mafia," she recalled, adding "That's it! That's what I'm going with."
Pansexuality is sexual, romantic, or emotional attraction towards people regardless of their sex or gender identity. Pansexual people may refer to themselves as gender-blind, asserting that gender and sex are not determining factors in their romantic or sexual attraction to others.
Article continues below advertisement
The Ex-Disney star wasn't always so comfortable with her sexual identity and found herself compressing her feelings due to her strict upbringing and family's relationship with the Church.
Article continues below advertisement
"I felt a lot of shame because growing up in Texas as a Christian, that's very frowned upon," the "Dancing with the Devil" singer admitted on the podcast. "Any attraction I had to a female at a young age, I shut it down before I even let myself process what I was feeling."
Article continues below advertisement
Th 28-year-old also revealed that she had her sexual awakening when she watched the 1999 film Cruel Intentions and Selma Blair's and Sarah Michelle Gellar's famous kissing scene.
This might come as a shock to fans since just last year the singer was engaged to soap opera actor, Max Ehrich.
"I was engaged to a man last year. I totally thought I'd be married, maybe pregnant right now, and that's not the case," she said. "So I've just stopped kind of attaching myself to -- I know that my life is not going according to my plan."
Article continues below advertisement
The two had been dating for four months before Ehrich got down on one knee and popped the question. She also recently told Glamour that right now where she is, she feels too queer to be with a cis man.
"I hooked up with a girl and was like, 'I like this a lot more.' It felt better. It felt right," she recalled. "Some of the guys I was hanging out with, when it would come time to be sexual, I would have this kind of visceral reaction. Like, 'I just don't want to put my mouth there.'"
Article continues below advertisement
The singer also revealed that she found herself just "appreciating" the friendships of the opposite sex.
"It wasn't even based on the person it was with," Lovato continued. "I just found myself really appreciating the friendships of those people more than the romance, and I didn't want the romance from anybody of the opposite sex."