The War Is Far From Over! Courtney Stodden Claps Back At Chrissy Teigen After Embattled Star Addresses 'Cancel Club' — Watch
Not having it. Courtney Stodden clapped back at Chrissy Teigen after the model shared an update on her life and dubbed herself a member of the "cancel club."
Article continues below advertisement
On Thursday, July 15, Stodden — who came out as nonbinary in April — shared a TikTok video of themself laughing in front of Teigen's latest Instagram post about how she's been doing since coming under fire for allegedly bullying the blonde beauty. The words "Just be nice" then appeared in the clip, with Stodden captioning the video with the hashtags #bully, #bekind, #mentalhealth and #chrissyteigen.
Article continues below advertisement
John Legend's wife, 35, posted a lengthy statement about her mental health after Stodden claimed Teigen once told them to kill themselves via Twitter back in 2011. "[I] feel like utter sh*t in real life," the Cravings cookbook author admitted in her post on Wednesday, July 14.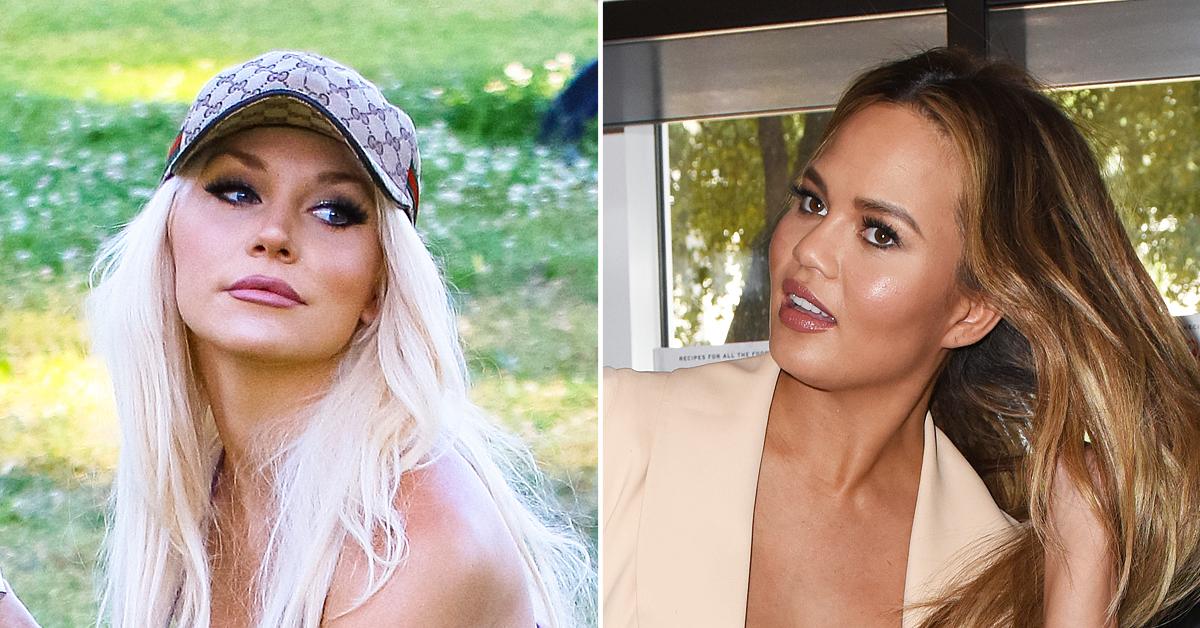 Article continues below advertisement
Teigen revealed that life has been tough ever since she found herself engulfed in the cyberbullying scandal, admitting that she's currently in a dark place.
Article continues below advertisement
"Going outside sucks and doesn't feel right, being at home alone with my mind makes my depressed head race. But I do know that however I'm handling this now isn't the right answer," Teigen confessed. "I feel lost and need to find my place again, I need to snap out of this, I desperately wanna communicate with you guys instead of pretending everything is okay."
In May, Stodden, 26, came forward with her bullying claims against the Lip Sync Battle co-host, insisting Teigen "wouldn't just publicly tweet about wanting me to take 'a dirt nap' but would privately DM me and tell me to kill myself. Things like, 'I can't wait for you to die.'"
Article continues below advertisement
Teigen then publicly apologized to the model, saying she was "mortified" by her past behavior and called herself an "insecure, attention seeking troll" when she sent those vicious messages.
In light of the cyberbullying scandal, Teigen's life as a once-loved celeb has taken a turn for the worse. Besides the mother-of-two's cookware line reportedly being pulled out of Target, she lost a deal with Bloomingdale's and was most recently replaced by model Gigi Hadid as the narrator of Never Have I Ever.
Article continues below advertisement
Meanwhile, her once close gal pals are also apparently pulling away from the social media personality. OK! previously reported that Meghan Markle "ghosted" Teigen after she made headlines for her past abusive tweets.
Article continues below advertisement
And while Teigen publicly owned up to and apologized for her past behavior, an OK! insider warned that her fall from grace is far from over. "Chrissy's hurt a lot of people with her cutting, mean remarks, and they won't soon be forgotten," the source said, noting that it will be an uphill battle for Hollywood's pariah to make her way back into people's good graces.
"Many don't even believe she's being sincere and think this is just Chrissy worried about her career and her cookware collection collecting dust after being dropped by three major retailers," the insider added. "Posting an apology memo is a good start, but it's not enough — and the people she's hurt feel she needs to do a lot more."