Meghan Markle 'Ghosted' Chrissy Teigen After Bullying Claims, Despite Model Mediating Duchess & Kim Kardashian Altercation: Source
It appears Chrissy Teigen can't catch a break — and now once-close gal pal Meghan Markle is throwing in the towel on their friendship amid the model's ongoing cyberbullying controversy.
Article continues below advertisement
Markle has reportedly "ghosted" the mother-of-two after she first made headlines in May for her past abusive tweets targeted at celebrities. And even Teigen's blog post acknowledging the nasty 2011 social media messages — including the now infamous comment sent to then-teenager Courtney Stodden (who identifies as non-binary) telling them to kill themself — is not enough to win back the Duchess of Sussex's friendship.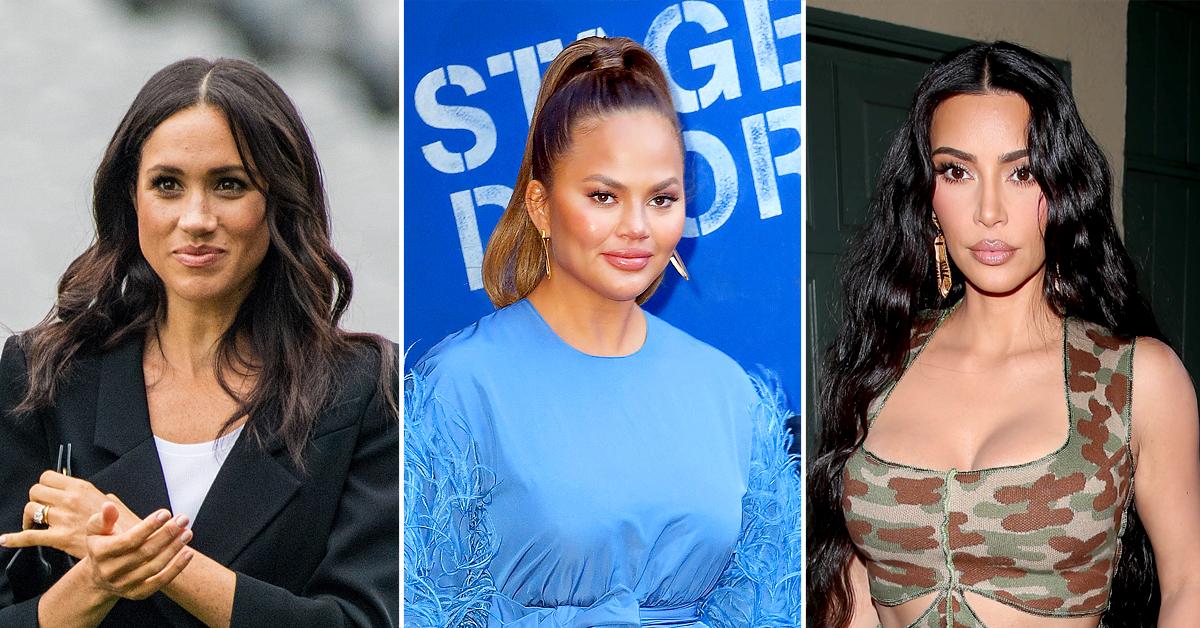 Article continues below advertisement
The social media personality made Kardashian aware of Markle's dissatisfaction with the KUWTK star's mobile game, which featured a prince and actress bride exiting a royal family, Radar sources revealed. While it was unclear if Kardashian, 40, was alluding to the brunette beauty and Prince Harry's royal exit, dubbed Megxit, Markle apparently wasn't a fan of the game's feature.
Article continues below advertisement
"It was Chrissy who made Kim aware last month of Meghan's displeasure over Kim potentially profiting over her and Harry's life story with the game," said the source.
Article continues below advertisement
"Apparently, Meghan got word to Chrissy that she was none too pleased. Chrissy was more than happy to get in the middle of it all as a way of winning favor with Meghan," they continued. "For years, Chrissy's been publicly courting Meghan to be her bestie gal pal."
According to the recently single star, per the outlet, Kardashian was unaware of the game's content regarding the royals and had the characters removed. The source also revealed Kardashian and mom Kris Jenner hoped Teigen would introduce them to Markle to help with their social status.
Article continues below advertisement
"Kim and her mom, Kris, had high hopes of Chrissy making introductions for the entire Kardashian-Jenner clan to the transplanted royals," said an insider. "Kris' entrepreneurial and social-climbing brain was working overtime on how a relationship with Meghan and Harry would benefit the family, and Chrissy was all too happy to oblige when the time was right."
Article continues below advertisement
But, Teigen's fall from grace seemed to end any chance Kardashian and Jenner had of connecting with Markle, since the new mother-of-two — who welcomed daughter Lilibet Diana earlier this month — ditched the Hollywood pariah.
John Legend's wife previously stuck up for the former actress and red-headed prince following their March sit-down with Oprah Winfrey where they made bombshell claims about their lives behind palace walls. And despite going out on a limb and defending the royals, Markle seemed to refuse to do the same for Teigen.
"Chrissy is really hurt by Meghan not returning her calls," the Radar source revealed. "Immediately following Meghan and Harry's Oprah interview, Chrissy used her mighty social media platform to assure the world Meghan had to be telling the truth in the accusations she made against the royals."