NEWS
Demi Moore's Face Looks Different In Nearly Every Instagram Post — And Fans Have Taken Notice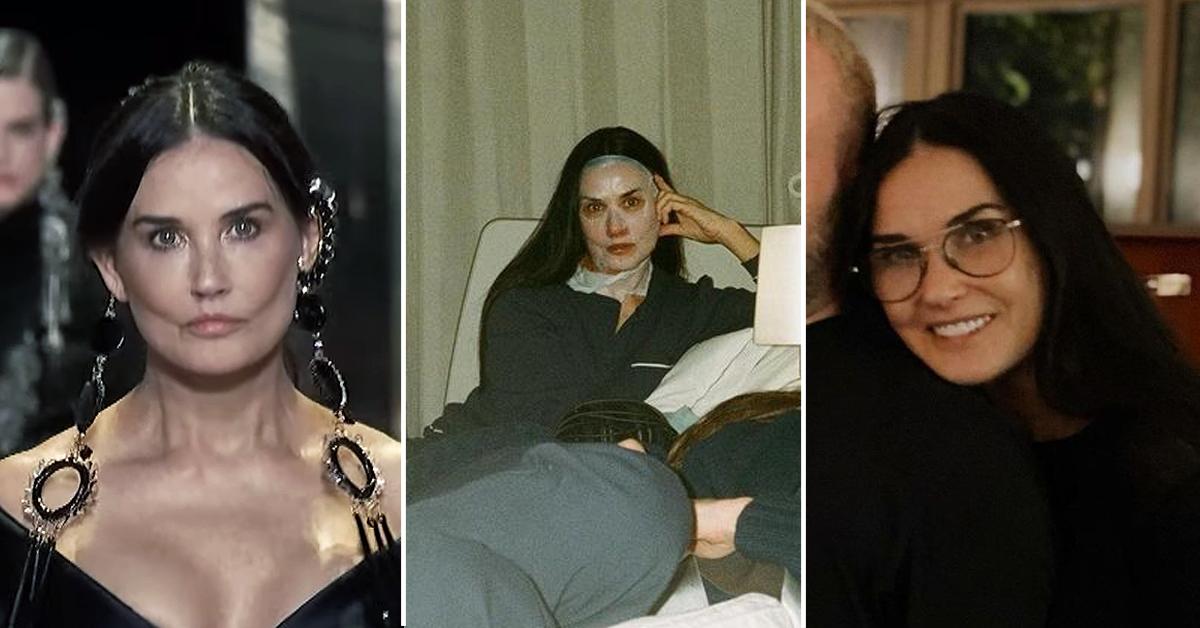 Actress Demi Moore had people talking when she looked drastically different while walking the runway during Paris Fashion Week in late January. Now, the 58-year-old seems to look like her old self again, which fans have clearly noticed.
On January 29, Moore — who appeared to have fuller cheeks — posted a photo with Christy Turlington, Kate Moss and Kim Jones on Instagram. "A lot of testing went into this group hug. Loved being part of the @fendi show with you @cturlington and #katemoss. Thank you @mrkimjones ❤️," she wrote.
Article continues below advertisement
Shortly after, one person wrote, "So, your face still normal?!?! I hope so! You're so pretty!" while another echoed, "Ouf just makeup."
A third user added, "I thought that was YOU!! You look amazing @demimoore."
Two days later, Moore uploaded a photo of herself with her daughter Scout Willis sporting face masks. "Pre-show prep. Photo by @caradonfilm," she captioned the snap.
Article continues below advertisement
Article continues below advertisement
"My first thought was, 'OMG is this real? Is she making a funny expression or awful makeup contouring?'" celebrity injector Heather Rohrer told OK!. "Her cheeks appear to be overfilled, causing the filler to migrate downward to the corner of her mouth. She appears to have no fat in the lower face, almost like she has had her buccal fat removed."
Meanwhile, plastic surgeon Dr. Frank Agullo thinks Moore's injector "has certainly gone overboard with fillers in the cheeks, lips and mandible — to the point of looking unnatural."
"My mother always drilled in me no matter what that you should wash, cleanse and moisturize your skin," she said.
"I think my biggest thing is really that less is more, as it's much easier to keep a routine going if we keep it simple, so it's doable," she added. "Look, I don't have any super big secret. But I definitely think beauty starts on the inside. You can do anything you want to the outside, but if the inside isn't looking or feeling good, then I don't know if anything you do on the outside is going to be good enough."