'I Was Everyone's A.T.M.': Amber Tamblyn Says She Can Relate To Britney Spears' Conservatorship
Following Britney Spears' shocking court testimony this week, Amber Tamblyn is coming forward with her own experiences about growing up in the spotlight.
Article continues below advertisement
The 38-year-old opened up an op-ed for the New York Times where she discussed understanding how Spears felt.
While Tamblyn did not identify with the "Toxic" singer's music, during her highly publicized mental health crisis she "did identify with this newfound rage" because "she might have looked like a spoiled brat throwing an alcohol-induced tantrum, but I was sure that on the inside a reckoning was taking place, and she was lashing out against some of the same forces that I wanted to."
Article continues below advertisement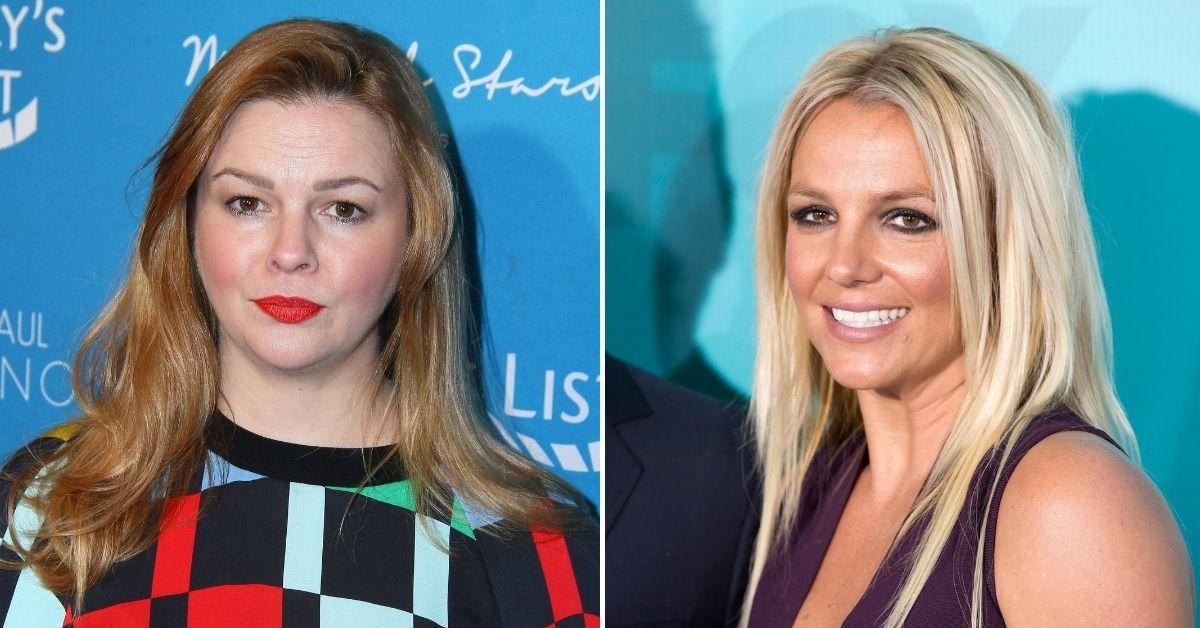 Article continues below advertisement
Having gotten her start in acting at the age of 10 in indie films, she began making money. She then landed General Hospital and later Joan of Arcadia where she made "substantial money."
"When that shift took place, my parents stepped in to help manage it all. My father acted as my co-manager, and my mother managed my finances. My money paid for our vacations, dinners out, and sometimes even the bills. When it finally came time to disentangle our personal and professional relationships, it was deeply painful for all three of us," Tamblyn wrote.
Article continues below advertisement
Tamblyn stressed that she did not endure the "abuse" that Spears alleged in court but noted some "parallels" between them. Although she had a good relationship with her parents, the money had a negative effect.
Article continues below advertisement
"I couldn't shake the feeling that every time I had a conversation with my parents about money it felt as if I was asking for an allowance — only the allowance came from money I'd earned. Every conversation with them became about my earnings and my work, and even though I knew there was space to call up my parents and ask for life advice, or just catch up, I rarely did so because of the roles they had taken in my life," she explained.
According to Tamblyn, "the line between where I ended and where others began felt blurred in a way that I couldn't articulate at the time. As I made more and more money, the circle of those I supported opened up to include extended family members and friends. I was the one they came to for a small loan or in an emergency, the one who always picked up the check."
Article continues below advertisement
"I was everyone's A.T.M.: a bank that was, nonetheless, unconditionally loved," Tamblyn said. "Still, as I got older, it got harder to trust the source of that love."
While Spears testified this week that she cannot get an IUD removed because her "so called team won't let me go to the doctor to remove it because they don't want me to have anymore children," Tamblyn related to her body being under scrutiny.
Article continues below advertisement
"Growing up, my weight was openly discussed by everyone, from family members to Hollywood creatives," she explained. "I'd grin and bear it, because staying silent — and thin — meant I would get hired again; getting hired again meant people would be proud of me and that I would have the money that was needed to keep the ship afloat."
"I can see how easy it would have been to slip into those dynamics. In these situations, some kind of damage is invariably done — a stunting of the ability of an individual to grow and make the most basic of decisions, or practice good boundaries. When I finally parted professional ways with my parents, they couldn't help but feel as if they had done something wrong. But they hadn't. Money had," she added.