Jake Paul Celebrates Stealing Floyd Mayweather's Hat With 'GOTCHA' Diamond Bling
Jake Paul continues to celebrate ripping the hat off of Floyd Mayweather's head, marking the monumental occasion with a new diamond pendant.
Article continues below advertisement
Jake's encounter with the former five-division world champion occurred on May 6 at the Hard Rock Stadium in Miami during a press conference for Floyd and Logan Paul's exhibition fight, which took place on Sunday, June 6.
During the media event hyping up the highly anticipated fight, Jake took the opportunity to steal the spotlight. Jake got in Floyd's face and the two exchanged in a heated face-to-face encounter before Jake — who has minimal boxing accolades under his belt — stole Floyd's hat, sarcastically saying "gotcha hat," before trying to flee.
Article continues below advertisement
And while he attempted to run away, the 24-year-old was immediately grabbed by the pro boxer's security team, sparking absolute chaos with Jake reportedly receiving a black eye from the undefeated boxer. Click here to watch the scuffle.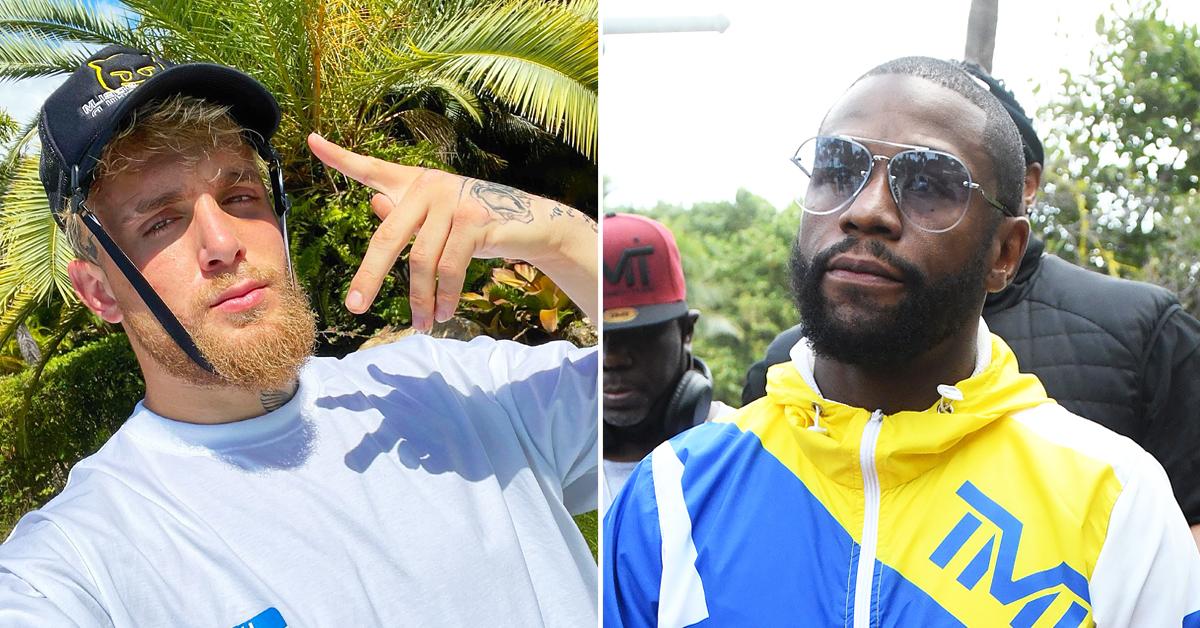 Article continues below advertisement
It looks like the altercation was a moment Jake hopes he'll never forget, as he got a tattoo saying "gotcha hat" with a hat drawn underneath to immortalize the infamous brawl. And now, TMZ reported that he reached out to Suny The Jeweler for some new bling that says "GOTCHA" with a hat that sits on top of the huge capital letters.
Article continues below advertisement
Suny also iced out Jake's brother, 26, with the company creating a diamond chain for his 1st edition Charizard card, which he wore around his neck while walking into the ring with Floyd.
According to the outlet, Jake's new pendant is approximately 20 carats of WS diamonds and has 80 grams of pure Italian solid gold. The outspoken personality also had his self-proclaimed nickname, "The Problem Child," inscribed on the back of the bling.
Article continues below advertisement
News of Jake's new flashy accessory comes after Logan and Floyd's boxing match, titled "Bragging Rights," concluded with no clear winner announced since the fight lasted all eight rounds with no knockouts, OK! reported.
Article continues below advertisement
The fight was scheduled for eight three-minute rounds with no judges. And while Floyd was clearly the better boxer, Logan managed to use his massive height and weight to keep himself in the ring with one of the greatest boxers of all time for the entire duration of the match.
Meanwhile, Jake is gearing up for his own fight against former UFC welterweight champion Tyron Woodley, which is set to take place on August 28. But it wouldn't be a Paul event if there wasn't some drama to go along with it.
Article continues below advertisement
Jake recently took his newfound rivalry with Austin McBroom to the next level after the ACE Family musician claimed Jake wasn't ready to take on Tyron in the ring. "Jakey, you're in trouble, my man," Austin previously said via his Instagram Story. "You in trouble."
In response, Jake savagely accused Austin in a since-deleted TikTok of cheating on his wife, Catherine Paizm. "I'm in trouble, Austin? Does your wife know that you cheat on her every weekend? Does she know that you message every single girl on Instagram trying to get in their pants?" he reportedly said. "Oh, do I have way too much tea on you and your little family."