EXCLUSIVE
Following Last Year's Heat-Filled Table Read, Jennifer Aniston & Brad Pitt Are 'Keen To Revisit' A Proper Onscreen Reunion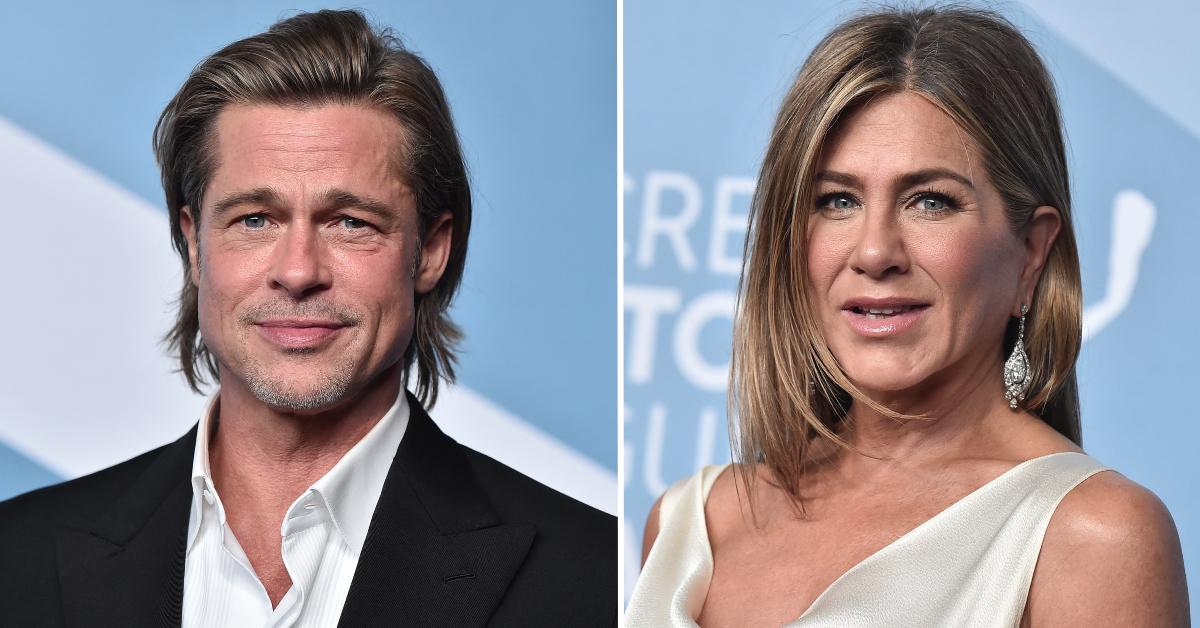 They've still got heat! After Jennifer Aniston and Brad Pitt's flirty celebrity table read of Fast Times at Ridgemont High last September, the amicable exes are looking for a new project to star in together, says an OK! source.
Aniston, 52, and Pitt, 57, "had so much fun during the reading, and working on a movie together has been on their to-do list ever since they first hooked up," the source shares. "Of course, those plans derailed following their divorce, but now that they're on good terms, it's something they're keen to revisit."
'WE'RE BACK': JENNIFER ANISTON DEBUTS A BLONDER LOOK AS SHE RETURNS TO 'THE MORNING SHOW' — SEE THE GORGEOUS PHOTO
Article continues below advertisement
While their calendars are usually full, delays due to the pandemic have left both A-listers with some extra time: Aniston isn't scheduled to start filming Murder Mystery 2 until the fall, and Pitt "should be available once he wraps [upcoming thriller] Bullet Train," spills the source. "They still need to find the right script, but with their star power combined, they've got their pick of the litter."
Pitt memorably appeared on a 2001 episode of Friends. "Studios know how much fans want to see them together again," the source says.
When the famous exes reunited at the September charity table read of the 1982 teen classic, everyone wanted to know more about the temperature in the room, and as OK! previously reported, Matthew McConaughey had some insight into their reunion.
SWOON! BRAD PITT AGES LIKE FINE WINE — SEE HIS MOST DROOL-WORTHY SNAPS
McConaughey, who played the ticket scalper Mike Damone during the table read, appeared surprised during an appearance on Watch What Happens Live With Andy Cohen when a viewer asked if there was any sexual tension between Pitt and Aniston.
"Could I feel the heat through the screen of Brad? So palpable. Yeah, yeah, it was so palpable," McConaughey said in his response to the viewer's question. "I noticed that after the read a lot of the topics were about that, or about them... I actually didn't notice anything through the screen, but that made for a good topic the next day."
AT 51, JENNIFER ANISTON LOOKS FLAWLESS! SEE HER FLAUNT HER TONED TUMMY: PHOTOS
Pitt and Aniston were married from 2000-2005. There were intense speculations in the media during their divorce proceedings, stating that Pitt had been unfaithful and had been cheating on his wife with (now ex) Angelina Jolie, whom he started dating soon after the split.