Joy-Anna Duggar & Husband Austin Forsyth Break Silence On Brother Josh Duggar's Child Pornography Arrest: The Accusations 'Sadden Us To Our Core'
Article continues below advertisement
As OK! reported, Josh was arrested on Thursday, April 29, and was detained without bail. During his arraignment hearing one day later, his attorney pleaded not guilty to two federal charges of receipt and possession of child pornography. He was released on Thursday, May 6, and is awaiting his July 6 trial. His pretrial is set for July 1.
On Saturday, May 8, Joy-Anna took to her Instagram Story, on behalf of her and Austin, to issue a statement regarding the troubling charges brought against her brother. While keeping their message vague, the couple said they are trying to process the recent controversy and condemned any form of child abuse.
Article continues below advertisement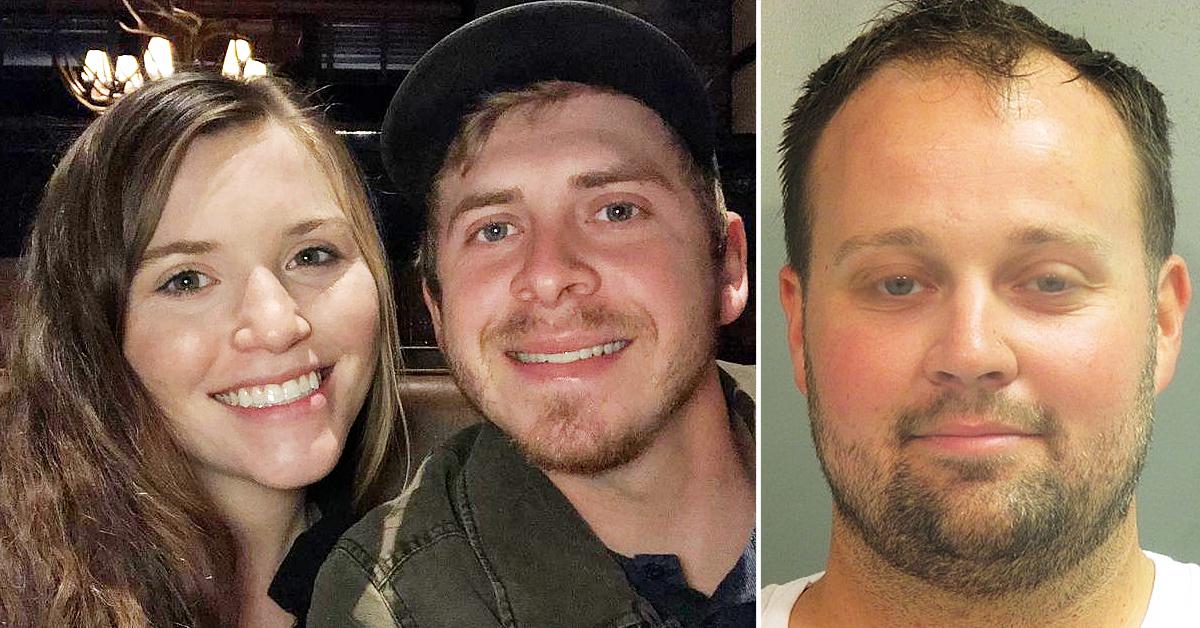 "The recent accusations brought against Josh sadden us to our core," their statement read. "We have not wanted to be hasty in making any statements while trying to process the news ourselves. We are especially heartbroken by the reality that there are children in the world being harmed and exploited."
Article continues below advertisement
"We ask for prayer for all those involved," Joy-Anna and Austin concluded, "and it is our continued prayer that the truth comes to light."
Article continues below advertisement
Josh was released from Washington County Detention Center in Fayetteville, Ark., last week after his virtual detention hearing on Wednesday, May 5. At the time, Judge Christy Comstock granted his bail but refused to allow him to return in his family home, where his six minor children live. In the meantime, Josh's family friends, pastor LaCount Reber and Maria Reber, agreed to house him until his trial next month.
The 19 Kids and Counting star also cannot be around other children and will be monitored by a GPS. However, Josh will be allowed to visit his children as long as his wife, Anna — who is pregnant with the couple's seventh child — is present.
Article continues below advertisement
As OK! reported, Anna announced the couple's seventh bun in the oven days before Josh was arrested in connection to a May 2019 Homeland Security raid on his Arkansas car dealership as part of an "ongoing federal investigation."
During his detention hearing last week, Homeland Security Investigations special agent Gerald Faulkner alleged that Josh downloaded files depicting child sex abuse on May 14, 15 and 16 of 2019, which were allegedly flagged and traced back to his IP address on a computer from his car dealership.
Article continues below advertisement
During the raid — and before Josh knew what the agents were investigating — he allegedly asked: "What is this about? Has someone been downloading child pornography?" When asked about the content of children — reportedly ages 5-10 — allegedly found during the federal investigation, Josh responded: "I'd rather not answer that question," Faulkner claimed.
Article continues below advertisement
The investigators also uncovered a program, Covenant Eyes, that was installed onto his computer, which would alert his wife when objectionable content was being searched for. However, the site was apparently unable to detect Josh's internet usage after he installed a password-protected network on his computer, the agent said during the virtual hearing.
Josh reportedly admitted that he had a TOR browser on his computer, allowing him to access the dark web (which is used for child pornography, Faulkner explained). There was reportedly no evidence that it was him who downloaded the browser.
Article continues below advertisement
The 33-year-old faces up to 20 years behind bars and $250,000 in fines on each count if convicted.
Josh was previously under fire in 2015 when a 2006 police report was released, revealing he had been investigated as a teen for molesting five underage girls. His sisters Jill, 29, and Jessa, 28, reportedly stepped forward as two of the victims.