NEWS
'Ungrateful B**ch': Kellyanne Conway's Daughter Claudia Claims Her Mother Is 'Abusive' In Shocking TikTok Videos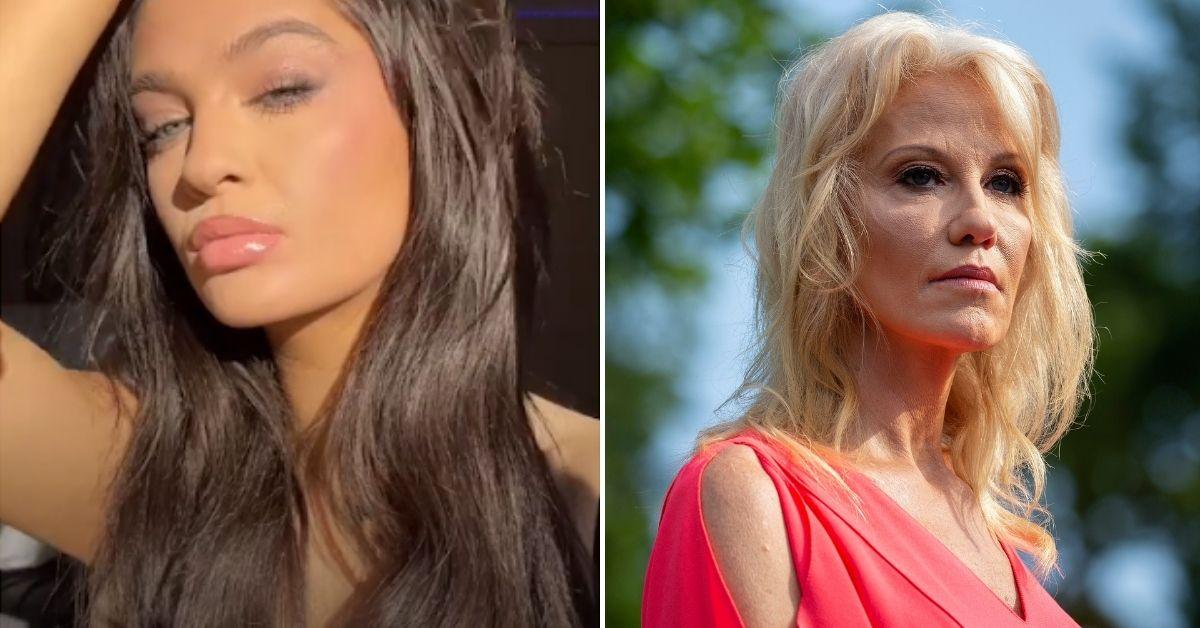 Kellyanne Conway's daughter Claudia Conway claimed that her mother is "abusive" towards her in several TikTok videos.
Claudia posted a series of worrying videos of a woman she claims to be Kellyanne screaming at her and saying, "You're lucky your mom's pro-life."
Article continues below advertisement
Claudia shared a video titled "A Covid recap with Kelly," which showed a series of clips in which a woman yelled at Claudia, but the former political consultant's face is not shown.
"F**k you, f**k you. It's over, it's over—I don't care who's following you, dumba**," the woman shrieked in one clip.
"I can get you taken out of here today," the woman said in another clip. "You don't f**king listen – what the f**k is wrong with you?"
Article continues below advertisement
"You can't get coronavirus from the president," the woman said, seemingly referring to President Trump's October 2020 COVID-19 diagnosis.
"The only place that will take you that you aren't going to post about your family anymore," the woman shouted, potentially referring to how Claudia always posts about her family drama online.
The woman also accuses Claudia of lying to everyone and goes on to call her an "ungrateful b**tch."
Article continues below advertisement
In another video, Claudia claims her mother called her a hypochondriac due to her obsessive-compulsive disorder.
"I want you out of here" and "some 15 f**king year old" can be heard in the clips.
Article continues below advertisement
After the videos went viral, Claudia returned to TikTok to say she was unsure what will happen next.
"She's probably going to publicly say that she's not abusive and whatnot, but that's what manipulators do and narcissists," the teen said. "I'm not looking for attention. I'm not looking for anything. I'm in a situation that's really physically, mentally, and emotionally abusive and I think it's important that everybody sees that."
"I know that all my mom's friends and family are going to say that I'm lying, I'm looking for attention, but I'm not. I have proof."
In a video posted later, Claudia told her 1.5 million TikTok followers that she "will not leave social media on my own accord" and if she stops posting, it wasn't her choice.
In her most recent video, Claudia said the cops showed up when she was home alone and asked if she was "good," which she said she was.
Article continues below advertisement
"Before the media posts this, like the Daily Mail, The New York Times, because I know they will, that was not to bring down my mom in any way," Claudia said. "They like to call me a rebellious teenager, or whatever, who's making up s**t, but I'm not. I'm not making up anything I'm just telling my side of the story and showing what I have and I'm not trying to cause anything. I just think it was important to make that public."
Article continues below advertisement
Article continues below advertisement
The topic began trending on social media, as Twitter users were concerned about Claudia.
"The videos Claudia Conway posted should not be viewed lightly. This is not only narcissist abuse, but physical and emotional abuse of a child. Someone please help that girl by removing her from that home. #SaveClaudia," one user tweeted.
"I can't imagine treating my daughters the way Kellyanne Conway treated Claudia Conway in the video. Honestly, I feel sad for Claudia," another wrote.
"The fact that Claudia Conway can record her mother being toxic and abusive, Kellyanne herself implying that if she weren't pro-life she'd have killed Claudia, and that people can still say 'I don't know if this is our business' is exactly why abuse victims do not come forward," a third fan lamented.
Kellyanne has not publicly acknowledged the TikTok videos at the time of publication.