NEWS
Kellyanne Conway's Daughter, Claudia, Says She's Selling 'Dad's Sh*t' After Claiming George Walked Out On The Family — Watch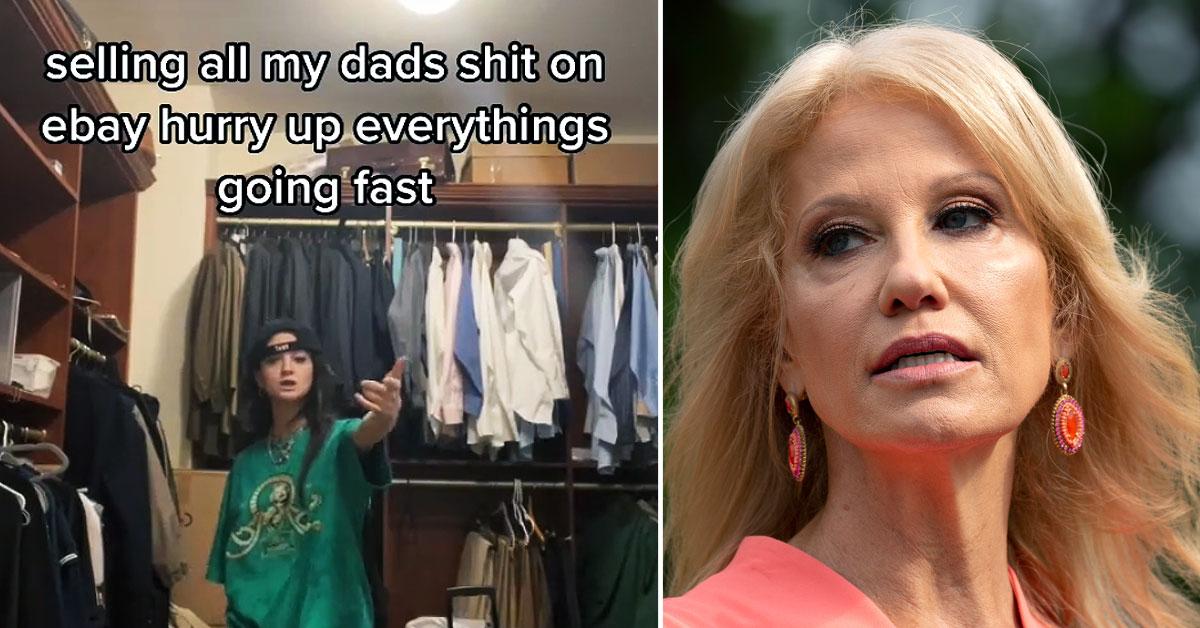 The daughter of Kellyanne and George Conway, Claudia, has had enough of the drama between her parents — and it seems that she's making sure her dad won't come back any time soon.
The teenage TikTok star offered to sell everything in her dad's closet after recently claiming that he walked out on the family days prior.
Claudia shared a video of herself in George's walk-in closet and wrote, "selling all my dads sh*t on eBay hurry up everything going fast," on Monday, January 11.
Article continues below advertisement
She captioned the TikTok video: "i found some mint jul pods in his closet bid starts at $500."
The TikToker then responded to a viewer who questioned the juul pods by sharing a clip of her showing off the other valuables in George's closet. Claudia captioned the video: "we got mint, menthol, and tobacco, take your pick."
Article continues below advertisement
Article continues below advertisement
The 16-year-old previously explained in a clip via TikTok: "my dad dipping this morning saying he wants nothing to do with w our family and leaving for good." She later responded to a fan's comment, who said they haven't see her dad in a while.
"yeah me neither lol," she wrote.
Claudia and George have been anything but private about their political views in recent months.
George previously slammed Congress for not impeaching President Donald Trump — whom his wife served as a Senior Counselor for.
He wrote: "If Congress can't impeach a president for violating — indeed, inverting — the core duty set out in his oath of office — to preserve, protect and defend the Constitution of the United States — then what's the point of impeachment?"
Article continues below advertisement
Claudia has also shared her views on the President via TikTok multiple times, calling him "our idiot f**king president piece of sh*t." She even went so far as to humiliate her mom on the social media platform and poke fun at her "trump ass kissing, catholic family."
She recently shared a video of herself dancing to a trending Trump diss track while her mother looked extremely uncomfortable in the background.
Article continues below advertisement
While it's safe to say that Kellyanne isn't happy with her daughter's social media stunts, many of Claudia's viewers have been loving the shade she has thrown at her parents and Trump.
"Claudia Conway selling her dad's clothes, after he walked out on her mom, on Tiktok wasn't the start to 2021 planned on, but I'll damn well accept it now without hesitation," one user wrote on Twitter.
"This girl will be the reason I join TikTok," another admirer tweeted as a third wrote: "feel awful for her but the fact that Claudia Conway broke the news about Kellyanne getting divorced through Tik Tok is sending me into orbit."