NEWS
'So Appreciative Of Everything': Lady Gaga's Dog Walker Ryan Fischer Breaks Silence On 'Very Close Call With Death' Following Harrowing Shooting Incident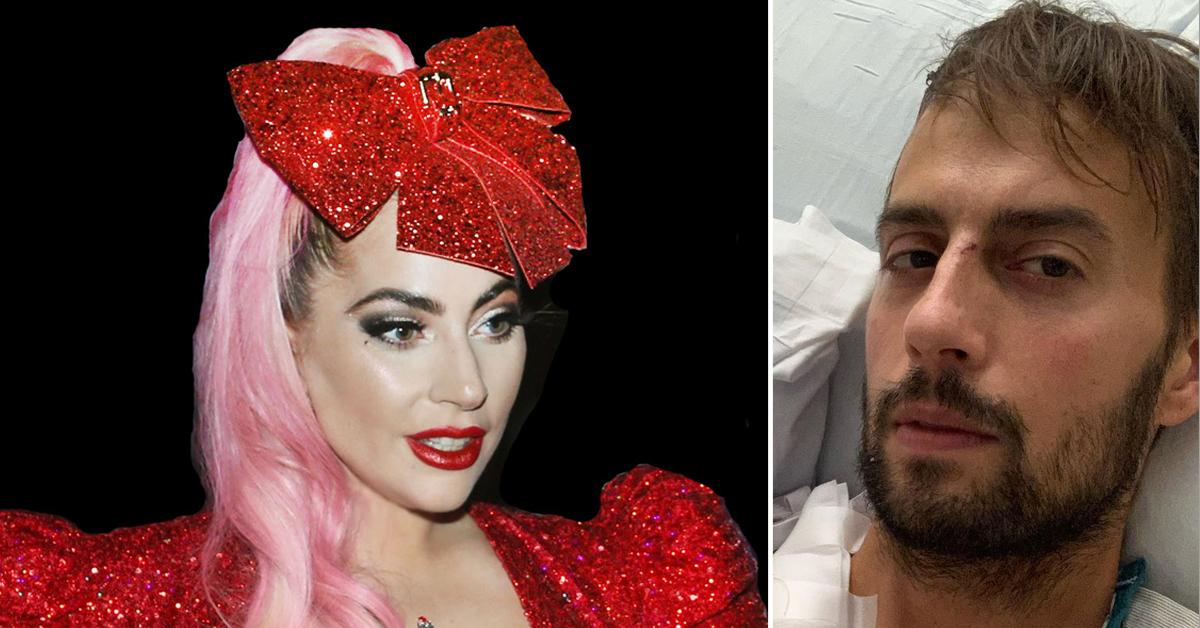 After being shot in the chest four times, Lady Gaga's dog walker, Ryan Fischer, wrote an emotional social media post detailing the harrowing event and thanking the singer for her support throughout the whole ordeal.
"4 days ago, while a car sped away and blood poured from my gunshot wound, an angel trotted over and laid next to me. My panicked screams calmed as I looked at her, even though it registered that the blood pooling around her tiny body was my own," Fischer wrote via Instagram.
PROUD PET PARENTS: JENNIFER ANISTON, PARIS HILTON, HUGH JACKMAN & MORE
Article continues below advertisement
Referencing Gaga's dog Miss Asia, who was able to escape the dognapping, Fischer continued, "I cradled Asia as best I could, thanked her for all the incredible adventures we'd been on together, apologized that I couldn't defend her brothers [Koji and Gustav], and then resolved that I would still try to save them… and myself," he wrote.
Fischer shared two snaps of him recovering in a hospital bed. "I am still in recovery from a very close call with death and have kept myself (for the most part, I mean I am human) from the growing media story. I will write and say more later, but the gratitude for all the love I feel from around this planet is immense and intense. I felt your healing support! Thank you," Fischer continued.
Article continues below advertisement
"I am humbled and grateful that attention and focus from the police were enough to get Koji and Gustav back to safety," he wrote, adding that he knows the authorities "are committed to bringing these criminals and attempted murderers to justice" and he is "so appreciative of everything…"
Article continues below advertisement
While he was in the ICU, Fischer noted that the outpouring of love he received from friends, family and strangers helped keep his spirits up. Messages and videos of dogs from his clients especially "worked miracles" for him.
"Seeing their faces light up when you said my name motivates me to keep pushing so I can play with them and see you again soon. I love you all!" he declared. "First responders and health care workers: you literally saved my life and helped me take newborn walks, I can't thank you enough."
Article continues below advertisement
As OK! previously reported, Fischer was out with the singer's three pups — Koji, Gustav and Miss Asia — late in the night on Wednesday, February 24, in Los Angeles, when he was ambushed.
Horrifying video taken by a camera from a neighbor's home shows a white sedan rolling up on Fischer and two men wearing baseball caps getting out of the backseat. One man can be heard saying, "give it up," as he flashes a gun.
OK! reported Fischer can be seen putting up a fight, screaming for help and yelling for Koji, before he is shot in the chest four times. As he collapses on the sidewalk, the thieves pile back into the car with Koji and Gustav. Miss Asia was able to escape and ran back to Fischer.
Fischer was reportedly conscious when first responders arrived on the scene, but he had to be rushed to the hospital as he was struggling to breathe. Miss Asia was recovered by authorities.
Article continues below advertisement
Three days after the shooting, OK! learned that Koji and Gustav were recovered unharmed on February 27. According to Capt. Jonathan Tippett, commanding officer of the elite Robbery-Homicide Division, a woman brought the dogs to the LAPD's Olympic Community Police Station around 6 p.m. The unidentified woman who dropped off the dogs appears to be "uninvolved and unassociated" with the attack, officer Tippett added.
The "Rain On Me" singer's rep and detectives went to the station and confirmed that they were Gaga's missing dogs. An investigation is still currently underway to find the men responsible for shooting Fischer.