ROYALS
Revealed: What Meghan Markle Asked In 2018 Email About 'Cry-Gate' Flower Girl Scandal With Kate Middleton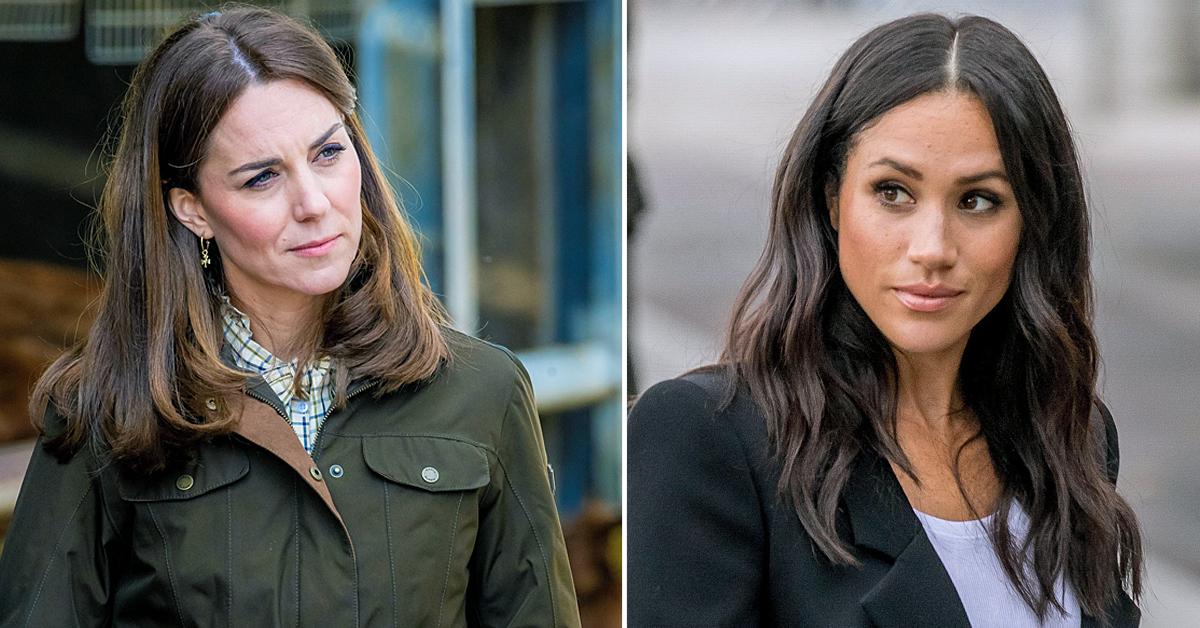 Truth time? An alleged email sent by Meghan Markle to a palace aide about Kate Middleton and their rumored 2018 feud has been revealed a week after the Duchess' bombshell interview with Oprah Winfrey aired on Sunday, March 7.
When Prince Harry, 36, and Meghan, 39, sat down with the talk show titan to share stories from their side of royal life for the first time since their 2017 engagement, the Suits alum addressed the narrative in the press that has continuously reported she made her sister-in-law cry before their wedding.
Article continues below advertisement
Meghan claimed "the reverse happened," explaining that Kate, 39, "was upset about flower girl dresses and it made me cry," a few days before Harry and Meghan's May 2018 nuptials. However, Meghan emphasized that the Duchess of Cambridge apologized and "brought me flowers and a note" saying she was sorry.
Meghan also claimed the Palace didn't defend her in the press when contradictory stories made headlines, painting her as a villain. "What was hard to get over was being blamed for something that not only I didn't do but that happened to me," Meghan explained to Oprah. "Everyone in the institution knew it wasn't true."
DID PRINCE HARRY & MEGHAN MARKLE 'LECTURE' THE QUEEN IN THEIR 'ANGRY' MESSAGE FOLLOWING ROYAL DEPARTURE?
Following Meghan's shocking accusations, an email linked to the crying scandal, which Meghan allegedly sent in January 2020, was revealed. According to the email — which Harper's Bazaar shared on Wednesday, March 10 — Kensington Palace requested that the red-headed prince sign a statement against an "offensive" report about Prince William, 38.
The report claimed the Duke of Cambridge "constantly bullied" Harry and Meghan before they announced their decision to step back from their royal duties.
Article continues below advertisement
"Well, if we're just throwing any statement out there now, then perhaps KP can finally set the record straight about me [not making Kate cry]," Meghan allegedly responded back to the email.
The outlet reported that Meghan's request from the Palace was ignored. She was also allegedly told that Kate wouldn't comment on the gossip surrounding the flower girl tears.
Article continues below advertisement
Kate was said to be a bit "shocked" that Meghan even brought up the incident again, as the Duchesses were just "trying to figure out flower girl dresses" and "it should not have been such a huge point of contention," the source explained.
And while Meghan said she wasn't sharing the story about Kate in "any way to be disparaging to her" during her sit down with Oprah, Kate didn't appreciate being "called out by name when many of the other members of the royal family were not," the insider concluded.
During the couple's shocking interview — which drew in 17.1 million total viewers — Harry and Meghan cited the constant backlash from U.K. tabloids and lack of support from the royals as a big part of their decision to step away.
Harry also alleged that his brother and dad, Prince Charles, are "trapped" within in the royal family and revealed there were multiple conversations surrounding Archie's race before he was born.
Meghan also admitted to Oprah that she had "very clear and very scary" suicidal thoughts during her time as as senior working member. "I just didn't see a solution," she said, referring to the constant pressure she faced due to her prominent title and place in the spotlight.