ROYALS
Meghan Markle's Pal Insists Royal 'Family And Staff Knew' Of Duchess' Mental Health Struggles — And There Are Texts To Prove It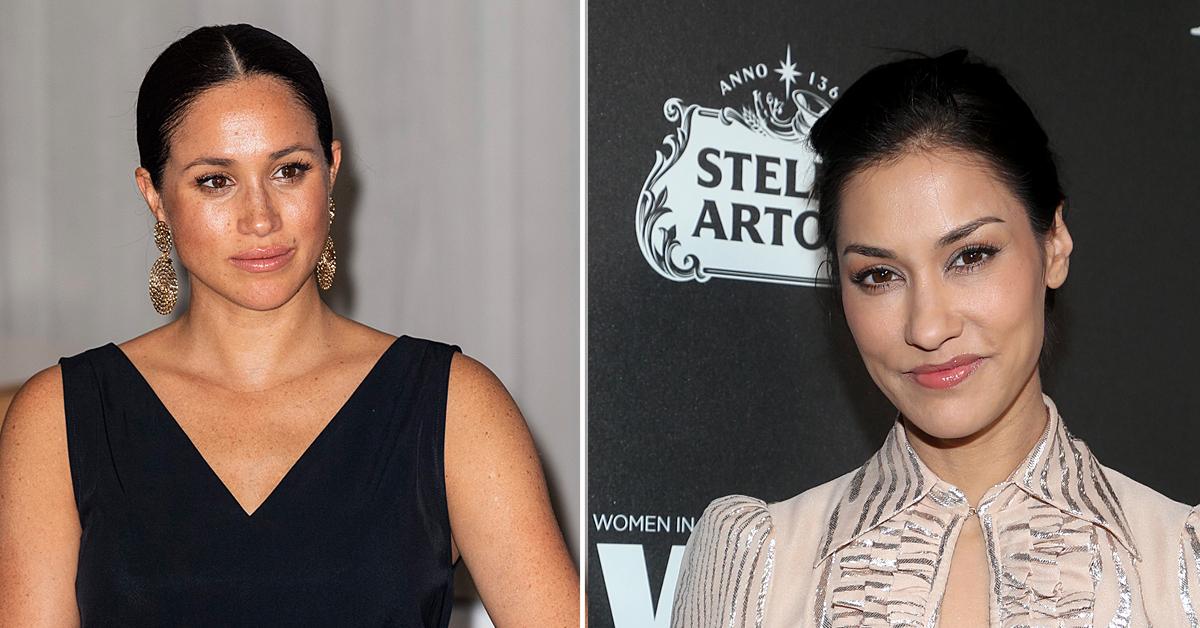 Meghan Markle's close friend, Janina Gavankar, has spoken out in her defense regarding the claims the Duchess made during her and Prince Harry's bombshell interview — Meghan opened up about her "very clear and very scary" suicidal thoughts during her time as a senior working royal member — with Oprah Winfrey on Sunday, March 7.
"We're all happy that we are in a new era," Gavankar — who has known Meghan for 17 years — told the British show This Morning on Wednesday, March 10. "You know, we get to tell the truth. Things are different now."
Article continues below advertisement
"It is nice to see them feel free," she added.
During her appearance on the morning show, Gavankar, 40, talked about the suffering Meghan endured as a royal, which left her feeling like she "just didn't want to be alive anymore."
As OK! previously reported, Meghan told Oprah during the shocking special that her mental health was on a serious decline, and she "didn't see a solution" on how to stop the constant pain and pressure she was experiencing as a royal. She "thought it would have solved everything for everyone," Meghan admitted, referring to her thoughts on suicide.
ROYAL DRAMA! FROM MEGXIT TO CONTROVERSIAL MILLION-DOLLAR DEALS, A LOOK AT PRINCE HARRY & MEGHAN MARKLE'S SHOCKING SCANDALS
According to the Suits alum, she "went to the institution, and I said I needed to go somewhere to get help." However, Meghan claimed she was told she couldn't seek assistance because "it wouldn't be good for the institution."
While speaking with This Morning, Gavankar claimed Meghan "turned to all of us. She turned to her husband," when she wasn't given the help she needed from within the royal family. In addition, the mother-of-one's pal said Meghan's struggles were well-known within royal circles.
Article continues below advertisement
"I don't know who knew. (But) I know that the family and the staff knew," Gavankar explained, adding that she "watched as a wall was built around [Meghan]," as her mental health continued to crumble. "[Meghan] was very isolated — and even though that wasn't her choice she was being completely slaughtered for it."
And while Gavankar was "very angry" and "wanted to defend" her friend, Meghan "was told to tell us never to make a comment because the institution would protect them. And years later we see now that was not the truth," Gavankar claimed. "Meghan has always been a very open person. She's always shared parts of herself in a way that we always do, but that all changed when she joined the family."
On Tuesday, March 9, Buckingham Palace released a statement to address Harry, 36, and Meghan's interview — their first interview since their engagement in 2017 — saying: "the whole family is saddened to learn the full extent of how challenging the last few years have been for Harry and Meghan."
Article continues below advertisement
"The issues raised, particularly that of race, are concerning," the statement, which was released on behalf of Queen Elizabeth II, continued. "While some recollections may vary, they are taken very seriously and will be addressed by the family privately.
"Harry, Meghan and Archie will always be much loved family members," the statement concluded.
Gavankar shared her reaction to the Palace's statement on Wednesday. "One side, I thought: I am so thankful that they are finally acknowledging the experience."
"I have known [Meghan] for 17 years and I have seen the way she regards the people around her and the people she works with, and I can say she is not a bully," Gavankar stated. "The truth will come out. There are plenty of emails and texts about that. I'm not going to get into the details of it."
Gavankar added that it's not her "place" to go into details, but she's "just happy that it's actually being looked into because the truth really does set you free."